How the Senate can clean up the House's health-care mess
Rescue us from this dog's breakfast, senators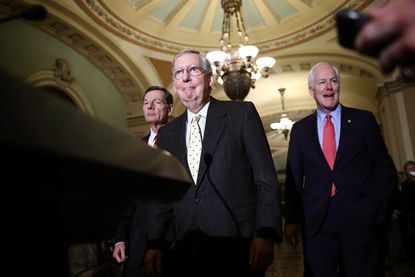 (Image credit: Win McNamee/Getty Images)
Sign up to our 10 Things You Need to Know Today newsletter
A free daily digest of the biggest news stories of the day - and the best features from our website
Thank you for signing up to TheWeek. You will receive a verification email shortly.
There was a problem. Please refresh the page and try again.
House Republicans have passed their ObamaCare replacement — and the American Health Care Act is a disaster both politically and on the merits, for basically the same reasons.
It simply doesn't cover enough people and doesn't do enough to bring premiums down. On the merits, this is bad. And politically, this is bad, since Republicans will now have the health-care albatross hung around their necks. Voters are sure to blame them for the state of the health-care system, as they did the Democrats under President Obama.
But there's hope: As you might remember from civics class, before a bill can become a law, it needs to be voted on by both the House and the Senate. So there's still a chance to improve this dog's breakfast. What doesn't usually get covered in civics class, however, is that Republicans are passing the bill under rules known as budget reconciliation, which allow them to avoid the Senate's 60-vote threshold so long as their bill only contains provisions that affect the budget. This will let them pass the bill on party lines, but it also narrows their scope for repealing and replacing ObamaCare.
Subscribe to The Week
Escape your echo chamber. Get the facts behind the news, plus analysis from multiple perspectives.
SUBSCRIBE & SAVE
Sign up for The Week's Free Newsletters
From our morning news briefing to a weekly Good News Newsletter, get the best of The Week delivered directly to your inbox.
From our morning news briefing to a weekly Good News Newsletter, get the best of The Week delivered directly to your inbox.
Now, this might not be the most reassuring idea in the world. I don't think anyone in the history of the world has ever breathed a sigh of relief before uttering, "Thank God, the United States Senate is on the case."
Nonetheless, senators have said they plan on amending the bill rather than just voting on it, and a group of key GOP senators has been meeting for weeks to kick around ideas on health care. So what should they do?
First off, it's worth acknowledging that the bill does some good things, such as repeal many onerous ObamaCare regulations that increase premiums and are hurting many states' marketplaces. While it's true that ObamaCare hasn't — yet — entered the death spiral that some conservatives foresaw, many insurers have fled the market, prices are much higher than we were told they'd be, and millions of Americans are infuriated with the options available.
One huge problem with the Republican bill, however, is that it will keep millions of working poor out of the health-care market. The AHCA helps people in the individual market buy insurance through tax credits, which is the right approach, except that the tax credits are structured all wrong. As the Foundation for Research on Equal Opportunity's Avik Roy pointed out, "millions of low-income Americans in their 50s and 60s will be priced out of the insurance market, while millions of upper-income Americans who don't need the help will get a big tax credit." Indeed, "the RyanCare tax credit will trap millions in poverty, by slapping them with thousands of dollars in health insurance premiums should they make enough to no longer be eligible for Medicaid. That will discourage the poor from working and rejoining the economy." Wonderful.
Meanwhile, when it comes to Medicaid, while the bill's reforms to this atrociously malfunctioning program are very praiseworthy, repealing ObamaCare's Medicaid expansion without leaving current beneficiaries with a good alternative is very much not.
More broadly, the bill does nothing to fix the biggest problem with American health care, which is the fact that most Americans get their health coverage through their employers. This entrenches a system where third parties are responsible for people's health care, inflating prices and hurting innovation.
The biggest thing that the Senate could do, therefore, would be to change the AHCA's formula for tax credits. They need to give more help to the poor and less help to the upper middle class, so that the working poor could obtain insurance affordably. In theory, it's a small tweak, but it would make a massive difference. Right now, under the AHCA, people on the individual market get a flat tax credit that is the same whether they're working class or upper middle class. Instead, the credit should be means-tested so that working-class people, people who are pushed out of Medicaid, and people with pre-existing conditions can afford health-care coverage.
It should also find ways to limit the tax break for employer-based health care plans to encourage people to move to the individual market. The most promising idea is the one advanced by James Capretta, which would turn today's unlimited health insurance tax break into a fixed credit provided straight to workers. Premiums paid by employers above the upper limit would be counted as taxable compensation to workers. Capretta suggests doing this only for small businesses, since many employees of large businesses get generous plans through their employers and would believe they would lose out from this reform. This would help cushion the political blow, while doing a lot to move the U.S. to a better system, where individuals, rather than third parties, are in control of their health-care decisions.
Would that make AHCA the best possible alternative to ObamaCare? Heck no. But would it produce something non-monstrous and an improvement over the status quo? Yes. And these days, that seems like a huge achievement from Congress.
Editor's note: This piece originally misidentified Avik Roy's current role. He is now co-founder and president of the Foundation for Research on Equal Opportunity. This has been corrected. We regret the error.
Continue reading for free
We hope you're enjoying The Week's refreshingly open-minded journalism.
Subscribed to The Week? Register your account with the same email as your subscription.
Sign up to our 10 Things You Need to Know Today newsletter
A free daily digest of the biggest news stories of the day - and the best features from our website
Pascal-Emmanuel Gobry is a writer and fellow at the Ethics and Public Policy Center. His writing has appeared at Forbes, The Atlantic, First Things, Commentary Magazine, The Daily Beast, The Federalist, Quartz, and other places. He lives in Paris with his beloved wife and daughter.