Is Kathy Griffin's apology enough?
Kathy Griffin's 'joke' was appalling. We should accept her apology anyway.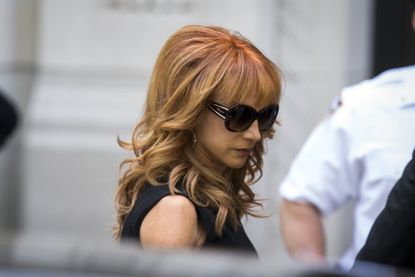 (Image credit: REUTERS/Lucas Jackson)
Sign up to our 10 Things You Need to Know Today newsletter
A free daily digest of the biggest news stories of the day - and the best features from our website
Thank you for signing up to TheWeek. You will receive a verification email shortly.
There was a problem. Please refresh the page and try again.
As your mother surely told you as a child, "It's all fun and games until someone uses an effigy of the president's chopped-off head." Or at least that's what our mothers would have told us if they could have imagined that anyone would think that such a "gag" would actually elicit laughter.
Kathy Griffin's "joke" — photos of her holding up a gory and deatached Trump head — was the apotheosis of rabid, inchoate anger over the result of the 2016 election. The whole thing was appalling. But her apology, and the reaction to it, provides an opportunity for everyone to take stock of our polarized political moment — and themselves.
Griffin, a comedian and actress, didn't offer a spur-of-the-moment joke on social media. That would be easy enough to chalk up to a momentary lapse of judgment. Instead, she went to the trouble of setting up a photo shoot in which someone prepared an effigy of President Trump's head drenched in fake blood. Then Griffin posed holding it in her hand. Griffin then tweeted it out, where the image quickly went viral. To ensure she got her point across, Griffin attached a message to the tweet: "I caption this 'there was blood coming out of his eyes, blood coming out of his ... wherever,'" a reference to Trump's comment about then-Fox News host Megyn Kelly from August 2015.
Subscribe to The Week
Escape your echo chamber. Get the facts behind the news, plus analysis from multiple perspectives.
SUBSCRIBE & SAVE
Sign up for The Week's Free Newsletters
From our morning news briefing to a weekly Good News Newsletter, get the best of The Week delivered directly to your inbox.
From our morning news briefing to a weekly Good News Newsletter, get the best of The Week delivered directly to your inbox.
The condemnation was nearly instantaneous.
At first the comic defended herself by claiming it was a joke. "OBVIOUSLY, I do not condone ANY violence by my fans or others to anyone, ever! I'm merely mocking the Mocker in Chief," Griffin tweeted (now deleted) in response to criticism. That didn't convince anyone. A range of notables from Mitt Romney to Chelsea Clinton called Griffin's attempt at humor — if that's what it was — "vile," "very offensive," and "disgusting," and Arizona sheriff and activist Paul Babeu suggested that Griffin intended to incite the murder of Trump. CNN, which hires Griffin as a host for its annual New Years Eve broadcasts, announced it was rethinking those arrangements while her co-host Anderson Cooper joined Griffin's critics in condemning her actions.
After a number of complaints by Twitter users, the agency tasked with the personal protection of the president and other government officials noted that they had opened an investigation into Griffin's pictures, although they didn't sound happy about it. The Secret Service reminded everyone that it does not have unlimited resources, and bad jokes waste time and distract from real threats. "It is always unfortunate when people make statements that could be perceived as threats," the Secret Service's statement noted. "We don't have the luxury of knowing a person's intent."
By Tuesday evening, Griffin had tweeted out a hastily arranged video apology. "I beg for your forgiveness," Griffin said. "I went too far. I made a mistake and I was wrong."
Is apologizing enough?
It depends on the nature of the offense, of course, but also on the quality of the apology, the allocution to the offense within it, and the perceived sincerity of the offender. Many times, in politics especially, offenders offer non-apology apologies along the lines of "I'm sorry this offended some people," or "I'm sorry that people didn't understand what I was saying." Those rarely work, as they shift blame from the offender to the audience, and imply a superiority that belies any pretense at remorse; I'm so brilliant that it's impossible for you to grasp my genius.
Griffin wisely avoided that, and so did Greg Gianforte last week. The newly elected congressman had allegedly assaulted journalist Ben Jacobs the evening before the election, and his campaign had initially tried to blame it on Jacobs. By the next day, Gianforte had a change of heart, and offered an explicit apology to Jacobs and to his constituents for his actions. In both cases, those apologies only came after other options had been tried, but relatively quickly nonetheless.
Perhaps we should consider that apologies do not absolve people of all consequences. We do not apologize to those damaged or offended to pretend something never happened. We apologize to acknowledge the truth of the offense, and we accept apologies to recognize the truth of the acknowledgment. Gianforte still faces a misdemeanor charge in Montana for his assault. Griffin is still facing career damage and potential loss of income. People may be less inclined to like either of them for a while, or perhaps longer, and in both politics and entertainment, that's a problem. Apologies may help in both cases with audience/constituent perception, but it doesn't erase those perceptions entirely, and have little impact on Secret Service probes, assault prosecutions, legal fees, and future lost gigs and elections.
But to refuse to accept an honest apology does more damage to the refuser than the offender. An honest apology, once offered, allows the offender to move on; refusing to accept it traps those within the offending moment. It keeps us locked in bitterness and division, which could easily be seen in the "what-aboutisms" that erupted from people arguing to ignore Griffin's apologies. Life becomes an endless scorecard of grudges and suspicions, in which no one can be redeemed and everyone else eventually becomes an enemy. In that toxic environment, where few apologies are accepted, apologies become rarer still.
In fact, that pretty much describes politics today. If we want to know how we got to the point where an American comic thought parroting an ISIS video would make for a piquant political statement about our elected leadership, the debate over the apology ought to give us some insight.
Continue reading for free
We hope you're enjoying The Week's refreshingly open-minded journalism.
Subscribed to The Week? Register your account with the same email as your subscription.
Sign up to our 10 Things You Need to Know Today newsletter
A free daily digest of the biggest news stories of the day - and the best features from our website
Edward Morrissey has been writing about politics since 2003 in his blog, Captain's Quarters, and now writes for HotAir.com. His columns have appeared in the Washington Post, the New York Post, The New York Sun, the Washington Times, and other newspapers. Morrissey has a daily Internet talk show on politics and culture at Hot Air. Since 2004, Morrissey has had a weekend talk radio show in the Minneapolis/St. Paul area and often fills in as a guest on Salem Radio Network's nationally-syndicated shows. He lives in the Twin Cities area of Minnesota with his wife, son and daughter-in-law, and his two granddaughters. Morrissey's new book, GOING RED, will be published by Crown Forum on April 5, 2016.