Trump's truck obsession is the best thing about him
He's trying to bring attention to American-made products. That's a laudable goal.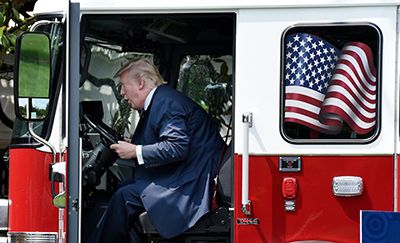 (Image credit: OLIVIER DOULIERY/AFP/Getty Images)
Made in America Week is easily the best thing President Trump has done so far.
Not that it has a lot of competition. Six months into his presidency, Trump has precisely zero meaningful legislative accomplishments, and every "themed" week the White House has rolled out — Infrastructure Week, Energy Week — has quickly been overshadowed by distractions from Trump and the media's rabid obsession with them.
Made in America Week kicked off Monday with a White House showcase celebrating products made in the United States: Tennessee's Gibson guitars, New York's Steinway pianos, Connecticut's Sikorsky helicopters, Georgia's Chick-fil-A, Wisconsin's fire trucks, and on and on. The fire trucks quickly drew nearly all of the media's derisive attention. And for a moment there even I must admit to agreeing with liberal commentators that the whole thing was a bit childish and that the commander-in-chief should be ashamed of himself for honking a fire truck horn outside the White House and saying, "Where's the fire? I'll put it out." That is, until I walked into the kitchen and saw the toy laser gun my wife had just bought for our older daughter lying on the counter and spent two minutes pulling the trigger and watching the rainbow lights swirl inside in the barrel as the room echoed with gloriously obnoxious PYOOMs.
Subscribe to The Week
Escape your echo chamber. Get the facts behind the news, plus analysis from multiple perspectives.
SUBSCRIBE & SAVE
Sign up for The Week's Free Newsletters
From our morning news briefing to a weekly Good News Newsletter, get the best of The Week delivered directly to your inbox.
From our morning news briefing to a weekly Good News Newsletter, get the best of The Week delivered directly to your inbox.
Inside every sour-faced scold there lurks the heart of a toddler who likes BEEP-BEEP CARS! and BALL TIGERS! and HORSEYS NEIGH HORSEYS! Let's live a little, folks.
The stated goal of Trump's Made in America Week exhibition, to draw attention to the wonders of American-made products, is a laudable one. Does anyone think the future for American labor is an economy of Chipotles and call centers built on a terrifying but invisible edifice of Southeast Asian sweatshops? We need to make more things in this country and employ more people at just union-negotiated wages.
For this to happen, Americans are going to have to get over what I think of as our "cheap crap problem." This is as true of consumers as it is of producers. Fifty years ago people bought quality appliances that they expected to have for decades; now there is an entire journalistic industry devoted to making arguments for and against buying the current iPhone given that in six months or a year there will be another one with different kinds of lights and buttons. Planned obsolescence is a serious problem, and not only in tech. We will have to stop buying cheap T-shirts and jeans manufactured abroad by people working in horrendous, at times even sub-human, conditions in lieu of more expensive nice things that will last.
To the average congressional Republican, this is all unthinkable. Happy as they are to take credit for the number of jobs created in their respective states, formally they believe that this country should not have anything approaching an industrial policy. Walmart is good because it allows Americans to decide between 75 different brands of frozen pizza with Frankensteinian ingredients lists at everyday low prices. General Motors is good because its management had the good sense to send jobs to Mexico rather than take pay cuts or ask for another handout from Uncle Sam. Apple is good because its stock price is high.
That's why Trump's dedication to manufacturing exists strictly at the level of live-action roleplaying. New tariffs, stricter enforcement of labor standards and other provisions of our existing trade agreements, renegotiation of or even withdrawal from NAFTA, tax and other incentives for corporations looking to make more things in the United States — none of these things is actually on the table. Trump hinted at all of them during his campaign, but it doesn't matter. He is the president, but he is also the head of a political party that as yet has no actual representatives in Congress, a more economically pragmatic conservative party dedicated to shoring up the fortunes of the polity rather than the economy.
It's easy to blame the intransigence of prejudiced Republicans in Congress. But most of them honestly don't know any better. Trump ran as a communicator par excellence, the dealmaker-in-chief who could convince anybody of anything and get them to sign on the dotted line. He is obviously failing in that regard. But anyone who thinks that the party that went in the space of a little more than a decade from Medicare Part D to the most recent failed version of the ObamaCare replacement bill is teeming with principled libertarian constitutionalists is being naïve. They just have to realize that moderation is in their interest electorally.
Until then, laugh all you want over the president horsing around in a fire truck. But remember that someone was paid a living wage to make it here in this country.

Continue reading for free
We hope you're enjoying The Week's refreshingly open-minded journalism.
Subscribed to The Week? Register your account with the same email as your subscription.