Trump is trying to trigger a health-care death spiral. Yes, intentionally.
This is how far he's willing to go to destroy ObamaCare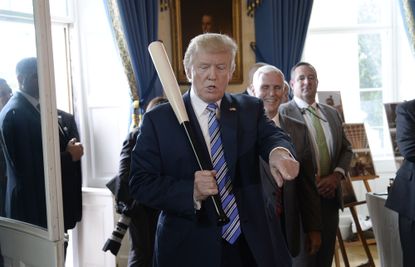 (Image credit: Olivier Douliery/Getty Images)
Sign up to our 10 Things You Need to Know Today newsletter
A free daily digest of the biggest news stories of the day - and the best features from our website
Thank you for signing up to TheWeek. You will receive a verification email shortly.
There was a problem. Please refresh the page and try again.
Remember 2013? When many of the key provisions of the Affordable Care Act took effect that year, Republicans became apoplectic about the horrific injustices that Americans who got their insurance on the individual market were being subjected to. With insurance plans now required to cover "essential health benefits" — things like hospitalization, emergency care, and prescription medications — thousands of people got letters from their insurers telling them that their old plans were being canceled, and inviting them to choose a new plan, which might cost more.
Tears in their eyes, Republicans streamed to the cameras to offer lamentations to the fate of these ObamaCare victims. The news media helped out by offering uncritical coverage, not bothering to ask whether the junk insurance these folks had before actually covered anything, or even whether they might pay less for better coverage due to subsidies under the new system. But the die was cast, and from that point the individual insurance market — where only 7 percent of Americans get their coverage — would be the primary focus of any discussion of the ACA.
I tell that story because Republicans' allegedly deep concern for the fate of those on the individual market is particularly important right now. That's because the Trump administration is — and we shouldn't mince words — actively trying to create a death spiral in the individual market.
Subscribe to The Week
Escape your echo chamber. Get the facts behind the news, plus analysis from multiple perspectives.
SUBSCRIBE & SAVE
Sign up for The Week's Free Newsletters
From our morning news briefing to a weekly Good News Newsletter, get the best of The Week delivered directly to your inbox.
From our morning news briefing to a weekly Good News Newsletter, get the best of The Week delivered directly to your inbox.
President Trump has been quoted many times saying that if the Republican health-care bill fails, he will be content to allow the ACA to explode, implode, or otherwise expire. "If we don't get it done, we are going to watch ObamaCare go down the tubes, and we'll blame the Democrats," he recently told The New York Times. But this is profoundly misleading. Trump and his administration aren't "letting" or "watching" anything happen. This isn't an act of omission, it's an act of commission — and one that is mind-boggling in its cynicism and cruelty.
To be clear, this will happen — indeed, it is already happening — entirely separate from their failed repeal-and-replace bills, each one more horrifying than the last. How are they doing it? Let's run through the sabotage techniques they're using.
Creating uncertainty for insurers. In order to set premiums, insurers need to predict what their costs are likely to be in the coming year. Doing so has become particularly difficult given everything that's going on in Washington, but the Trump administration has made it particularly hard by threatening cost-sharing reduction payments that insurers receive as part of the ACA. The way it works is that the government picks up the tab for low-income enrollees on private insurance for things like copays and deductibles. It adds up to billions of dollars a year, and the administration keeps threatening to stop paying them. White House budget director Mick Mulvaney said this week, "We are looking at the cost-sharing payments on a month-to-month basis. We made them today. We'll make them tomorrow. But I don't think we'll see a long-term commitment from this administration."
If they stop making those payments, insurers would respond by raising premiums. That would drive people with fewer health needs out of the market, as they decide that they simply can't afford the insurance. People with more serious conditions would stay in, however. That would then tilt the risk pool further toward those who are sicker and more expensive to insure, resulting in further premium increases which drive yet more healthy people out, and so on. That's the death spiral.
Now watch how the other things the administration is doing or thinking about could create the same dynamic ...
Not enforcing the individual mandate. As soon as he took office, President Trump signed an executive order instructing his government to "waive, defer, grant exemptions from, or delay the implementation of any provision or requirement of the [ACA] that would impose a fiscal burden" on anyone. Many assumed that would include the IRS not enforcing the ACA's individual insurance mandate, which comes with a financial penalty for not carrying insurance. So far it's still being enforced, but if they stopped enforcing it and people realized there was no cost to going uninsured, young and healthy people would be more likely to drop coverage, kicking off the death spiral.
Discouraging people from getting insurance. On Thursday, Sam Stein reported that the administration has taken money the ACA earmarked for promoting the exchanges and encouraging people to sign up, and is using it for exactly the opposite purpose. The Department of Health and Human Services has produced videos in which people talk about how awful they think the ACA is, used its social media accounts to disseminate criticism of the law, and revamped the department's website to make enrollment information harder to find. Earlier this year, they abruptly pulled advertising the department had used in years past to encourage people to sign up near the end of the open enrollment period. Efforts like that inevitably have their greatest effect on those wavering about getting insured, skewing the pool toward the older and the sicker.
What else could they do? With Tom Price — a venomous opponent of the ACA throughout its history — in charge of running it as secretary of health and human services, how much effort do you think will be put towards making it work? Will he make sure that the call centers responsible for helping people through the enrollment process are well-staffed with highly trained professionals? Will he labor to make sure healthcare.gov is easy to use and free of problems? Will he advertise open enrollment at all? I wouldn't bet on it.
It's theoretically possible that the administration could decide that they're in charge now, and since they'll be held responsible for what happens to Americans' health coverage, they'd better do their darndest to make it work. They also might decide to do so because pushing people off their insurance and threatening the security of the millions of Americans who get their coverage on the individual market would be morally abominable. But if you think those considerations will motivate them, you may not be familiar with the political stupidity and outright malevolence that characterizes this administration. They've already shown what they're capable of, and they're just getting started.
Continue reading for free
We hope you're enjoying The Week's refreshingly open-minded journalism.
Subscribed to The Week? Register your account with the same email as your subscription.
Sign up to our 10 Things You Need to Know Today newsletter
A free daily digest of the biggest news stories of the day - and the best features from our website
Paul Waldman is a senior writer with The American Prospect magazine and a blogger for The Washington Post. His writing has appeared in dozens of newspapers, magazines, and web sites, and he is the author or co-author of four books on media and politics.