Trump's defense of white supremacists is really a defense of himself
Why the president needs to believe "fine people" can ally with neo-Nazis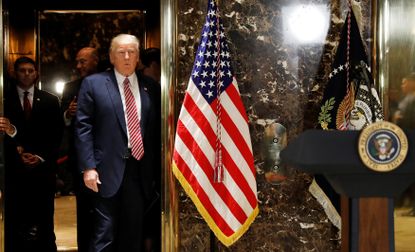 (Image credit: REUTERS/Kevin Lamarque)
Sign up to our 10 Things You Need to Know Today newsletter
A free daily digest of the biggest news stories of the day - and the best features from our website
Thank you for signing up to TheWeek. You will receive a verification email shortly.
There was a problem. Please refresh the page and try again.
President Trump self-immolated yesterday while sticking up for those marching alongside the violent racists in Charlottesville, Virginia. Among several jaw-dropping claims, Trump argued that there were many "fine people" marching with the far-right hate groups that converged upon Charlottesville this weekend. "You had many people in that group other than neo-Nazis and white nationalists," he said. "And the press has treated them absolutely unfairly."
Trump's defense of these supposed fellow travelers of white supremacy is galling and abysmal. But when viewed through the president's ongoing psychodrama, it makes a good deal of sense. By insisting that it's possible to maintain one's moral innocence while cruising with haters and bigots, Trump is implicitly defending himself.
Let's be clear: Trump's unfairly impugned "fine people" are a figment of his imagination. He explicitly pointed to the rally "the night before" where "people protest[ed] very quietly the taking down the statue of Robert E. Lee." That's the torch march where protestors chanted "Jews will not replace us" and Nazi slogans in a show of white power through the streets of Charlottesville, pretextually fighting to preserve a commemoration of the military head of a breakaway slave confederacy. Trump is either excusing some of these marchers as good ol' boys, or else concocting something that wasn't there.
Subscribe to The Week
Escape your echo chamber. Get the facts behind the news, plus analysis from multiple perspectives.
SUBSCRIBE & SAVE
Sign up for The Week's Free Newsletters
From our morning news briefing to a weekly Good News Newsletter, get the best of The Week delivered directly to your inbox.
From our morning news briefing to a weekly Good News Newsletter, get the best of The Week delivered directly to your inbox.
At a deep level, Trump needs to believe that you can cavort with racists without becoming one yourself. After all, Trump built his political brand by stoking white resentment and racial paranoia. Beginning in 2011, Trump began propagating the baseless race-baiting conspiracy theory that President Obama was not born in the United States, cultivating a base of support among those predisposed to believing that our first black president was foreign and un-American.
But Trump's reckless racial politics began much earlier. In 1989, he took out full-page ads in four New York City newspapers calling for the death penalty for five black and Latino teenagers accused of raping a white woman in Central Park. All five were convicted and sentenced to prison. Yet in 2002, the so-called Central Park Five were exonerated based on exculpatory DNA evidence, and a confession from a serial rapist. Amazingly, Trump still maintained their guilt while campaigning for the presidency last year, saying, "The fact that that case was settled with so much evidence against them is outrageous."
Trump's presidential campaign was steeped in bigotry from the start. He infamously launched his campaign by accusing Mexico of sending drug-peddlers, criminals, and rapists across the southern border. After proposing to construct a border wall to keep out said "bad hombres," Trump accused a Mexican-American federal judge of being unable to rule fairly in a suit brought against Trump University. Following the terror attack in San Bernardino, California, Trump demanded a "total and complete shutdown" on Muslims entering the United States. He played coy with the Ku Klux Klan, taking his sweet time before disavowing David Duke's endorsement of his campaign. And imagining hopeless inner city war zones, Trump courted the African-American community by asking, "What the hell do you have to lose?"
These explicit racial appeals were Trump's distinguishing feature in a crowded Republican field. By hyper-activating racial grievance and white victimhood, he believed he could turn out forgotten white voters who had given up on American politics. Trump cultivated — and incited — those voters who could be stoked into an impassioned rage by "law and order" dog-whistles and bullhorns against immigrants and Black Lives Matter. And as his campaign lagged in the summer of 2016, Trump doubled down by hiring Steve Bannon as his campaign chairman, who as the head of Breitbart had vowed to make the website "the platform for the alt-right."
White identity politics and xenophobia have been central to Trump's political rise. That's why he's so resistant to singling out the white nationalists in Charlottesville for condemnation. He even sympathized with a core grievance of the white nationalists, bemoaning that by removing Confederate statutes, "You are changing history, you're changing culture." After all, you've gotta dance with the one who brought you.
Yet despite all evidence to the contrary, Trump vigorously maintains his own racial innocence. He has called himself "the least racist person." To rationalize the incredible cognitive dissonance between that sentiment and the totality of Trump's career, one would have to believe that it's possible to exploit racial grievance without becoming a bigot. That is, Trump must believe that he can continually dip into the septic waters of xenophobia and racism while still coming out clean.
That's why it's so important for him to insist that there really were "fine people" holding torches at Robert E. Lee's statue in Emancipation Park. He sees himself as one of those "fine people" — "the least racist person" — who incidentally happens to find himself bonded to racists and white nationalists far and wide.
The best case for Trump is that he's just a con artist with no moral compass or core principles whatsoever — that his heinous race-baiting is one long bit in a multi-decade showman act meant to connect with a certain kind of disaffected American. Maybe it's all just a façade. But if you wear the hood long enough, at some point it stops being a façade and becomes who you are.
Continue reading for free
We hope you're enjoying The Week's refreshingly open-minded journalism.
Subscribed to The Week? Register your account with the same email as your subscription.
Sign up to our 10 Things You Need to Know Today newsletter
A free daily digest of the biggest news stories of the day - and the best features from our website
Joel Dodge writes about politics, law, and domestic policy for The Week and at his blog. He is a member of the Boston University School of Law's class of 2014.