Trump is a godsend to the Democratic Party
Just imagine what a sane or competent Republican would be doing with full control of government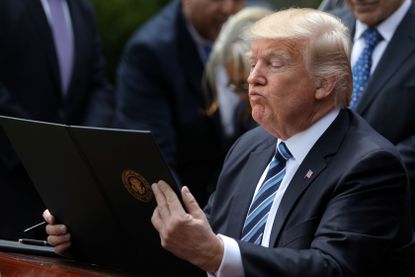 (Image credit: REUTERS/Carlos Barria)
When Donald Trump won the 2016 election, Democrats experienced a hundred varieties of despair, sure that this presidency would be a disaster, a calamity, a rolling nightmare that would start terribly and only get worse.
But perhaps their fears were overblown. There's no question that as a human being Trump himself is even worse than many imagined he'd be. But if you step back from the daily deluge of inane tweets and shocking statements, the truth is that he's making life for the opposition a lot easier than it could be. Provided Trump doesn't kill us all (and there are no guarantees he won't), there's a strong chance that at the end of his term, Democrats will look back and say, "Hey, that didn't turn out too bad!"
Being in the opposition has a few perks (a lack of responsibility or accountability can be liberating), but the powerlessness of it is frustrating. Much of the work of opposition involves screaming that everything the party in power does is awful, then finding yourself dismissed or ignored. But with Trump, Democrats barely have to make their case. Whether he's ramping up tensions with unstable foreign leaders, defending people who march with neo-Nazis, or pardoning racist authoritarians, his dreadfulness is readily apparent, and the news media does Democrats' job for them simply by accurately reporting what he's up to. Opposing a popular president can be difficult; opposing one with approval ratings in the 30s is a lot easier.
Subscribe to The Week
Escape your echo chamber. Get the facts behind the news, plus analysis from multiple perspectives.
SUBSCRIBE & SAVE
Sign up for The Week's Free Newsletters
From our morning news briefing to a weekly Good News Newsletter, get the best of The Week delivered directly to your inbox.
From our morning news briefing to a weekly Good News Newsletter, get the best of The Week delivered directly to your inbox.
Then there's the spectacular incompetence with which he has run his government. His White House is a chaotic mess, with too many firings and resignations to count. Trump's disinterest in policy and his lack of understanding about how Congress works make it much harder to pass legislation; not only did Republicans fail on their first priority to repeal the Affordable Care Act, but seven months in there have been no significant laws passed. Much of the blame for that lies with Republicans in Congress, of course, but Trump has only made their job more difficult.
Then there's what some are describing as an epidemic of insubordination from some of the president's most important aides. Gary Cohn, his chief economic adviser, publicly criticized his boss' comments about the events in Charlottesville, saying "citizens standing up for equality and freedom can never be equated with white supremacists, neo-Nazis, and the KKK," and that the administration "must do better in consistently and unequivocally condemning these groups." Secretary of State Rex Tillerson, asked on the same topic about the president's values, replied, "The president speaks for himself." Not exactly a stirring defense. Secretary of Defense James Mattis, when asked about a tweet from the president about North Korea saying "Talking is not the answer!", immediately contradicted his boss by saying, "We are never out of diplomatic solutions." Mattis may also be slow-walking Trump's desired ban on transgender Americans serving in the military; we'll see how that plays out.
During his brief tenure in the White House, Anthony Scaramucci actually had an astute observation about its inner workings: "There are people inside the administration that think it is their job to save America from this president." While they might not be completely succeeding, they may be helping, both the ones standing up to him publicly and the ones leaking to reporters behind the scenes.
Trump has also shown no interest in building up the Republican Party; indeed, he acts as if its interests are entirely separate from his (and we know he always puts his own interests first). He has shown an eagerness to pick fights with his party as a way of boosting himself, which could wind up depressing Republican turnout in the 2018 midterm elections. Meanwhile, having Trump as a foil has created an enormous wave of organizing on the left, as unprecedented numbers of liberals decide to protest, register voters, and even run for office. That means that the Democratic Party will be significantly stronger at the end of Trump's term than it was at the beginning.
Would that have happened if an ordinary Republican like Jeb Bush or Marco Rubio were president? Probably not. An ordinary Republican would not only be less of a motivating factor for the opposition, he'd presumably be doing a better job advancing his legislative agenda and creating an image of the GOP as a party capable of something resembling governing.
I don't want to underplay the terrible things the Trump administration has already done, because there are quite a few. That's especially true in the regulatory area where they're winding back protections for the environment and workers, undermining the Affordable Care Act, and doing colorful things like promoting more fraud in higher education (not too surprising from the head of Trump University, who had to pay $25 million to the victims of his scam). Republicans could still succeed in cutting taxes for the wealthy, repealing the Dodd-Frank financial reform so Wall Street can do whatever it wants (since that worked out so well last time), and who knows what else. There are plenty of awful initiatives on their way; to take just one example, Trump is reportedly considering revoking the Deferred Action for Childhood Arrivals program (DACA), leaving 800,000 "DREAMers" vulnerable to deportation, an unconscionably cruel act from a man whose capacity for cruelty is nowhere near exhausted.
But as despicable as that would be, it might well have happened under many Republicans presidents — after all, it was Barack Obama's program, and there is nothing that unifies the GOP like hatred of Obama and everything he did. But on the whole, Trump's presidency looks to be a whole lot of craziness, ugliness, and outright stupidity layered on top of the standard slate of Republican policies — which are being pursued with an uncommon degree of incompetence. Given the circumstances, there's not much more Democrats could hope for.

Continue reading for free
We hope you're enjoying The Week's refreshingly open-minded journalism.
Subscribed to The Week? Register your account with the same email as your subscription.