Trump gets his Fed
Very soon, America will have a Federal Reserve that seeks to implement Trump's preferred monetary policies. But what are those policies?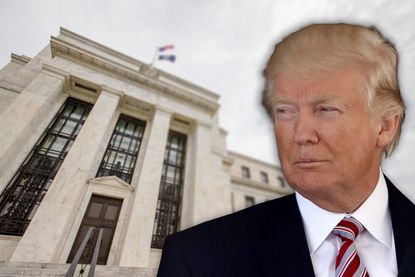 (Image credit: Illustrated | Images courtesy Win McNamee/Getty Images, AP Photo/Andrew Harnik)
The most important job of the most important financial institution in the United States, and perhaps the world, is controlled by just 12 people. This group of supposed wise men and women at the Federal Reserve meets a few times a year to decide how to set national interest rates — i.e. how to balance the need to control inflation against the need for job creation and wage growth. And soon, President Trump will be able to remake it in his own image.
Of the 12 Fed officials who sit on the Federal Open Market Committee, five are rotated in from the central bank's regional branches. But the other seven are appointed by the president and confirmed by the Senate. Of those seven, President Trump will get to pick at least five; a dominating majority of the appointed Fed officials, and over a third of all voting officials.
This has been the case for a while. But things sped up considerably on Wednesday, when Federal Reserve Vice Chairman Stanley Fischer announced he will step down on Oct. 13 for personal reasons, rather than finish out his term through June 2018.
Subscribe to The Week
Escape your echo chamber. Get the facts behind the news, plus analysis from multiple perspectives.
SUBSCRIBE & SAVE
Sign up for The Week's Free Newsletters
From our morning news briefing to a weekly Good News Newsletter, get the best of The Week delivered directly to your inbox.
From our morning news briefing to a weekly Good News Newsletter, get the best of The Week delivered directly to your inbox.
So, very soon, we may well have a Federal Reserve that seeks to implement Trump's preferred monetary policies. But what are those policies? Not even Trump himself seems to know.
First, here's the lay of the land: Along with Fischer's retirement, Fed Chair Janet Yellen's term runs out at the end of January 2018. So Trump will have to decide whether to reappoint her or pick a replacement. If he goes with the latter, White House chief economic adviser Gary Cohn is reportedly high in the running.
So that's two openings. The other three openings are already vacant seats on the seven-member board. Two of those three Trump actually inherited from President Obama, who never got around to filling the seats. That was partially due to the unprecedented obstruction of Senate Republicans, who quite likely wouldn't have confirmed anyone Obama nominated. But the Obama administration also decided Fed monetary policy simply wasn't a terribly high priority.
This was a monumental screw up. It's true that once you hit a zero interest rate — which the Fed did soon after the 2008 financial crisis in an effort to stimulate the recovery — delivering further economic boosts via monetary policy becomes a lot more complicated. But the Fed's ability to squelch job and wage growth by hiking interest rates is very straightforward, and has no upper limit. America's long, grinding recovery from the Great Recession is finally showing signs of life, but many metrics of genuine health — like wage growth and labor force participation — remain disturbingly low. In many ways, the economy is still in a very deep hole.
Had Obama filled those two vacancies with monetary doves, he could have created a Fed more inclined to push the recovery as far as it could go — rather than a Fed already hiking interest rates in anticipation of inflation that's nowhere to be seen.
But now it's Trump who may well determine the future inclinations of the Fed — and determine the future course of the economy along with it.
On the central bank's regulatory obligations, Trump has been very clear and consistent about his preferences: He wants to roll back many of the rules which were imposed on the financial industry by the Dodd-Frank Act and which are enforced by the Fed. One of Trump's Fed appointments, Randal Quarles, is very much in sympathy with that goal. He will take the Fed's top regulatory spot should the Senate confirm him.
But when it comes to monetary policy, Trump has been all over the map. He has swung from endorsing low interest rates to condemning them, from praising Fed Chair Janet Yellen to accusing her of creating a false sugar-high economy.
The most likely explanation for this confusion is also the simplest: Trump has no clue what to do about monetary policy. He knows he personally liked low interest rates when he was borrowing money to fund real estate projects. But he has no idea how to think about monetary policy in the context of the macroeconomy. Meanwhile, the orthodox stance of most Republicans in the Senate is a relentless obsession with tight money and low inflation, never mind the consequences for American workers.
So, when push comes to shove, the Senate GOP will most likely just roll Trump.
We already saw that happen with health care: Trump made some encouraging noises about making good affordable health coverage available for everyone. But he had zero knowledge of, or interest in, how to translate that goal into actual policy. So it was congressional Republicans who actually wrote TrumpCare and crafted a standard right-wing policy to cut coverage and hike costs on the most vulnerable Americans. Similarly, the smart money is that Trump's Fed appointments will wind up catering to Senate GOP preferences, ignoring the president's previous claims of being a "low interest rate person."
In fact, it's already happening. If Quarles is confirmed, he would have one of the 12 votes on Fed interest rate policy, along with overseeing its regulatory duties. And Quarles has already made his preference for higher interest rates pretty clear. Marvin Goodfriend and Kevin Warsh, two others reportedly under consideration by Trump for Fed spots, are in the same boat. Gary Cohn might be different. But he's also a Goldman Sachs alumnus, with a long established history in the financial world. Like other Wall Street veterans, he would most likely defer to that industry's preferences for high interest rates and low inflation.
Ultimately, the one saving grace here may be that Trump turns out to be as lackadaisical about Fed appointments as Obama was. Quarles is the only Fed appointment Trump has made so far, and the president's overall record on staffing government positions is pretty abysmal. Sheer laziness may prevent Trump from fully capitalizing on his chance to push the Fed in a more hawkish direction.
But if he wants it, Trump basically has an open door to create a Fed that is both more relaxed on regulations and more willing to throw the American worker under the bus to keep inflation low. It would be a Fed committed to keeping wages low and unemployment from falling further, all to satisfy Wall Street's desire for big profits and cheap labor.
And yet another aspect of Trump's supposed populism will come apart like so much wet paper.

Continue reading for free
We hope you're enjoying The Week's refreshingly open-minded journalism.
Subscribed to The Week? Register your account with the same email as your subscription.