Trump should quit the Republican Party
It's the most brilliant, legendary, and patriotic thing Trump could do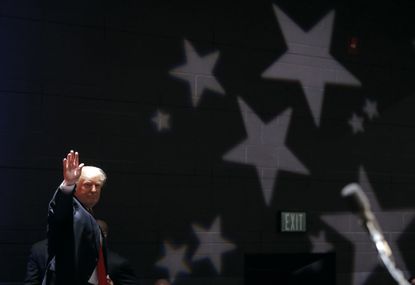 (Image credit: REUTERS/Jim Young)
President Trump's decision last week to bypass GOP congressional leaders Mitch McConnell and Paul Ryan and reach a budget compromise with Chuck Schumer and Nancy Pelosi, their equally cynical counterparts in the Democratic leadership, should be recognized for what it was: a long-overdue masterclass in the art of the deal. It was also, frankly, a killer ratings move. Only a preening ninny could fail to enjoy the spectacle of McConnell and Ryan's much-deserved humiliation at the hands of an ostensibly Republican president.
I say "ostensibly" because it has never been entirely clear to me that Trump considers himself a member in good standing of the venerable party of Coolidge, Reagan, and Lincoln Chafee. On Twitter, for example, Trump refers to "Republicans" in the second person, as if they were somewhat disappointing, mentally negligible, unfortunately recalcitrant underlings rather than honored colleagues or fellow warriors in some kind of grand cause. Certainly he doesn't care very much about the party's political fortunes insofar as they are distinct from his own or have any use for the childish, passive-aggressive debt-ceiling manipulation that have stood Republicans in good stead these last many years. The GOP was merely a convenient vehicle for Trump's political ambitions. But if the last eight months have shown us anything, it is that it has outgrown its use — for him and the rest of the country.
President Trump should quit the Republican Party. Or better yet, he should fire them.
Subscribe to The Week
Escape your echo chamber. Get the facts behind the news, plus analysis from multiple perspectives.
SUBSCRIBE & SAVE
Sign up for The Week's Free Newsletters
From our morning news briefing to a weekly Good News Newsletter, get the best of The Week delivered directly to your inbox.
From our morning news briefing to a weekly Good News Newsletter, get the best of The Week delivered directly to your inbox.
Imagine if he announced this week that he is no longer a Republican, or rather that the GOP is no longer his party, a move that would be absolutely unprecedented in our history. How many people in the White House would head for the exits immediately? Would Mike Pence resign the vice presidency or stay on in the hope of somehow benefiting from a future Trump stumble? Would impeachment be on the table suddenly?
But once the dust settled, think of the possibilities. Divorcing the GOP might allow Trump, finally, to concentrate on those aspects of his platform — shoring up our entitlements, undertaking a vast program of infrastructure spending, fixing or quitting our ludicrous trade deals, coming up with a superior, more humane health-care program, not fighting unnecessary wars — that are viewed with indifference or outright loathing by much of the Republican Party in Congress and by vast swathes of the wider GOP-aligned parts of the media.
This wouldn't just be an amazing second act for Trump's flying circus of a political career. It would also, in a single Death Star-like instant, destroy the illusion that the calcified two-party system accurately represents the views and aspirations of some 300-plus million Americans. If Trump were to run for re-election in 2020 on an independent platform having managed to implement at least some of his agenda with the help of people of good will in both parties, it could mean the end of an absurd quadrennial in which people vote against their conscience or their economic interest because they don't want to throw away their votes on a third-party candidate with no chance of earning a single electoral vote.
Many Republicans would still get behind Trump, of course, especially those looking for an endorsement that would suddenly no longer be a given; so too, one suspects, might certain Democrats. Meanwhile, the whole revolting industry of blue-blazered conservabro consulting types and liberal Manhattanite woke capitalist shills would be dissolved; the sinuous continuum of obscene donor money would fall apart, and the swamp would finally be drained.
Surely this is Trump's golden path, the deal to end all deals. For his own good, for that of the country, just for laughs — or for all three — he should stop being a Republican. Mr. President, it is your destiny.

Continue reading for free
We hope you're enjoying The Week's refreshingly open-minded journalism.
Subscribed to The Week? Register your account with the same email as your subscription.