Trump's fiercest supporters don't actually want him to be president
How Trump's DACA flirtations revealed the howlingly ludicrous fantasies of his base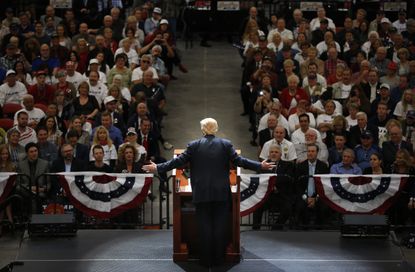 (Image credit: The Associated Press)
Sign up to our 10 Things You Need to Know Today newsletter
A free daily digest of the biggest news stories of the day - and the best features from our website
Thank you for signing up to TheWeek. You will receive a verification email shortly.
There was a problem. Please refresh the page and try again.
One of the most curious things about President Trump's most enthusiastic supporters during the 2016 election is that very few of them actually wanted him to be president of the United States.
Oh sure, they looked forward to the spectacle of his victory night speech and fantasized about what a Trump inauguration weekend might look like. They took delight in imagining the suffering of his opponents, especially the bow-tied #NeverTrump Republicans whose own febrile imaginations had made room for a scenario in which an obscure former congressional aide would be elected president by the House of Representatives following a tie in the Electoral College. Trump's supporters longed for protests, the more insipid and incoherent the better, and counter-protests. They got them.
But what fervent Trump supporters like Ann Coulter (who, as I write this, is clamoring for Trump's impeachment on Twitter) never actually wanted was to see their man not merely occupying 1600 Pennsylvania Ave. but taking up the serious, demanding work of being president: nominating politically disinterested but qualified candidates to important posts in the administration, drawing up a realistic policy agenda that would win the support not only of his own party in Congress but of reasonable legislators on the other side as well, meeting with Democratic leadership to talk through differences and identify areas of agreement, making lame feel-good speeches after tragedies and natural disasters, and getting on well with fellow heads of state and other foreign dignitaries.
Subscribe to The Week
Escape your echo chamber. Get the facts behind the news, plus analysis from multiple perspectives.
SUBSCRIBE & SAVE
Sign up for The Week's Free Newsletters
From our morning news briefing to a weekly Good News Newsletter, get the best of The Week delivered directly to your inbox.
From our morning news briefing to a weekly Good News Newsletter, get the best of The Week delivered directly to your inbox.
No doubt all of this sounds terrifically boring. But the presidency is, in its way, a terrifically boring job. Certainly it is far less interesting than being a bomb-throwing right-wing pundit, shouting down opponents on television and social media, writing preposterous but lucrative books, and riling up the frenetic base with speeches full of invective and undeliverable promises.
What Trump has shown us in the last week or so is that, more than two years after announcing his candidacy for the White House, he has begun to arrive at some dim idea of what the presidency is and what executing it faithfully might entail. Foaming at the mouth about "amnesty" is great for winning votes, at least in certain parts of the country. But deporting millions of Americans would be difficult, expensive, and imprudent, to say nothing of unpopular and, ahem, wrong.
"Does anybody really want to throw out good, educated, and accomplished young people who have jobs, some serving in the military?" Trump asked on Twitter. He knows the answer: Yes, and a lot of them were his devoted backers.
Last year Coulter said that a Trump campaign white paper on immigration was so winningly tough that she wouldn't mind if the president personally murdered babies in the Oval Office.
One meeting on immigration with Democrats later, she's contrasting him unfavorably with a washed-up hack comedian and suggesting he ought to be impeached.
Why are Trump's fiercest supporters so incensed by even the most fumbling and cursory attempts at governing?
There have been any number of histories of American conservatism, but very few of them are up to date, and virtually all of them concentrate on a handful of mostly unread irrelevant high-brow theorists at the expense of how the so-called conservative movement has played out on the ground in its more than a century of existence. What we really need to understand this backlash from Trump's supporters is a philosophical analysis of conservatism, not of its ideas, but of its social ontology.
Conservatism in this country — the vast billion-dollar enterprise of think tanks, magazines, websites, television channels, books, endowed professorships, fellowships, fundraising groups, pundits, columnists, and hangers-on — resembles nothing so much as what philosophers and techbros call an "augmented reality game." Like Pokémon Go, it is a kind of collective role-playing experience in which millions of players interact with one another and objects; it is like a session of Dungeons and Dragons that has been played uninterrupted since 1964, with changing dungeon masters, hundreds of thousands of new players, and very few real dragons slain.
This is a game that is played for its own sake. Of course the base really wants to get the federal government out of health care and end the Fed and build the wall and never surrender to amnesty and cut everyone's taxes and get rid of federal department after federal department. Geeks sitting around tables across this country also really want to save the princess and get the magical amulet — taking the whole thing as seriously as possible is essential to the enjoyment of the game. As Tom Hanks once discovered in an '80s TV movie, the ideal role-playing session is one that is indistinguishable from reality.
Many Washington power brokers have understood the nature of the game despite never having played it. This is especially true of the Republican establishment. Senate Majority Leader Mitch McConnell, like so many Republican leaders before him, is happy to make a killing selling 20-sided dice and lurid monster manuals, but no one expects him to sit down and make a character sheet, much less dress up as a level 15 female elf barbarian.
President Trump has likewise never really been tempted by the game, even if he made a point of attending a few fantasy conventions and having his picture taken with somebody's homemade dwarfish armor. The fact that he is interested in taking the presidency seriously is surprising because he is an ill-tempered septuagenarian businessman used to getting what he wants without compromising — not because he has ever lived in thrall to the pleasant fantasies of American conservatism. But millions of his supporters are still lost in steam tunnels wearing their capes, gleefully convinced that the walls are a cavern — and furious that their leader is busy in the real world.
Continue reading for free
We hope you're enjoying The Week's refreshingly open-minded journalism.
Subscribed to The Week? Register your account with the same email as your subscription.
Sign up to our 10 Things You Need to Know Today newsletter
A free daily digest of the biggest news stories of the day - and the best features from our website
Matthew Walther is a national correspondent at The Week. His work has also appeared in First Things, The Spectator of London, The Catholic Herald, National Review, and other publications. He is currently writing a biography of the Rev. Montague Summers. He is also a Robert Novak Journalism Fellow.