Why the GOP just can't quit its ObamaCare suicide mission
Do Senate Republicans have a political death wish?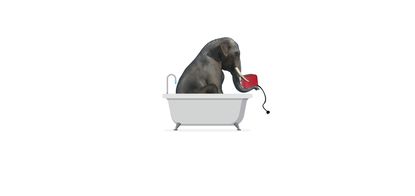 (Image credit: Illustration by Lauren Hansen | Images courtesy Orlando Florin Rosu / Alamy Stock Photo, iStock)
In the beloved 1993 comedy Groundhog Day, Bill Murray's weatherman is stuck in an endless time loop where he lives the same banal day over and over again. Eventually he decides to see if killing himself will allow him to escape from his temporal hell. He gets into a bathtub with a toaster. He steps deliberately in front of a truck. In an homage to Vertigo, he plunges artfully out of a clock tower. In another scene he reprises the denouement of Thelma & Louise by driving a truck off a chasm and plummeting to his presumptive doom. Yet each time, he wakes up undead in his rural Pennsylvania hotel room to the same aww-shucks radio morning crew driving him insane.
I can't help but think of Murray's will to self-obliterate every time the GOP tries to revive its regressive, fantastically unpopular ObamaCare repeal scheme, which Senate Republicans are trying to do once again with the so-called "Cassidy-Graham" bill, a monstrosity likely to throw even more people off their health insurance than previous iterations of the repeal effort.
Republicans have been trying since the spring to pass versions of President Trump and House Speaker Paul Ryan's American Health Care Act (AHCA), only to wake up the next day stuck in the same D.C. boarding house, doomed to live out their failed repeal fantasy over and over again. The bill that passed the House in April was considered so abhorrent in the U.S. Senate, even by members of the GOP majority, that they tried to send a completely different piece of legislation back to the House before their death quest was ended, seemingly forever, by the dramatic thumbs-down Sen. John McCain gave the Senate parliamentarian. At last, it seemed there would be some respite.
Subscribe to The Week
Escape your echo chamber. Get the facts behind the news, plus analysis from multiple perspectives.
SUBSCRIBE & SAVE
Sign up for The Week's Free Newsletters
From our morning news briefing to a weekly Good News Newsletter, get the best of The Week delivered directly to your inbox.
From our morning news briefing to a weekly Good News Newsletter, get the best of The Week delivered directly to your inbox.
Yet here we are again, with Senate Majority Leader Mitch McConnell having locked down anywhere between 45 and 49 votes for yet another economy-wrecking attempt to strip people of their health insurance. Exactly what party elites are thinking is not clear. One reputable poll taken of the AHCA gave it 17 percent approval against 58 percent disapproval. When GOP Sens. Lisa Murkowski, Susan Collins, and McCain spiked "skinny repeal," it was clocking in at 36 percent approval, almost the same dismal number the president sports himself on any given day. Americans want Republicans to repair the Affordable Care Act rather than replace it or maliciously destroy it, but the GOP can't seem to make policy that appeals to majorities rather than to their own shrinking base.
It is not an exaggeration to say that Cassidy-Graham might be the most radioactive piece of legislation ever to be entertained by a governing majority in the United States. Like its predecessors, Cassidy-Graham would end ObamaCare's Medicaid expansion and roll back health care for millions of poor people. It would block grant insurance subsidies to the states, who could apply for waivers to key ObamaCare provisions like the requirement to cover people with pre-existing conditions, and create special funds just for the already-sick. This proposal — quarantining the ill and the suffering in high-risk pools — is insanely evil, tremendously unpopular, and unworkable as a policy idea. The implications of this legislation are clear: It will throw millions out of the insurance system and gut critical Medicaid services. Any cost savings will be realized by either killing people or making sure they never see a doctor in the first place. But when millions of the uninsured start showing up in ER rooms again with illnesses they could have treated earlier, costing taxpayers billions and driving the cost curve back up to what it was before the Affordable Care Act was passed, Republican elites will realize they achieved nothing other than inflicting avoidable suffering on innocent people while turning the country decisively against them.
In terms of the public understanding of this bill, they hate it. It is a toaster that the GOP will carry dutifully into the bathtub even though almost none of them think they are at least sacrificing themselves for the sake of good policy.
Unlike Bill Murray, Republicans won't wake up again in the same position after plunging to their demise. The party is already in deep trouble in the House in the 2018 midterms, with both special elections in Kansas and Georgia showing enormous swings away from expected GOP numbers and toward Democrats, a pattern repeated in state special elections from Oklahoma to New Hampshire. Republicans are polling as many as 14 points down on the generic congressional ballot just eight months after they captured total power in Washington, and they will be facing devastating political winds in a country that usually gives the in-party a righteous rebuke in its first post-conquest election.
And if they plow forward with this latest inane plan to destroy the American health-care system, they are more or less guaranteeing their own annihilation in those elections. Even if a handful of Senate Republicans dutifully fall on the Cassidy-Graham hand grenade, they can't protect Paul Ryan and company from votes already cast, which can be tied around their necks by any Democratic advertising intern with a Macbook. They can't protect vulnerable Senate Republicans up for re-election in 2018, like Jeff Flake and Dean Heller. No matter what the Senate does from here, the lives of AHCA-supporting House members in the districts won by Hillary Clinton are going to be a living hell from which there is no escape but defeat or retirement. If Cassidy-Graham actually becomes law, it could even imperil the GOP's seemingly unassailable Senate majority.
None of these concerns are enough to stop Republicans from trying again. And while it might feel good for liberals to chuckle at the GOP's horrendous political instincts, this is a life-and-death situation for millions of Americans who depend on ObamaCare's protections. No 2018 victory is worth the terrors that will be visited on the most vulnerable should this horror show become law. Progressives and pressure groups are therefore wearily gearing up for another round-the-clock vigil of rallies, phone calls, and letter-writing, an emotionally and spiritually exhausting schedule of begging your elected representatives not to kill you again and again and again.
Bill Murray's Groundhog Day ordeal only ended when he opened up his cynical heart to love and compassion. Our health-care nightmare, on the other hand, won't conclude unless and until these Republicans are shown the door.

Continue reading for free
We hope you're enjoying The Week's refreshingly open-minded journalism.
Subscribed to The Week? Register your account with the same email as your subscription.