What I got wrong in 2017
Political punditry in 2017 was exhilarating. It was also, at times, very easy to get wrong.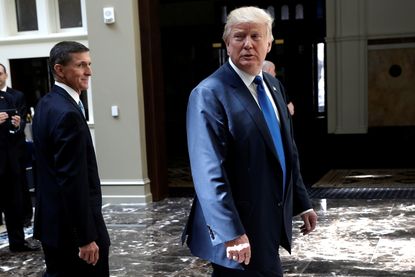 (Image credit: REUTERS/Mike Segar/File Photo)
Writing about politics in the Trump era can be stimulating, exciting, infuriating, exhausting, and terrifying all at the same time. The reason for this range of judgments, we are often told, is that with President Trump in the White House and leading the Republican Party, things are "not normal." The president's statements and actions, the behavior of his Cabinet, the agenda of his party — all of it seems somehow "off." It seems more corrupt, more reckless, more polarized, less civil, less tethered to long-standing norms and restraints than what we're used to.
All of this is true, but it also begs the question that nearly always needs to be answered and not presumed: Which events in American politics this past year have been normal, which have been abnormal, and which were truly alarming? I posed that question in a late-January column, and I still think it's one every pundit should reflect on very carefully before issuing portentous pronouncements.
Of the dozens of columns I've written this year about the Trumpening of our politics, the ones I'm proudest of are those in which, to my mind, I got this crucially important judgment correct — whether I was highlighting something truly alarming in Washington against those inside and outside the administration who worked to excuse it, or pushing back against hyperbolic attacks by the administration's political opponents on actions and policies that were fairly standard.
Subscribe to The Week
Escape your echo chamber. Get the facts behind the news, plus analysis from multiple perspectives.
SUBSCRIBE & SAVE
Sign up for The Week's Free Newsletters
From our morning news briefing to a weekly Good News Newsletter, get the best of The Week delivered directly to your inbox.
From our morning news briefing to a weekly Good News Newsletter, get the best of The Week delivered directly to your inbox.
Likewise, the columns that landed flat are those in which I got this elemental judgment wrong. The most egregious example of this is my column from Feb. 14, "America's spies took down Michael Flynn. That is deeply worrying." Having just read Eli Lake's reporting in Bloomberg on how leaks by anonymous sources in the intelligence community had led then-National Security Adviser Flynn to be forced out of his job, I concluded that this was a deeply disturbing and blatantly anti-democratic act of political sabotage by unelected bureaucrats wielding classified information as a weapon.
The piece was a huge traffic hit, and I even followed it up three days later with a column in which I doubled down on my incendiary claims about how Flynn's ouster resembled a deep state coup. It's a line of argument that the Trump administration and its defenders in the right-wing media have since grown fond of making against Special Counsel Robert Mueller and his investigation into possible collusion between the Trump campaign and the government of Russian President Vladimir Putin.
How and why did I get it so wrong? By applying standards of judgment that pertain under normal political conditions to a situation that was anything but normal.
The intelligence community is a series of bureaucracies. Like all federal bureaucracies they are staffed mainly by employees who stay on from administration to administration, adjusting to the shifting expectations and agendas of the political appointees who get installed in the top jobs. Those appointees are the bosses. The buck is supposed to stop with them — and ultimately with their boss, the president himself. The idea of these faceless and unelected staffers leaking classified information in order to get one of the bosses canned would normally be considered an egregious violation of the rule of law, which is exactly how I portrayed the moves against Flynn.
But what if these bureaucrats were privy to information that incriminated Flynn in serious crimes — crimes that could badly harm the United States and would be highly unlikely to surface in any other way? In that case, acts of blatant criminality on the part of the bureaucrats become transformed into heroic and patriotic acts of defiance undertaken for the good of the country.
My mistake in writing these two columns wasn't in failing to come down on the other side and cheer the sacking of Michael Flynn. It was to presume that I (or any of us) could judge the truth of whether the outrageous act of insubordination on the part of the bureaucrats was justified. At the time, none of us had enough information to make such a judgment. Treating the Trump administration like any other, it was easy to be scandalized by the apparent putsch. But is the Trump administration like any other? Or is it closer to a criminal enterprise that places the good of its leading figures (namely, Trump himself and his family) ahead of the national security of the United States?
That's a determination that we will be able to make only after Mueller concludes his investigation. And to the extent that the special counsel's appointment in the first place can be traced to actions that followed from Flynn's dismissal, the insubordinate bureaucrats who leaked incriminating information deserve the benefit of at least a few doubts. They helped set in motion a process that will eventually reveal the truth.
Only then will we be capable of rendering wise and considered judgment. Learning to live with the suspension of judgment at a time when trigger-happy assessments are so lavishly rewarded with clicks and praise may have been the most challenging thing about writing on politics in 2017.
Somehow I doubt it's going to get any easier in 2018.

Continue reading for free
We hope you're enjoying The Week's refreshingly open-minded journalism.
Subscribed to The Week? Register your account with the same email as your subscription.