How anti-liberalism went global
There's an international battle for national sovereignty going on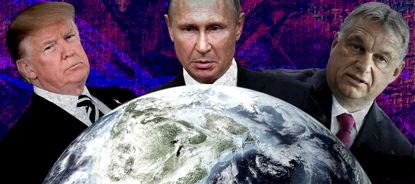 (Image credit: Illustrated | leonello/iStock, JIM WATSON/AFP/Getty Images, Sean Gallup/Getty Images, YURI KADOBNOV/AFP/Getty Images, DickDuerrstein/iStock)
Anti-liberalism has gone global — and that's more than a little paradoxical.
But the paradox is our reality now, so we have to face it.
Whether it takes the form of Trumpian attacks on immigration to the U.S., enthusiasm for Brexit in the U.K., or the surge in support for populist parties and politicians across Europe, anti-liberalism portrays itself as a defense of nationalism against the globalizing tendencies of liberal ideology and institutions.
Subscribe to The Week
Escape your echo chamber. Get the facts behind the news, plus analysis from multiple perspectives.
SUBSCRIBE & SAVE
Sign up for The Week's Free Newsletters
From our morning news briefing to a weekly Good News Newsletter, get the best of The Week delivered directly to your inbox.
From our morning news briefing to a weekly Good News Newsletter, get the best of The Week delivered directly to your inbox.
Yet this turn toward nationalism is happening globally. This doesn't just mean it's taking place in several places simultaneously, which it is. It also, and more revealingly, means that its proponents across the world increasingly see themselves as ideological allies fighting a common battle against common enemies.
And that makes it a cross-border movement in support of borders, an international battle for national sovereignty.
We see it in the disturbing results of a recent poll, which found that 40 percent of Republicans consider it either "appropriate" or not a "big deal" for Russia to help the GOP win the American presidency.
We see it in Stephen Bannon gallivanting around Europe attempting to empower his brand of far-right nationalist politicians and parties.
We see it in the very warm reactions of some on the American right to Vladimir Putin's efforts to present himself as a champion of Christian civilization — and in the similarly positive response of others to a recent speech by Hungarian President Viktor Orbán proposing an anti-liberal, nationalist manifesto for Central Europe.
These examples all point to a growing sense of anti-liberal solidarity that transcends the very nations that the ideology aims to champion, creating a kind of nationalist international.
The trend resembles nothing so much as a change that began affecting American churches during the mid- to late-20th century, ultimately transforming them in profound ways.
Earlier in the century, religious groups in the United States viewed each other as rivals, with the rivalry flowing from both theological disagreements and ethnic differences (Protestant vs. Catholic; Protestant sect vs. Protestant sect; Christian vs. Jew). These groups didn't wage war against each other, but the members of each tended to understand themselves as belonging to a distinctive faith community defined in large part by its difference from the others. In that context, the primary force working to unite the members of the different churches was allegiance to the U.S. as a whole, which was mainly accomplished through military service and the civil religion of American patriotism.
This dynamic changed in waves.
First, the oldest and largest Protestant denominations (most prominently the Lutherans, Presbyterians, Methodists, Baptists, Episcopalians, and Congregationalists) began to think of themselves as "mainline" Protestants whose doctrinal and historical differences were overshadowed by their allegiance to political liberalism. Then, partly in reaction to this leftward drift, conservatives within these and other Protestant denominations (including Pentecostals) began to organize politically, forming the religious right. Finally, these conservative evangelical Protestants joined together with conservative Catholics and members of non-Christian faiths in political common cause.
Now liberals within each church viewed liberals in other churches as closer allies than conservatives within their own faith communities, and conservatives felt the same way in reverse. Now conservative evangelical Protestants, conservative Catholics, orthodox Jews, and even sometimes observant Muslims organized together, forming political groups to fight for their own side in the culture war against both secular liberals and religious liberals within their own congregations. Ideology had surpassed theology and ethnic identity as the primary force of solidarity and division within and among the churches.
In other words: Religion now mirrored the intensified ideological polarization of the country as a whole, with political differences overpowering everything else.
Once we take note of this shift, the present-day alignment of anti-liberal, right-wing forces across the globe begins to seem much less strange — and actually just an extension of the same trends that emerged within the churches more than a half century ago. Now staunchly anti-liberal Americans are beginning to feel they have more in common with like-minded conservatives in other countries than they do with liberals within their own countries. That these forces are rallying around something they call nationalism doesn't alter the fact they're in a transnational movement.
If the right has gone transnational with its allegiances, it is the contemporary liberal center (both the center right and center left) that has come to feel a passionate allegiance to the nation and the institutions empowered to defend it (including the FBI and CIA), as well as a sharp hostility to foreign meddling in American democracy.
And what about the anti-liberal left? That's less clear. The left has long displayed international ambitions, seeking out allies among the working classes of all countries and aiming to unite them in opposition to global capitalism. That could inspire passionate denunciations of the nationalism that's on the rise around the world, along with the oligarchic and kleptocratic forces that so often ally with it.
But for more radical and more ruthless leftists, the potency of right-wing anti-liberalism today could pose a powerful temptation, inspiring thoughts of strategic international alliances and ideological pincer moves designed to weaken the liberal center throughout the West. That wouldn't necessarily convince the left to defend Russian meddling in democratic elections. But it might well encourage the left to mock and dismiss worries about precisely that, and to denounce liberals for allying themselves with the "deep state," the institutions of law enforcement and counter-intelligence that are the most potent means of defending the liberal order against its enemies.
In that event, liberals would reveal themselves to be the true nationalists, confronting transnational ideological opponents on either side.
We may be uncertain about how all of this will unfold in the months and years ahead. But the ominous shape of the possibilities is all too clear.

Continue reading for free
We hope you're enjoying The Week's refreshingly open-minded journalism.
Subscribed to The Week? Register your account with the same email as your subscription.