9 governor's races to watch in 2018
These state elections are incredibly important — and quite close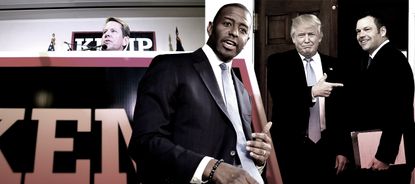 (Image credit: Illustrated | Jessica McGowan/Getty Images, AP Photo/John Raoux, REUTERS/Mike Segar/File Photo)
There are 33 Republican governors in the U.S., just 16 Democrats, and a single independent (Alaska's Bill Walker). This decisive GOP advantage is in large part due to the major gains Republicans made throughout the 2010 and 2014 midterms of the Obama years. But in 2018, with President Trump looking more and more unpopular, many of these offices are now on a knife's edge.
These gubernatorial races are critical — not just for the states themselves, but for national party control in the longer run. After all, many of these governorships could have a crucial role to play in congressional redistricting after the 2020 census — with major ramifications for future control of the U.S. House of Representatives.
Here's a quick look at the nine gubernatorial races you should pay attention to this fall.
Subscribe to The Week
Escape your echo chamber. Get the facts behind the news, plus analysis from multiple perspectives.
SUBSCRIBE & SAVE
Sign up for The Week's Free Newsletters
From our morning news briefing to a weekly Good News Newsletter, get the best of The Week delivered directly to your inbox.
From our morning news briefing to a weekly Good News Newsletter, get the best of The Week delivered directly to your inbox.
1. Illinois: Gov. Bruce Rauner (R) vs. businessman J.B. Pritzker (D)
This race is the Democrats' most obvious pickup opportunity. Republican Gov. Bruce Rauner narrowly won election in the 2014 Republican wave, ousting Democratic Gov. Pat Quinn after a 12-year Democratic reign that had included such lowlights as the impeachment and eventual imprisonment of Gov. Rod Blagojevich, and Quinn having to lead the state through the Great Recession.
This year, Rauner faced a primary challenge from the right by state Rep. Jeanne Ives, who challenged him on issues of undocumented immigration and sanctuary cities — with Rauner just barely surviving with 51.6 percent against Ives with 48.4 percent. For the general election, Rauner has sought to run against the Democratic dominance of the state legislature, as personified by House Speaker Mike Madigan, and to challenge his Democratic opponent, venture capitalist J.B. Pritzker (and brother of Obama-era U.S. Secretary of Commerce Penny Pritzker) as being out of touch — in fact, both Rauner and Pritzker are wealthy businessmen.
The most recent poll of the race, from mid-August, gave Pritzker the lead with 46 percent support against only 30 percent for Rauner.
2. Florida: Rep. Ron DeSantis (R) vs. Tallahassee Mayor Andrew Gillum (D)
The nation's third biggest state has elected Republican governors for the past 20 years — but in the last two elections, Gov. Rick Scott (who is now term-limited, and running for the U.S. Senate) won by margins of only around a single percentage point.
The Republican nominee, Rep. Ron DeSantis, benefitted from an endorsement from Trump in his Republican primary. The surprise winner of the Democratic primary, Tallahassee Mayor Andrew Gillum, has waged a progressive campaign that mobilized African-American voters and combined that with the endorsement of Sen. Bernie Sanders (I-Vt.).
The general election campaign is already off to a nasty start: The morning after the primary, DeSantis declared on Fox News that "the last thing we need to do is monkey this up by trying to embrace a socialist agenda" — a remark that has widely been interpreted as a racist dog whistle against an opponent who, if elected, would be the state's first black governor.
A new Quinnipiac University poll released this week gives Gillum a starting lead with 50 percent, against DeSantis with 47 percent. It's a close one.
3. Georgia: Secretary of State Brian Kemp (R) vs. Ex-State House Minority Leader Stacey Abrams (D)
This state has elected Republican governors for the past 16 years, but a strong swing against the Republicans in last year's special election for the U.S. House (though the Republican narrowly held on) suggests possible changes afoot.
The Republican nominee, Brian Kemp, ran as an "unapologetic conservative" in the primary, suggesting he would personally ride around in his pickup truck to "round up criminal illegals." The Democratic nominee, Stacey Abrams, hopes to turn the state blue with a campaign to better support the state's public education system, and by mobilizing Democratic voters. If elected, she would be both the state's first woman and first African-American governor.
With the general election season headed into the post-Labor Day stretch, Kemp is now seeking to tack to the middle, while Abrams is running on Medicaid expansion and state infrastructure.
The most recent public poll was released in late July, and gave Abrams 46 percent to Kemp's 44 percent.
4. Kansas: Secretary of State Kris Kobach (R) vs. State Sen. Laura Kelly (D) vs. businessman Greg Orman (I)
Kobach, an ally of Trump who headed up the president's short-lived commission on alleged voter fraud, has long been a controversial figure. A federal judge recently ruled against his championed law to require people to prove their citizenship when registering to vote, and openly slammed Kobach's failures to comply with document disclosure rules in the lawsuit.
Kobach very narrowly defeated incumbent Gov. Jeff Colyer, who had succeeded to the office after having been lieutenant governor, in the Republican primary. The Democratic nominee, Laura Kelly, is running on a platform against both the fiscal record of prior GOP Gov. Sam Brownback, and taking on Kobach for being a frequent guest on conservative media outlets: "He goes on television and he talks and he talks and he talks. And I believe that he actually records all this because he loves to watch himself on cable TV."
Kelly also scored a major coup this week, gaining the endorsement of Republican former Gov. Bill Graves: "The reason I'm doing that now is because I believe so much is at stake in the state of Kansas," he said.
Then there's independent businessman Greg Orman, who previously ran a high-profile campaign for U.S. Senate in 2014, and has attracted support from some Republicans, such as Colyer's former campaign chairman. But at the same time, he could potentially split the anti-Kobach vote, as suggested by a recent poll commissioned by the state teachers' union, which showed Kobach at 39 percent support, Kelly at 38 percent, and Orman with 9 percent.
5. Ohio: Attorney General Mike DeWine (R) vs. ex-U.S. CFPB Director Richard Cordray (D)
Popular two-term Republican Gov. John Kasich is term-limited out, setting up a race between two party nominees with long resumes. In addition to being the current state attorney general, Republican nominee Mike DeWine used to be a U.S. senator, lieutenant governor, congressman, state lawmaker, and county prosecutor in a career stretching all the way back to the 1970s. The Democratic nominee, Richard Cordray, was head of the U.S. Consumer Financial Protection Bureau under President Barack Obama, and before that was an appointed state attorney general (losing in 2010 to DeWine) after having previously been elected as state treasurer in 2006, and before that served in various county and state legislative offices.
In the general election, DeWine has switched his position on keeping the state's Medicaid expansion, enacted under Kasich — now calling for changes such as work requirements — after having run against it as "part of ObamaCare" during the Republican primary. Meanwhile, Cordray has been courting previous Kasich voters on issues such as the Medicaid expansion: "So this message is for Ohioans who agree with Gov. Kasich: I am your candidate."
The most recent poll of this race was all the way back in June, and DeWine held a narrow lead with 46 percent to Cordray's 42 percent.
6. Wisconsin: Gov. Scott Walker (R) vs. Superintendent of Education Tony Evers (D)
Gov. Scott Walker is running for a third term — but it's actually his fourth election, including his victory in a 2012 recall election, after he undertook laws to limit public employee unions. During his eight years in office, he also passed a right-to-work law targeting private-sector unions, a voter ID law, and other causes of the conservative side. He briefly ran for president in 2015, before dropping out and calling for others to do so and enable a "positive, conservative alternative to the current frontrunner" (as in, Trump) to emerge. (Of course, he then campaigned hard for nominee Trump in 2016, and helped secure Trump's narrow upset victory in his state.)
In the current campaign, Evers is running hard on improving state infrastructure, and calling for the expansion of Medicaid, while the Walker camp is casting Evers as "an ineffective bureaucrat who sides with unions over children."
The RealClearPolitics poll average gives Evers a lead with 47 percent to 44 percent for Walker.
7. Michigan: Attorney General Bill Schuette (R) vs. ex-State Senate Minority Leader Gretchen Whitmer (D)
Republican Gov. Rick Snyder is term-limited, in one of the states that narrowly went for Trump in 2016 in a major upset. The Democratic candidate Gretchen Whitmer is running on a platform to repeal much of Snyder's program, most notably the right-to-work law against private-sector unions. Republican Bill Schuette is running on upholding that law, as well as tax cuts and partnerships between schools and businesses.
The RealClearPolitics poll average gives Whitmer a comfortable lead with 46 percent to Schuette's 37 percent.
8. Nevada: Attorney General Adam Laxalt (R) vs. Clark County Commissioner Steve Sisolak (D)
This state has elected Republican governors for 20 years, but the picture looks unclear right now. Popular two-term Gov. Brian Sandoval, a GOP moderate, is term-limited — and has had a notably rocky relationship with the more conservative Republican nominee Adam Laxalt, on issues such as immigration and taxes, and thus far has not actually endorsed his party's candidate.
The Democratic candidate, Steve Sisolak, is thus tying himself to the outgoing Republican governor, with a new ad touting his support for Sandoval's 2015 tax increase to fund education: "When Gov. Sandoval did the right thing and increased funding to reduce overcrowding and give teachers a raise, Adam Laxalt opposed it."
The most recent poll, from late July, gave Laxalt 42 percent and Sisolak 41 percent.
9. Maine: Businessman Shawn Moody (R) vs. State Attorney General Janet Mills (D)
Republican Gov. Paul LePage, known for his strident and sometimes even defiant conservatism, is term-limited.
A major issue in this race: LePage's continued fight against expanding Medicaid in the state, which voters approved in a 2017 referendum. Just this week, LePage finally filed a court-ordered plan to expand the program — while asking federal regulators to reject it, on the grounds that the state hasn't appropriated the necessary money. (He has in fact vetoed such a bill from the legislature.)
Democratic candidate Janet Mills is running on the Medicaid issue: "The money is there, and, as governor, I'll implement Medicaid expansion on day one." Republican nominee Shawn Moody's campaign, meanwhile, has stuck more closely to LePage: "Shawn has continuously stated that he will not support spending proposals that fund Medicaid expansion by raising taxes, draining the rainy day fund, or using other budget gimmicks."
Recent polling shows Moody and Mills tied at 39 percent each — but as in LePage's two previous races, the presence of independent candidates could result in vote-splitting.

Continue reading for free
We hope you're enjoying The Week's refreshingly open-minded journalism.
Subscribed to The Week? Register your account with the same email as your subscription.