The sneering contempt of Pope Francis
No more secrets in the Catholic Church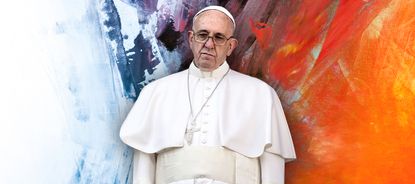 Pope Francis is said to be a keen admirer of Wagner. His taste in recordings of the great composer is impeccable, perhaps even infallible. I wonder whether music will console him as his papacy reaches its Götterdämmerung.
On Saturday night a document with the stark heading "Testimony" appeared online. In this dossier Archbishop Carlo Maria Viganò, the former papal nuncio to the United States, accused the pope of reversing sanctions imposed upon the disgraced Cardinal Theodore McCarrick by Pope Benedict XVI. He also alleged, among other things, that various curial insiders attempted to hamper Benedict's own internal investigation of McCarrick, that under Francis the cardinal served as a kingmaker who was responsible for the appointments of various eminent bishops who are close allies of the pope, and that all of this was quid pro quo for McCarrick's quiet masterminding of Francis' own election. Viganò ended by calling upon the pope to resign.
It is almost impossible to the overstate the significance of this letter. If Viganò is lying, he is guilty of one of the greatest slanders in the history of the Church. If he is telling the truth, the Eternal City is mired in filth unseen since the days of the Borgias, and Francis is among the worst wretches who has ever besmirched the Chair of Peter.
Subscribe to The Week
Escape your echo chamber. Get the facts behind the news, plus analysis from multiple perspectives.
SUBSCRIBE & SAVE
Sign up for The Week's Free Newsletters
From our morning news briefing to a weekly Good News Newsletter, get the best of The Week delivered directly to your inbox.
From our morning news briefing to a weekly Good News Newsletter, get the best of The Week delivered directly to your inbox.
Asked on Sunday whether the accusations were true or false, Francis demurred. "I will not say a single word about this." He then smugly invited the journalists who were present on the papal airplane to investigate the facts for themselves, as if he were a philosophy professor teaching a seminar to a roomful of eager graduate students instead of the Vicar of Christ. This is the same man who, despite endless PR about his commitment to victims, his hatred of clericalism, and his belief in treating gay and lesbian people with dignity, only a few months ago dismissed complaints made about his handling of sexual abuse allegations in Chile as the worthless gossip of "left-wingers," a word that, according to Viganò, is synonymous in the pope's vocabulary with gay people. It is not surprising that even churchmen named alongside Francis in the dossier have responded with what amount to non-denials that make no attempt to defend Francis. Cardinal Donald Wuerl, the archbishop of Washington, D.C., has said Viganò has provided no "objectively verifiable proof" of his claims.
Whatever the truth of Viganò's numerous accusations — and the detailed chronology and references to documents in his letter mean that sooner or later it will be possible to prove or disprove them definitively — there are other truths that require facing now. This is true especially for those of us who have defended the Holy Father against slander and caricature in the past. Francis has revealed himself as an old-fashioned clericalist who views the faithful with contempt. It is not my place as a layman to tell the Holy Father his business, but I can make no secret of the fact that I long for an end to his gaslighting pontificate.
But the hard truths that need facing extend far beyond this papacy. When Viganò's letter was reported over the weekend, liberal Catholic journalists responded with coordinated messenger-shooting. One by one they abandoned their previous rhetoric about the importance of healing and dismissed the dossier out of hand. The response from conservatives and so-called "traditionalists" was to insist that their willingness to take Viganò's accusations seriously had nothing to do with their — in many cases almost lunatic — hostility towards Francis in the past and everything to do with the moral imperative of showering sunlight, that best of disinfectants, upon filth.
I do not think anyone deserves a pass here, certainly not traditionalist Catholics, myself included. How many trads are aware, for example, of the case of Father Milton T. Walsh, a scholar whose work is widely respected in Catholic literary circles. I have been aware of Walsh for many years and had no idea until Monday morning that in 1984 he was accused of molesting a 13-year-old boy on the latter's birthday while serving as a priest in the Archdiocese of San Francisco. Walsh's ordinary, Archbishop John Raphael Quinn, convinced the child's parents not to inform the police. Walsh was then transferred, first to a seminary, then to the cathedral. When Quinn was replaced by William Levada in 1995, the latter was made aware of Walsh's crimes but allowed him to continue serving as a priest. It was not until 2002 that Walsh was removed from ministry under the Vatican's new "zero tolerance" policy. Walsh admitted his crimes that year in a phone call taped by police, but the charges were dropped after the Supreme Court ruled that California could not extend the statute of limitations for this offense. All of these facts are in plain sight at BishopAccountability.org, a website established for the express purpose of putting such information in the hands of the laity. Can it be that I am the only reader of Walsh who is unaware of them? Do his publishers know? What about his literary collaborators?
Until recently these astonishing facts about a man whom I respected were unknown to me. Why? Because they were "open secrets," like the abuses of McCarrick and so many other now-disgraced churchmen. I simply assumed that his good name was deserved.
There must be many more such secrets. We cannot allow them to remain as such. From the Holy Father on down to the humblest priest or layman, all Catholics must atone for their sins, especially those of omission. As St. Luke's Gospel tells us:
Editor's note: This article has been revised since it was first published.

Continue reading for free
We hope you're enjoying The Week's refreshingly open-minded journalism.
Subscribed to The Week? Register your account with the same email as your subscription.