The polarization of Hurricane Florence
The culture wars have come for the weather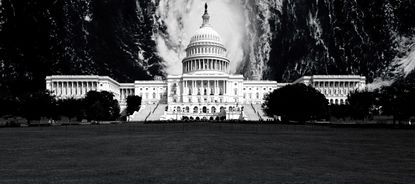 Sign up to our 10 Things You Need to Know Today newsletter
A free daily digest of the biggest news stories of the day - and the best features from our website
Thank you for signing up to TheWeek. You will receive a verification email shortly.
There was a problem. Please refresh the page and try again.
With Hurricane Florence bearing down on the Eastern seaboard, it's as good a time as any to take stock of the wondrous, warping powers of partisanship, which now touches and transforms absolutely everything in our public life.
Even the weather.
Listen for it as the storm approaches, strikes, and then dissipates — the ways that competing ideologies (an increasingly tribal conservatism on the right; statist progressivism on the left) shape differing reactions to the event and expose the deepening political and cultural fissures in our profoundly divided country.
Subscribe to The Week
Escape your echo chamber. Get the facts behind the news, plus analysis from multiple perspectives.
SUBSCRIBE & SAVE
Sign up for The Week's Free Newsletters
From our morning news briefing to a weekly Good News Newsletter, get the best of The Week delivered directly to your inbox.
From our morning news briefing to a weekly Good News Newsletter, get the best of The Week delivered directly to your inbox.
For a Republican, a hurricane is an act of God. Storms happen. They kill people. If you live on the coast, it's part of the baseline risk of life — just as tornados regularly strike the Great Plains states and everything from hellfire to mudslides to earthquakes plague the state of California. If you live in these places, you know what can happen. You can hope for luck or pray for divine protection. But in the end it's out of your hands. There are no guarantees.
When people get hurt by forces outside their control, the government can and should step in to help — with evacuations, with rescues during and after the event, with rebuilding infrastructure that was destroyed. But that's all. There need to be limits to how much public aid people receive. That's the only way to avoid moral hazard. If there are no consequences to bad decisions, people will keep making them. It's one thing to build a house on or near a beach with little protection from storm surges. It's quite another to rebuild in the same location after the home is destroyed by a hurricane because government grants or subsidized flood insurance took away much of the sting of the loss.
In the end, government can't protect people from fate. Bad things happen. That's life. The effort to insulate us entirely from such harmful events is not only futile. It also empowers the state, which ends up oppressing us.
For a Democrat, the impending storm looks very different. Yes, bad things happen, but we need to mobilize the full power of the government to protect people before it hits and to help them recover after it's gone. We're a wealthy country. It's the least we can do. But beyond that generosity, we need to look for evidence that the number and severity of storms is increasing over time. If so, that would be a sign that climate change is having detrimental effects that are harming us in personal, economic, and fiscal terms.
Put differently, no "act of God" is a given. Climate science teaches us that some of these acts are partially a product of human will — not, of course, in the sense that a human being with bad intentions set a particular storm in motion, but in the sense that our actions (our pollutants) are inadvertently changing the climate and making major storms more frequent and more destructive and deadly. That implies that we can to some extent master fate, limit its capacity to inflict pain, by changing our behavior. And because individual actors don't automatically do what's right and what's required by the common good, we need the government to step in — to regulate us to better behavior, using firm rules and stiff penalties.
On top of these ideological differences — which are rooted in conflicting views of the proper relation between God, nature, reason, science, government, and the individual — there's the drift of the Republican Party in the direction of greater tribalism.
Like a mob boss, our president recognizes just one notion of justice — the ethic of helping friends and harming enemies. That, I suspect, is why the administration's response to the devastation wrought by Hurricane Maria in Puerto Rico was so inadequate, despite what the president claimed Tuesday. Some labeled it racism. But I think the root cause was a different form of otherness. Puerto Rico isn't a state. Its residents are U.S. citizens, but they have no vote in Congress. They can vote in presidential primaries, but Marco Rubio won 70 percent of the vote in the 2016 GOP primary compared with Donald Trump's 13 percent. That might not make Puerto Ricans enemies of the president, but it sure doesn't make them friends with a strong pull on his sympathies (such as they are). If Hurricane Florence stays on track and slams into the Carolina coastline later this week, the heavily Republican states will probably fare much better than Puerto Rico when it comes to recovery efforts.
The president considers Democrats to be his enemies, and in a country increasingly marked by tribalistic partisanship, that comes with consequences. Even when a storm strikes.
Continue reading for free
We hope you're enjoying The Week's refreshingly open-minded journalism.
Subscribed to The Week? Register your account with the same email as your subscription.