Donald J. Kavanaugh
The little Trump in the highest court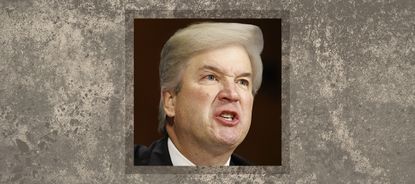 (Image credit: Illustrated | MICHAEL REYNOLDS/AFP/Getty Images, Win McNamee/Getty Images, Digital Vision ii/Alamy Stock Photo)
Sign up to our 10 Things You Need to Know Today newsletter
A free daily digest of the biggest news stories of the day - and the best features from our website
Thank you for signing up to TheWeek. You will receive a verification email shortly.
There was a problem. Please refresh the page and try again.
It goes without saying that Donald J. Trump, a vulgarian, prevaricator, and partisan of the highest order, has degraded the presidency. That he has also debased the legislative branch to mealy mouthed assents to a bigoted base is beyond a shadow of a doubt. Now, with Brett Kavanaugh, Trump will discredit the judiciary too.
The Supreme Court has certainly had at least one other justice with credible sexual harassment claims to his name, as well as others whose partisan leanings were pretty apparent. But it's never had a man like Brett Kavanaugh. He is a judge in the Trump mold.
This was made abundantly clear by Kavanaugh's bizarre performance at Thursday's Senate hearing into the sexual asssault allegations brought by Christine Blasey Ford. Kavanaugh was incoherent, he was hyper partisan, and he was marked by a particular kind of rageful entitlement. The proceedings were so shocking that the Catholic magazine America: The Jesuit Review, which previously endorsed Kavanaugh for his judicial philosophy, called for his nomination to be withdrawn.
Subscribe to The Week
Escape your echo chamber. Get the facts behind the news, plus analysis from multiple perspectives.
SUBSCRIBE & SAVE
Sign up for The Week's Free Newsletters
From our morning news briefing to a weekly Good News Newsletter, get the best of The Week delivered directly to your inbox.
From our morning news briefing to a weekly Good News Newsletter, get the best of The Week delivered directly to your inbox.
That Kavanaugh would not be a judge of more traditional, or at least surface, equanimity was apparent from the get-go, when he opened his first confirmation hearing earlier this month with a bald-faced lie: "No president has ever consulted more widely or talked with more people from more backgrounds to seek input about a Supreme Court nomination." It was as patently ludicrous as Trump's recent address to the U.N., during which he drew laughter for stating: "In less than two years, my administration has accomplished more than almost any administration in the history of our country." Both statements deserve derisive guffaws, but in America, now, we're no longer in on the joke.
Kavanaugh, like Trump, frequently, unnecessarily, and obviously makes factually untrue statements, which is to say that he is a habitual liar. In Thursday's hearing, he made so many hard-to-believe statements that one of his Yale friends, self-identified Republican Lynne Brooks, appeared on CNN to denounce his "blatant lying." And his dubious claims about his high school yearbook page prompted New York Times reporter David Enrich to tweet, "based on extensive interviews by me and @katekelly with Kavanaugh's former Georgetown Prep classmates, what he just said about the meanings of "boofed" and "Devil's Triangle" is not true." Soon The Washington Post may need to keep a running list of "all the false and misleading claims" for Kavanaugh too.
He is also prone to outrageous Trump-like conspiracy theorizing. He alleged in his very opening statement Thursday that he was the victim of "revenge on behalf of the Clintons and millions of dollars in money from outside left-wing opposition groups." His good friend, conservative legal activist Ed Whelan, had earlier in the week launched another crazy conspiracy theory, in a tweetstorm full of Google Maps and floorplans, that Ford's attacker was a dopplegänger of Kavanaugh, not Kavanaugh himself. In the age of Pizzagate and QAnon, I suppose, we shouldn't expect our judiciary be protected from the lunacy leaking from Reddit, 4chan, and Fox News.
Kavanaugh's testimony was belligerent, rude, and, at times, rambling and incoherent — not all that different from a Trump rally at an earlier stage in the president's cognitive decline. As when Kavanaugh babbled:
It was also quite impossible to believe that a woman or person of color could have gotten away with the kind of angry emotional abandon and rambling stupidity Kavanaugh displayed Thursday. Kavanaugh cried, he screamed, he sniffled and whimpered. He repeatedly and belligerently interrupted Sen. Dianne Feinstein (D-Calif.). And after Sen. Amy Klobuchar (D-Minn.) remarked that her father was an alcoholic and asked Kavanaugh whether he ever drank to the point of forgetting what happened, he disrespectfully responded: "I don't know. Have you?" He rolled his eyes, scowled, and yelled that he had wanted to testify the NEXT DAY — it was the very picture of entitled male rage.
That was perhaps the most striking thing about Kavanaugh's testimony: His clear sense that the Supreme Court seat was owed to him and that he would be deeply wounded if he were to be denied it. Like Trump who complains that "no politician in history ... has been treated worse or more unfairly," Kavanaugh is convinced that the Judiciary Committee tasked with advice and consent should wave him through. While Trump prickles at the indignation of Special Counsel Robert Mueller's investigation, Kavanaugh has neither called for an FBI investigation nor for the witnesses, including his old friend Mark Judge, to come in to testify. One might think that if he was innocent, he would welcome an independent investigation to clear his name. But one more week, he moaned, would be far too long.
It's a fitting match: Trump and Kavanaugh. Thursday's hearings, like much else over the past two years, were gut-wrenchingly unprecedented in how they smashed through the railguards of norms and forwent any appearance of balanced deliberation. Kavanaugh is about as fit for the Supreme Court as Trump is for the presidency.
The only hitch is: We'll be stuck with Kavanaugh for far longer.
Continue reading for free
We hope you're enjoying The Week's refreshingly open-minded journalism.
Subscribed to The Week? Register your account with the same email as your subscription.
Sign up to our 10 Things You Need to Know Today newsletter
A free daily digest of the biggest news stories of the day - and the best features from our website