Senators, please mutiny
Moderate senators must abandon their leaders and seek out compromise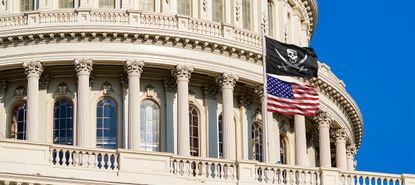 (Image credit: Illustrated | Tanarch/iStock, ayzek/iStock)
Here's the dirty little secret: The Senate is broken and the midterms won't fix it.
Regardless of which party wins control of the chamber on Nov. 6, the Senate next year will likely remain closely divided with a majority leader more interested in manipulating procedure to shove controversial legislation down the throats of the other party than in finding common ground. This will leave rank-and-file senators with a choice: Do they support this mentality? Or do they finally revolt and use the inherent power that accrues to each senator in a closely divided chamber to force leadership to compromise?
In a deeply fractured nation, let this be one vote for the latter.
Subscribe to The Week
Escape your echo chamber. Get the facts behind the news, plus analysis from multiple perspectives.
SUBSCRIBE & SAVE
Sign up for The Week's Free Newsletters
From our morning news briefing to a weekly Good News Newsletter, get the best of The Week delivered directly to your inbox.
From our morning news briefing to a weekly Good News Newsletter, get the best of The Week delivered directly to your inbox.
Over the past few years, we've seen what happens when ruthless partisans rule the chamber. Rather than hewing to the center to pass legislation with 60 votes, Senate Majority Leader Mitch McConnell has focused on using procedural tools, like the budget reconciliation process, to enact conservative goals, like repealing the Affordable Care Act or passing last year's massive tax cut, with only 50 votes. He has also focused on confirming an unprecedented number of judges, which also only takes 50 votes thanks to procedural changes enacted under the Democrats' former Majority Leader Harry Reid. McConnell has even torpedoed bills, like on criminal justice reform, that have broad bipartisan support but divide Republicans. His win-at-all-costs strategy may have been good for Republicans politically, but it's been rotten for the country.
McConnell's cynicism isn't surprising. After all he's the Republican leader and most of his gambits boost his party and please its core constituencies. What is baffling, however, is that in a closely divided Senate, his Republican colleagues have so willingly gone along.
Individual senators or small groups of senators have the power to compel McConnell to behave in a more conciliatory manner. For example, retiring Sen. Jeff Flake (R-Ariz.) forced a delay in the confirmation of Justice Brett Kavanaugh for an additional FBI investigation in spite of McConnell's eagerness to confirm Kavanaugh as quickly as possible. Similarly, Flake forced a vote on a non-binding resolution opposing President Trump's trade policies by refusing to vote to confirm lower court judges until McConnell allowed it.
And yet, Flake, and his Republican colleagues like Bob Corker (Tenn.), Ben Sasse (Neb.), Susan Collins (Maine), Lisa Murkowski (Alaska), and Lamar Alexander (Tenn.), all of whom have either lamented the state of the Senate or shown proclivities towards legislating in a bipartisan manner, generally refuse to fully assert themselves (the refusal of Collins, Murkowski, and the late Sen. John McCain to vote for the Affordable Care Act repeal was the rare exception). Collins and Flake voted for the GOP tax bill after McConnell and the White House made empty promises about immigration and health care. And Flake ended his judicial blockade after securing a mere non-binding vote, instead of a promise to vote on actual legislation.
All that senators seeking compromise have to do to restore the Senate to far greater functionality is to play hard ball with their leaders. Whether the Senate ends up managed by McConnell or Democratic leader Chuck Schumer (N.Y.) after the election, a small group of senators will still possess the power to block anything the majority leader tries to steamroll through the chamber.
Flake and Corker are retiring, but even conservatives like Alexander and Sen. Lindsey Graham (S.C.) have shown a desire to find common ground. Most of the Senate's moderate Democrats are locked in tight re-election races, but should their party surprise and take control of the Senate, senators like Joe Manchin (W.Va.) and Jon Tester (Mont.) can fulfill the same function. Even should they lose, liberals like Chris Coons (Del.), Mark Warner (Va.), and Dianne Feinstein (Calif.) might be willing to partner with Republicans.
On hot-button issues, compromise by definition would mean each side swallowing provisions it hates in exchange for things it wants. A deal on health care, for example, might involve allowing the sale of catastrophic plans without minimum benefits in exchange for the creation of a public option. On climate change, there might be a compromise along the lines of the conservative plan for a carbon tax laid out by Republican luminaries last winter. On countless other issues, ranging from taxes, to child care, to voting rights, one can envision similar deals. The two sides might even seek out novel, non-ideological ideas to address pressing national problems. Maybe more importantly, when big deals can't be struck, individual senators can push back against the partisan impulses that poison the well and make achieving any subsequent deals more difficult.
Neither side will love everything about bipartisanship, but it provides a far better, more functional path for the country. We've seen the alternative: Republicans have now spent close to a decade working to repeal the Affordable Care Act, which was passed without any Republican votes at all. Indeed, McConnell revealed the GOP might take another stab at it, depending on how the elections shake out. Similarly, Democrats would likely undo elements of the Republican tax bill at their first opportunity.
Manipulating or changing rules to push through the most conservative or liberal legislation possible meets the demands of base voters. But it creates collateral damage, from venomous and increasing polarization to legislation that can't be fixed or improved if the other party gains control of government. In a deeply fractured country, the only way for legislation to have staying power and to give Americans some stability — and hope that their government might actually address national problems plaguing people's lives — is for the two sides to seek common ground.
Senators, please try.

Continue reading for free
We hope you're enjoying The Week's refreshingly open-minded journalism.
Subscribed to The Week? Register your account with the same email as your subscription.