Why winning the suburbs could come back to haunt the Democrats
Suburban moderates are probably not on board with the Democrats' best ideas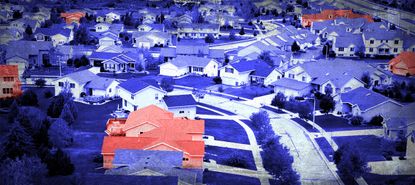 (Image credit: Illustrated | benkrut/iStock, javarman3/iStock)
The 2018 midterms are upon us. And it's increasingly clear that if Democrats take the House, or even the Senate, they will have suburban voters to thank for it.
Of course, by "suburban voters," what we really mean are upper-class whites. Historically, these voters have been a bastion of GOP support. But as President Trump doubles down on fear-mongering and outright racist nationalism, more and more of these voters — and upper-class white women in particular — appear ready to flee the Republican Party. That in turn is opening up a wealth of opportunities for Democrats.
But in great opportunity lies great danger.
Subscribe to The Week
Escape your echo chamber. Get the facts behind the news, plus analysis from multiple perspectives.
SUBSCRIBE & SAVE
Sign up for The Week's Free Newsletters
From our morning news briefing to a weekly Good News Newsletter, get the best of The Week delivered directly to your inbox.
From our morning news briefing to a weekly Good News Newsletter, get the best of The Week delivered directly to your inbox.
Turning upper-class whites into reliable Democratic voters will require the party to change as well. That reforging could win them the 2018 midterms, but it could also set them up for failure when it matters most.
This is not the first time the Democrats have tried wooing the suburbs. The strategy was arguably crucial to the party's massive congressional gains in the 2006 midterms. Of course, there are differences between 2006 and 2018: The redistricting of 2010 gerrymandered many more districts in Republicans' favor, and the Democrats need to pick up 24 House seats this time out, versus 17 then. But none other than Rahm Emmanuel, a key architect of the Democrats' 2006 victories, sees obvious connections: "If you look at the patterns of where gains are being made and who is creating the foundation for those gains, it's the same: An energized Democratic base is linking arms with disaffected suburban voters," he told The New York Times last year.
The gambit certainly worked as far as retaking Congress was concerned. But it also placed severe limits on what Democrats could do once in power.
Many of the party's pickups in '06 and '08 were directly or indirectly behind some of the biggest blunders of the Obama presidency. For instance, once the Great Recession hit, Democrats passed a stimulus package that was one-half to one-third as big as the economic circumstances required because they were concerned about blowback from the party's centrists, many of whom were elected in those '06 and '08 waves. Congressional Democrats were also instrumental in passing a bank bailout that eschewed nationalizing or restructuring the banks — which would've required massive write-downs of Americans' underwater mortgages — and instead gave a blank check to the executive branch. The Obama administration then used that freedom to shore up the banks and throw millions of homeowners under the bus. As for ObamaCare, appeasing Democratic centrists kept the law's spending much too low and scuttled the public option, among other failures. A policy that should've been a political triumph became a millstone around the Democrats' necks for years.
In other words, the suburban strategy that helped Democrats win in '06 and '08 basically tied their hands in responding to the financial crisis, the health care crisis, and more. That laid the groundwork for the Republican revolt of 2010 — which wiped out many of those same moderate Democrats, anyway — and led to a brutally slow recovery that created a petri dish for political extremism.
So will history repeat itself?
It certainly looks like it. Should Democrats retake Congress this year and then the presidency in 2020, passing things like Medicare-for-All, a national child care system, or a $15 national minimum wage will suddenly become a live possibility. Yet these bold economic policies are unlikely to garner the support of representatives who answer to well-to-do populations fearful of economic change and potentially higher taxes. Winning in the suburbs this year might set the stage for future policy disasters.
It's also worth questioning just how politically savvy a suburban strategy is in the first place. Sure, the plan worked in 2006 — but it didn't in 2016 when Democrats explicitly pursued it during Hillary Clinton's presidential run. "For every blue-collar Democrat we lose in western Pennsylvania, we will pick up two moderate Republicans in the suburbs in Philadelphia, and you can repeat that in Ohio and Illinois and Wisconsin," Senate Minority Leader Chuck Schumer (D-N.Y.) explained at the time. But while Clinton won the popular vote, it was by a meager 2 percent margin. She lost crucial Rust Belt states that Obama had won, thanks to working-class whites swinging for Trump.
If the Democrats can maintain some self-awareness, they could certainly woo suburban voters in 2018 and then go after blue collar voters in 2020. But the danger is that a successful suburban strategy might just convince them to try it again in 2020.
The party may need "suburban" voters in 2018. But come 2020, they may well drag it down to defeat.

Continue reading for free
We hope you're enjoying The Week's refreshingly open-minded journalism.
Subscribed to The Week? Register your account with the same email as your subscription.