The commonsense case for a Trump-Pelosi partnership
There are plenty of initiatives that would benefit both parties — and the American people — if only our leaders could work together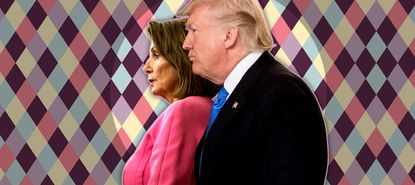 (Image credit: Illustrated | Zach Gibson/Getty Images, NICHOLAS KAMM/AFP/Getty Images, PaPashka90/iStock)
After Wednesday's three-ring circus of a press conference and his Twitter firing of Attorney General Jeff Sessions, what President Trump's plans for the next two years might be are anyone's guess. But just an hour before he announced that he had appointed an ex-district attorney and former CNN personality who has been critical of Robert Mueller's special counsel investigation to replace Sessions, he expressed his interest in working with Democrats on a variety of issues.
What about the new House majority? Many Democratic lawmakers want open war, but Nancy Pelosi does not. The once and likely future House speaker will do everything she can to placate her caucus while stopping short of pursuing Trump's impeachment. Her hand might well be forced. But she is a wily old fox. If she can find a way to develop some kind of relationship with the White House, here are five issues on which Trump and Democrats could legitimately work together.
1. Infrastructure
Subscribe to The Week
Escape your echo chamber. Get the facts behind the news, plus analysis from multiple perspectives.
SUBSCRIBE & SAVE
Sign up for The Week's Free Newsletters
From our morning news briefing to a weekly Good News Newsletter, get the best of The Week delivered directly to your inbox.
From our morning news briefing to a weekly Good News Newsletter, get the best of The Week delivered directly to your inbox.
This is a no-brainer. Many state-level races across the country are won solely on the basis of what candidates promise to do about roads, albeit with no funding. If Trump really wants to make his much-vaunted economic recovery permanent — and discredit the received wisdom of GOP deficit hawks forever into the process — he should work with Democrats to come up with a massive infrastructure bill. They should shoot for the moon here: nationwide free broadband internet, a massive up-to-date rail network, better transit in urban areas, and above all, a comprehensive water clean-up package for cities struggling with toxic levels of lead. Create good-paying jobs, make life better for everyone. Who could oppose this?
2. Criminal justice reform
This is a rare example of an issue that has quietly brought together politicians from all corners of both parties: so-called "reform" conservatives, libertarians, progressives, and conventional liberals. We have Kim Kardashian to thank for bringing it to the attention of the White House. Democrats can pitch it to their base however they want, but Trump should feel free to unload about how he is undoing the legacy of the Clintons, whose cynical '90-era policies are responsible for the unjust incarceration of two generations of black men. Whatever it takes, folks, just get it done.
3. Federal marijuana decriminalization
The criminalization of this disgusting habit is a noble but totally lost cause. Dope is just another boring part of commerce now. But allowing states to permit commercial activity that is prohibited under federal statute is a mockery of the rule of law. Unless President Trump wants to send the National Guard to burn down dispensaries in Colorado, Washington, and, alas, Michigan, he should work with Democrats — and what I suspect will be a surprisingly large number of sympathetic Republicans — to change the federal status of cannabis and create a regulatory framework that places its cultivation, distribution, and consumption under the authority of the Centers for Disease Control and Prevention.
4. Health care
If Republicans have learned anything in the last two years — huge news if true — it is that the Affordable Care Act is here to stay, at least until both parties embrace the brute fact that single payer is the only viable option going forward. This could happen in two years. It could also be another painful decade away. In the meantime the ACA's expansion of Medicaid has been popular everywhere it has actually been allowed to happen — including in red states like Kentucky. For families with children the premium discounts are also valuable if mostly unsung. But the law as it exists is far from perfect. The enrollment period provision, for example, is a disaster. No one should be forced to pay for inadequate coverage for months on end because he or she has no other worthwhile choices in the meantime except going uninsured. What healthy single adults in their 20s can get away with is not an option for families with children. I suspect another lowering of the income ceiling for Medicaid could get past this White House, to say nothing of a pragmatist like Mitch McConnell, who understands that he will never get the votes to "repeal and replace." Ted Cruz is just going to have to get over it.
5. Immigration reform
This is the hardest sell of all, but it is also the one from which Democrats stand to benefit the most. It is difficult to think of anything that would help the party in 2020 more than effectively neutralizing Trump's ability to run on this issue. What would such a compromise involve? Making DACA permanent in exchange for at least some kind of token funding for the border wall. It probably wouldn't take much and it certainly wouldn't have to translate into a literal 2,000-mile-long, 30-foot-high palisade separating the United States from Mexico. Just put up a shiny fence somewhere in Texas or, better yet, California and let Trump have his picture taken in front of it. They could even do The Wall: Live, like Pink Floyd in 1981, with elaborate staging and pyrotechnics and an hour-long Hannity interview-cum­-extended Ted Nugent guitar solo. That would satisfy both the president and his base even if it didn't go much further.
In his press conference on Wednesday, Trump said that Democrats can convene a series of Benghazi-style hearings or work with him on legislative issues — but not both. This is probably true.
There are good partisan reasons to opt for intransigence instead of pursuing any of the above, all of which involve prudential questions and allow both parties to elide their disagreements about social issues. The only people with anything to lose are, well, the American people.

Continue reading for free
We hope you're enjoying The Week's refreshingly open-minded journalism.
Subscribed to The Week? Register your account with the same email as your subscription.