Theresa May is Britain's worst procrastinator
She had a difficult choice to make — and she opted not to make it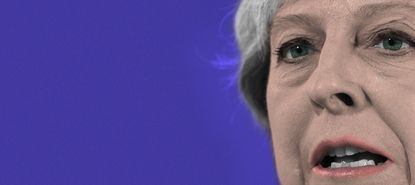 (Image credit: Illustrated | Dan Kitwood/Getty Images)
The British Parliament will vote this afternoon on the agreement negotiated by Prime Minister Theresa May to set terms for the country's divorce from the European Union. It is widely expected to fail. If it does, there will really only be two options left: a hard Brexit or no Brexit at all.
For different reasons, both choices are almost too painful to contemplate. But if there's any universal lesson from May's mess, it's that procrastination is no basis for policy.
To understand why, just look at May's looming failure of a deal. Brexit presented her with a choice: She could side with the majority of Brits who don't want to lose the almost frictionless trade arrangement they now enjoy with the rest of Europe, or she could side with the large contingent of voters and politicians who don't want to be subject to EU regulations and rules on immigration. But instead of choosing, May opted to kick the can down the road.
Subscribe to The Week
Escape your echo chamber. Get the facts behind the news, plus analysis from multiple perspectives.
SUBSCRIBE & SAVE
Sign up for The Week's Free Newsletters
From our morning news briefing to a weekly Good News Newsletter, get the best of The Week delivered directly to your inbox.
From our morning news briefing to a weekly Good News Newsletter, get the best of The Week delivered directly to your inbox.
Through her deal, May basically created a holding pattern of a few years, during which all the hard choices would, somehow, be fleshed out. For instance, to solve the problem of what to do about the border between Ireland (staying in the EU) and Northern Ireland (leaving with the rest of the U.K.), May created a "backstop" of sorts: Barring any other negotiated settlement, portions of the U.K. would find themselves permanently subject to various EU trade and customs regulations — but without Britain's input into EU policy. It's meant to prevent the Irish border from reverting to a "hard" boundary with customs stops and physical checkpoints. But it's also supposed to be such an unsavory solution that it will force both sides to come up with something else. It's just that no one has any idea what that "something else" could be.
May's deal is essentially the worst of all possible worlds. It satisfies neither side. In fact, a vote was originally scheduled for December, and May pulled the plug at the last minute, fearing a sure defeat. Nothing has changed in British politics since to suggest today's outcome will be any different.
But that failure will also leave May's government with mere weeks to come up with a new plan. Brexit happens — come hell or high water — on March 29.
With so little time, the most likely scenario will be a "hard" Brexit. Basically, Britain crashes out of the EU with no deal in place to handle trade and regulatory relationships. Goods and services would attempt to move between Britain and other EU countries on March 30, only to find that the rules for how to do so have vanished ... and been replaced with nothing.
This outcome would give the pro-Brexit forces what they want: A clean break with all obligations to the European Union. But it would also ensure months, if not years, of economics chaos.
No one wants that either.
The only remaining option is to not go through with Brexit at all. Unfortunately, since the British populace did vote for Brexit, a refusal by the government to carry it out would create an unprecedented legitimacy crisis for the country's democracy. "People's faith in the democratic process and their politicians would suffer catastrophic harm," as May said on Monday. The government might be able to get around that problem by holding a second national referendum, in the hopes that voters change their minds. But that too carries risks: What if voters decide to remain, but with less overall turnout than the previous pro-Brexit decision. Which vote is more "legitimate" then?
There are rumblings that the British Parliament might try to wrest control of the Brexit process from May's executive government. Or that another snap election might replace May with Labour leader Jeremy Corbyn.
But both solutions assume getting rid of May will somehow fix Britain's predicament. It won't. At this point, Brexit is a question for which there is nothing but horrible answers.
Unfortunately, someone has to choose one.

Continue reading for free
We hope you're enjoying The Week's refreshingly open-minded journalism.
Subscribed to The Week? Register your account with the same email as your subscription.