Will Amy Klobuchar's tough-on-crime history come back to haunt her?
Do Democrats want an aggressive prosecutor for president?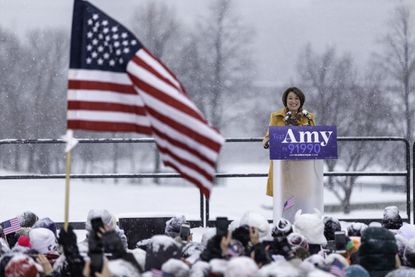 (Image credit: KEREM YUCEL/AFP/Getty Images)
Sign up to our 10 Things You Need to Know Today newsletter
A free daily digest of the biggest news stories of the day - and the best features from our website
Thank you for signing up to TheWeek. You will receive a verification email shortly.
There was a problem. Please refresh the page and try again.
Amy Klobuchar, the Democratic Senator from Minnesota, announced her run for president on Sunday. Outdoors. In Minneapolis. In February.
Naturally, she and the crowd were pelted with snow and ice throughout the event, and one could be forgiven for suspecting the setting was entirely intentional. What better way to introduce yourself to a national audience than by showing off your mettle and soldiering on in the face of ugly weather?
"I think we need people with grit," Klobuchar told reporters later, underlining the point. "I have that grit."
Subscribe to The Week
Escape your echo chamber. Get the facts behind the news, plus analysis from multiple perspectives.
SUBSCRIBE & SAVE
Sign up for The Week's Free Newsletters
From our morning news briefing to a weekly Good News Newsletter, get the best of The Week delivered directly to your inbox.
From our morning news briefing to a weekly Good News Newsletter, get the best of The Week delivered directly to your inbox.
So now we know Klobuchar is tough. But is she too tough?
No, this isn't about last week's HuffPost story suggesting she's a mean boss. That story will disappear soon enough. Less likely to fade, though, is her history as a "no-nonsense prosecutor" in an era where liberal voters find the tough-on-crime tactics of late-1990s Democrats to be increasingly repugnant.
Klobuchar was elected the top prosecutor in Minnesota's Hennepin County in 1998, then re-elected in 2002. "She put drug offenders behind bars more frequently and for longer stretches," The Daily Beast reported Sunday, adding she "sharply increased the prosecution of repeat offenders, and launched campaigns against graffiti and vandalism." She even prosecuted Kirby Puckett, the Minnesota Twins hall-of-famer, in a sexual assault case.
Like California Sen. Kamala Harris, another former prosecutor running for the Democratic nomination, Klobuchar built her early political reputation as an aggressive prosecutor. Now Klobuchar and Harris face a primary electorate that has tired of the War on Drugs and is worried about the effect of over-incarceration — a late 2018 poll suggests 87 percent of Democrats support a reduction in the prison population.
It's understandable if Klobuchar and Harris are bewildered, though. They inherited two generations of Democratic losses to tougher-than-thou Republican politicians. The party learned lessons from those defeats — electoral disasters ranging from George McGovern to Michael Dukakis — that only recently have started to become unlearned.
Bill Clinton, of course, was the master of the old rules. He watched how the Dukakis campaign was undone — by the infamously racist Willie Horton ad, as well as by Dukakis' own refusal to support the death penalty — and ensured he wouldn't repeat the same mistakes. He ran in 1992 calling George H.W. Bush soft on crime, then proved his bona fides by returning to Arkansas to oversee the execution of Ricky Ray Rector for the murder of a police officer. It was ugly politics, but it also served as a lesson to Democrats who became determined never to let the GOP outflank them on the crime issue ever again.
What changed?
For one thing, the crime rate is now really, really low. It's more difficult — though clearly not impossible — for demagogues to make hay when peace reigns in most of the land.
It's also true that "toughness" turned out to be overrated — or, at least, expensive. California's "Three Strikes" law, which makes a prison sentence of 25-to-life automatic for anybody convicted of their third felony, gave the state overcrowded prisons and skyrocketing budgets. And as prisons filled and the bill rose in other states, even conservatives started to reconsider the wisdom of it all: President Trump just signed the First Step Act to help offenders return to the community. The law is restrained in its reach, but it's impossible to imagine many major politicians, Republican or Democrat, supporting such a bill a generation ago.
During the same time, liberals began to sour on the morality of incarceration, especially its effects on minority communities. Scholars and artists — like the director Ava Duvernay with her Netflix documentary 13th — made a convincing case that the country's system of incarceration was racist, designed to replicate and further the reach of slavery and Jim Crow in African-American life. By the time he left office, President Obama was speaking openly about the need for prison reform.
In other words, Klobuchar and Harris built their resumes when a "law-and-order" approach was the best path to success for a Democratic politician. They have now reached the peak of their profession just in time to discover the old rules no longer apply. What can they do to win over primary voters skeptical of their prosecutorial histories?
First, they can remind voters that times have changed, that crime really was high in those earlier eras, and suggest that when mistakes were made, they were made in an effort to protect communities from the ravages of lawlessness. Secondly, they can bend their legislative records in a new direction — as both have in supporting the First Step Act. And third, they can be forward-looking, championing policies that would protect communities while curbing police abuses and lowering high incarceration rates.
Klobuchar and Harris can't undo their pasts. The best they can do is to demonstrate they understand how the landscape has changed, and make a case for how they'll respond. They have already proven they are tough. Now they have to show they're nimble, as well.
Continue reading for free
We hope you're enjoying The Week's refreshingly open-minded journalism.
Subscribed to The Week? Register your account with the same email as your subscription.
Sign up to our 10 Things You Need to Know Today newsletter
A free daily digest of the biggest news stories of the day - and the best features from our website
Joel Mathis is a freelance writer who lives in Lawrence, Kansas with his wife and son. He spent nine years as a syndicated columnist, co-writing the RedBlueAmerica column as the liberal half of a point-counterpoint duo. His honors include awards for best online commentary from the Online News Association and (twice) from the City and Regional Magazine Association.