Release the Mueller report now
The American people deserve to see what the special counsel turned up about President Trump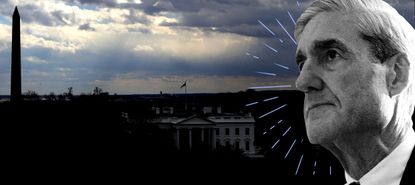 (Image credit: Illustrated | AP Photo/J. Scott Applewhite, File, Alex Wong/Getty Images, Lubushka/iStock)
The Mueller report — the product of the famous investigation into any connections between the Trump campaign and the Russian government, conducted by Special Counsel Robert Mueller — has been completed and delivered to Attorney General William Barr.
There is only one possible just outcome: The report must be released to Congress and the public.
Mueller was charged with digging into links between the Trump operation and Russia, as well as "any matters that arose or may arise directly" from that effort. The latter stipulation has already produced multiple convictions, including former Trump campaign adviser George Papadopoulos (lying to the FBI), former National Security Adviser Michael Flynn (same), computer whiz Richard Pinedo (helping Russian sources commit identity fraud), lawyer Alex Van der Zwaan (lying to the FBI), former Trump aide Carter Page (conspiracy to defraud the United States, plus multiple financial crimes), former Trump campaign chairman Paul Manafort (multiple financial crimes, conspiracy to defraud the United States, witness tampering, and other charges still pending in state court), former Trump lawyer Michael Cohen (perjury and campaign finance violations which were referred by Mueller but prosecuted by others), and Samuel Patten (violation of Foreign Agents Registration Act, against referred by Mueller).
Subscribe to The Week
Escape your echo chamber. Get the facts behind the news, plus analysis from multiple perspectives.
SUBSCRIBE & SAVE
Sign up for The Week's Free Newsletters
From our morning news briefing to a weekly Good News Newsletter, get the best of The Week delivered directly to your inbox.
From our morning news briefing to a weekly Good News Newsletter, get the best of The Week delivered directly to your inbox.
Mueller's team has indicted some 26 other people, including 13 Russian nationals (plus three companies) for alleged attempts to influence the 2016 election through propaganda; 12 Russian intelligence operatives for allegedly hacking the emails of Clinton campaign chairman John Podesta, the DCCC, and DNC; and finally Trump associate Roger Stone for allegedly lying to Congress and witness tampering.
Now, only some of these indictments are directly related to the Russia story. However, we can certainly conclude that the Trump operation is simply swimming with criminals. People at all levels in both his campaign and administration have been convicted of felonies, from low-level aides to Trump's top advisers and his personal lawyer — who testified that he lied to Congress about halting the push for a Trump Tower Moscow project in January 2016, "when in fact he pursued it for months after that as Trump campaigned for the presidency."
Just look at this pile of felons — and that's from a probe which was quite limited in focus. One can only imagine what a full-scale investigation into every corner of Trump's administration and business empire would find. Perhaps no president in history has been under such a cloud of criminality.
A functioning democracy would have long since ejected Trump from the presidency and assigned whole divisions of investigators and lawyers to get the truth. (As Richard Nixon once said, "people have gotta know whether or not their president is a crook.") But at the very minimum the American people deserve to know what is in the Mueller report. It might not even be more than is already known — which again is quite a lot — but still, the public should be allowed to see.
Remarkably, Trump himself has said the report should be released. "Let it come out, let people see it," he said Wednesday. "Let's see whether or not it's legit."
The president is almost certainly faking transparency. (Remember his promise to release his tax returns?) I would bet quite a large sum he will reverse course and attempt to suppress the report. Even if it's not that bad, it wouldn't take much to offend the vanity of such a titanic narcissist.
But whatever the case, Democrats and American people as a whole — 87 percent of which want the report to be released — must demand to see what Mueller turned up immediately.

Continue reading for free
We hope you're enjoying The Week's refreshingly open-minded journalism.
Subscribed to The Week? Register your account with the same email as your subscription.