The anticlimactic conclusion of the Mueller saga is unequivocally good for America
What, you were hoping for a traitorous president or a deep state plot?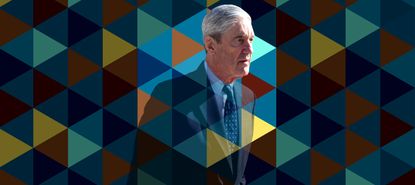 (Image credit: Illustrated | Tasos Katopodis/Getty Images, fotiksonya/iStock)
It was inevitable there would be an emotional end to Special Counsel Robert Mueller's investigation into President Trump's 2016 campaign. Though we haven't seen the full text of the report, Sunday's summary from Attorney General William Barr makes one thing reasonably clear: The president isn't going to be impeached, indicted, or otherwise punished for conspiring with Russians.
Mueller left the door cracked on the "obstruction of justice" issue. In the main, though, he was hired to determine whether Trump and his people had cooperated with Russians in an effort to steal an election. He's delivered his answer. No, they didn't.
Some people will be disappointed. Some will be embarrassed, realizing they allowed hopeful conjecture to get the better of them as this narrative unfolded. Some will call for vengeance, viewing the whole investigation as kind of failed coup. They'll want a dramatic blood-letting, as the unsuccessful conspirators fall on their swords.
Subscribe to The Week
Escape your echo chamber. Get the facts behind the news, plus analysis from multiple perspectives.
SUBSCRIBE & SAVE
Sign up for The Week's Free Newsletters
From our morning news briefing to a weekly Good News Newsletter, get the best of The Week delivered directly to your inbox.
From our morning news briefing to a weekly Good News Newsletter, get the best of The Week delivered directly to your inbox.
In reality, everyone should draw some hope from the anticlimactic conclusion of this whole saga. Our president may be a boorish incompetent, but he's not a traitor. If you've been marinating in left-wing commentary, that's probably unexpected, but it's good news. A dramatic Trumpian exit would admittedly have had its charms. But do we really want to hear that the Oval Office has been occupied by a Putin puppet for more than two years? It's a relief to hear that American democracy isn't quite that sick.
There's more good news, though. It seems it's indeed possible for a widely-hated, astoundingly aggravating president to be exonerated by agents of "the deep state." That's not something recent right-wing commentary would have led you to expect, and it's further cause for gratitude. Over the past couple of years, it has often felt as though we were walking through a maelstrom of malevolent manipulations and dystopian daydreams. In the end though, the system held. America is less far gone than many of us feared.
This judgment will provoke some scoffing, on both sides of the line. Trump's critics will point out that Mueller's non-indictment doesn't imply actual innocence. Mueller and his team might themselves be corrupt, or perhaps they just didn't find the "smoking gun" they needed. Anyway, we haven't seen the whole report yet, right? It's not over yet!
Here, we need to draw some distinctions. There is ample room for reflection on Trump's general misconduct, both in office and before he entered it. Quite obviously, he is an unscrupulous person, who likes to surround himself with birds of a similar feather. On the Russian-collusion point, though, it's time to give up. We've just had a lengthy investigation, conducted by people who clearly weren't Trumpian stooges. They didn't find evidence of a Russian conspiracy. The public hasn't seen the full text, but Barr wouldn't have made such an unambiguous statement unless the report justified it. Inevitably, a few people will go on speculating about Trump as a Putin catspaw, but they should be dismissed as cranks. If you don't like having Trump as your president, get busy electing someone else.
On the right, many will view this as an opportune moment for scathing indictments of the liberal media and the FBI. Once again, some distinctions should be drawn. It's appropriate at this juncture to debate certain procedural questions, concerning the use of special prosecutors and the tactics employed by Mueller's team. Maybe some of those tactics were unethical. Maybe some people deserve to be fired. Presidential investigations don't happen very often, and they're inevitably riddled with land mines; we need our elected officials to respect the law, but we also need lower officials to respect the outcome of the democratic process. There can be tensions between these two goals, and it's worthwhile to consider how successfully they were handled in this instance. People who egregiously overstepped their authority should face consequences.
In the end though, Mueller's verdict severely undermines the claims of his less-disciplined critics. They will predictably continue to paint him as a Javert-like figure, determined to bring down a U.S. president no matter the cost. His Trump-favorable verdict, they will insist, is merely evidence of the total absurdity of the charges levied against Trump. After straining every possible legal muscle in search of damning evidence, Mueller was finally forced to conclude that there was absolutely nothing to find. He had no choice but to exonerate the president.
We already know that's not true, though. The meeting at Trump Tower happened. We heard the testimony of Michael Cohen. Paul Manafort's Russia connections were real. If Mueller and his team had indeed been desperate to turn the screws on Trump, they certainly had enough evidence to keep the fires of suspicion smoldering. These people are lawyers, after all. They know how to manipulate public perception without actually lying.
It seems they chose not to do that. That indicates that Mueller does have some sense of professional responsibility, as well as a non-trivial interest in the truth. When the Praetorian guards of ancient Rome decided to depose an emperor, they generally accomplished their aim. It would seem that the "deep state" is not, in fact, a modern equivalent to that institution, which is cause for rejoicing. It's also reason for the right to temper its more vengeful impulses.
This has not been a happy episode in our nation's history. The only people who really come out well are those Americans (perhaps a silent majority) who wisely decided two years ago that it wasn't worth obsessing over this issue. For everyone else, it's a good time to reflect that things could have ended much worse. Our Republic clearly isn't in a pristine state of health, but Caesar is still safely on the far side of the Rubicon. Let's keep him there.

Continue reading for free
We hope you're enjoying The Week's refreshingly open-minded journalism.
Subscribed to The Week? Register your account with the same email as your subscription.