Evangelical Trump supporters, please just be honest
Either you care about presidential character or you don't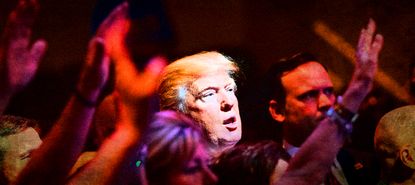 (Image credit: iStock.)
The Clinton-Lewinsky scandal and the impeachment proceedings against then-President Bill Clinton that followed are the first major news events to loom large in my memory.
I was too young to understand much. I didn't know what the president had done with his intern, why anyone cared about the blue dress, or how impeachment worked. And in retrospect, there were plenty of other big stories I could have more easily noticed: O.J. Simpson's trial, perhaps, or Waco, or maybe even the fall of the Berlin Wall. But it is this scandal which sticks out, and it isn't difficult to divine why. I grew up evangelical, and we were Very Upset.
These days it seems everyone is Very Upset all the time. Evangelicals are no exception, but, as has been endlessly observed over the last three years, white evangelicals overwhelmingly find themselves defending a scandalous president instead of deploring him. This week, that defense came to include an American Family Association (AFA) petition against National Review's David French for the crime of having a moral memory longer than that of a goldfish.
Subscribe to The Week
Escape your echo chamber. Get the facts behind the news, plus analysis from multiple perspectives.
SUBSCRIBE & SAVE
Sign up for The Week's Free Newsletters
From our morning news briefing to a weekly Good News Newsletter, get the best of The Week delivered directly to your inbox.
From our morning news briefing to a weekly Good News Newsletter, get the best of The Week delivered directly to your inbox.
French's offense, in the AFA's telling, is the "yellow journalism" and "character assassination" of crying foul on selective partisan outrage. In a late April column, French detailed the inconsistent record of ethical commentary from evangelical leader Franklin Graham (son of the late Billy Graham) where Presidents Clinton and Trump are concerned.
Evangelicals should "should pray for presidents, critique them when they're wrong, praise them when they're right, and never, ever impose partisan double standards," French concluded. "We can't ever forget the importance of character, the necessity of our own integrity, and the power of the prophetic witness."
Two decades ago, that would have been extremely standard stuff for an evangelical writer or organization. In the 1990s, politically conservative Christians' engagement with politics focused substantially on character. It was appropriate, they said, to consider the moral failings of public figures like Clinton at least as seriously as their policy aims and accomplishments. "We are aware that certain moral qualities are central to the survival of our political system," said one 1998 statement signed by prominent evangelical theologians. "We reject the premise that violations of these ethical standards should be excused so long as a leader remains loyal to a particular political agenda and the nation is blessed by a strong economy."
I'm not sure my family or church ever came across that particular document, but its sentiments are entirely familiar. We talked about character ad nauseam. How could a man who couldn't keep his promises to his wife keep his promises to the country? Even if a given politician were your political dream candidate, we reasoned, you'd be bound for disappointment were his integrity lacking.
I still think that's true. Yet now, as French argued and the AFA's pantomime petition illustrates (with 47,000 signatories and counting as of this writing), for many pro-Trump evangelicals, personal character is measured on a weighted scale. "Certainly, no one would agree that President Trump's past is a perfect model of morality," the petition allows with bracing understatement before insisting that, since becoming president, Trump "has come nowhere near the glaring moral indecencies of Clinton while he served in office." French handily dispatches this claim, but he can hardly excise the bitter root of pretense that feeds it.
That is something pro-Trump evangelicals must do themselves, and something I hope, as a fellow Christian — albeit one with some substantial theological and political differences from the context in which I was raised — they will do. This is not an expectation that white evangelicals will drop their commitment to Trump. I admit to believing there are many reasons they should, but what I'm making here is a lesser ask: Just be honest about what motivates that allegiance. Be honest that it's about politics, not God.
Some Trumpvangelicals have dabbled in this honesty. "If that were the only thing the electorate cared about — which one's more moral? — I'd go with Ted [Cruz]. But Donald has the skill set we're looking for," said one evangelical in 2016. "So yeah, we'll put our blinders on." Liberty University President Jerry Falwell Jr. has similarly expressed literally unshakeable loyalty to Trump on grounds of policy, questions of principle and personal behavior be damned.
But too often this honesty only goes so far. Moments before declaring "you don't choose a president based on how [personally] good they are," for example, Falwell announced Jesus' supposed endorsement of his candidate selection metric. Moments after, he declared it "may be immoral ... not to support" Trump because of what he "did for the poor."
Backing Trump on political grounds with total disregard for moral character is not, to my mind, defensible, yet it at least has a certain internal coherence. But backing him (or any politician) with total disregard for moral character while minimizing his immorality per a partisan double standard — well, that's a step far beyond utilitarian politicking. It's hypocrisy, and everyone can see it.
So please, evangelical Trump supporters, be honest. If you don't care about politicians' character anymore because you've realized such apathy is politically useful, admit that and apply your disinterest in character consistently across the political spectrum.
Don't drape your commitment to Trump in the sort of blatantly absurd moral charade this AFA petition represents. Don't claim the moral high ground while championing a leader who "just about runs the table on the seven deadly sins." Don't put a facade of faithfulness over what is quite clearly a foundation of expedience.

Continue reading for free
We hope you're enjoying The Week's refreshingly open-minded journalism.
Subscribed to The Week? Register your account with the same email as your subscription.