Democrats aren't helping themselves by attacking Bill Barr
The attorney general is being treated as guilty by association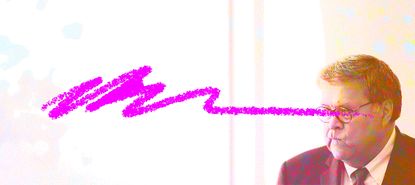 Sign up to our 10 Things You Need to Know Today newsletter
A free daily digest of the biggest news stories of the day - and the best features from our website
Thank you for signing up to TheWeek. You will receive a verification email shortly.
There was a problem. Please refresh the page and try again.
Call him the accidental suspect. Attorney General William Barr did not take part in negotiations with Ukraine, did not participate in Donald Trump's phone call to Volodymyr Zelensky, and had taken no known steps at all to probe Hunter Biden's activities with Burisma. Yet based on just Trump's mention of him in the phone call, Democrats have begun demanding that Barr sideline himself from another probe that is reportedly near its conclusion.
Barr's political problems with Democrats began long before Trump's phone call with Zelensky. Despite his earlier and relatively routine stretch in the same job a generation earlier under George H. W. Bush, Trump's nomination of Barr prompted suspicions that Barr had been tasked with closing off Robert Mueller's special-counsel efforts. When Barr summarized Mueller's findings by claiming that "[t]he Special Counsel did not find that the Trump campaign, or anyone associated with it, conspired or coordinated with the Russian government," Democrats accused Barr of spinning Mueller's language ahead of the report's full release. That led to months of accusations and arguments over whether Barr corrupted the process, but even calling Mueller to testify didn't establish any conclusions other than those summarized by Barr.
At nearly the same time that Barr testified publicly before two House committees while refusing to deviate at all from his report, Trump had his phone call with Ukraine's new president. The White House's notes of the conversation show Trump focused on two issues: the origins of the FBI investigation into Russian election interference that transformed into the Mueller special counsel investigation, and the Ukrainian effort to investigate Burisma and by extension the Bidens. To both ends, Trump offered to send both Barr and Rudy Giuliani to meet with Ukrainian officials, mentioning Rudy Giuliani three times and Barr twice in the conversation.
Subscribe to The Week
Escape your echo chamber. Get the facts behind the news, plus analysis from multiple perspectives.
SUBSCRIBE & SAVE
Sign up for The Week's Free Newsletters
From our morning news briefing to a weekly Good News Newsletter, get the best of The Week delivered directly to your inbox.
From our morning news briefing to a weekly Good News Newsletter, get the best of The Week delivered directly to your inbox.
Just the mention — which Barr did not initiate, endorse, or even know about — was enough for Democrats to demand Barr remove himself from further investigations. "Since he was mentioned in all this," Nancy Pelosi declared, Barr has "gone rogue … It's curious that he would be making decisions about how the [whistleblower] complaint would be handled." Barr's predecessor Eric Holder also scolded the attorney general over his cameo appearance in the transcript. "You have to appear to be neutral when you are the attorney general of the United States," Holder declared, "and I fear that he has crossed the political line." Worth noting: Holder once described his own approach to the same office as being "the president's wingman," explaining five years ago why he wouldn't leave the administration. "I'm still there with my boy," Holder told radio host Tom Joyner at the time.
In this case, Barr isn't even approaching wingman status, not for the president nor Giuliani. As the Wall Street Journal reported late Tuesday, Barr took Trump in April to task over Giuliani's antics after the Mueller probe concluded, asking the president to tell Giuliani to "knock it off." According to the WSJ's sources, Barr had a similar reaction to seeing his name appear in the Zelensky transcript when it was released last week. "Mr. Barr was surprised and angry to discover weeks later," long after the Department of Justice analyzed the whistleblower complaint, "that the president had lumped him together with Mr. Giuliani on the phone call." The Department of Justice later stated publicly that Trump had never asked Barr to do anything with Ukraine, before or after the Zelensky call.
Some of Barr's troubles can therefore be traced back to Trump's own actions. Most of them, though, have little to do with the Zelensky call or suspicions of corrupt handling of foreign aid to Ukraine. The investigation of those issues wouldn't properly belong to the Justice Department anyway, but to Congress, which has already begun to investigate the issues and call for testimony from the White House and State Department. Barr will be a spectator to those proceedings, not a player.
Instead, Democrats are taking aim at Barr over investigations that do fall within the DOJ's purview. Barr's department has two parallel probes into the beginnings of the FBI investigation into Russian interference in the 2016 election which later became the Mueller special-counsel probe. Inspector general Michael Horowitz is expected to release a public report on his findings this month; U.S. Attorney John Durham has worked in parallel with Horowitz to review intelligence and determine whether any prosecutions might be warranted.
As part of his responsibilities as attorney general, Barr has facilitated both internal investigations by coordinating with other governments where necessary. That includes contacts reported this week with Italy to assist cooperation regarding an assessment of Maltese figure Joseph Mifsud, "a key figure in the events that triggered the Russia probe," as Reuters notes. Barr also coordinated with Australia, whose ambassador first reported comments allegedly made by Trump campaign adviser George Papadopoulos. Barr has also connected with British intelligence services for their cooperation as part of his support of the two probes.
It is hardly unusual for a cabinet official to be part of efforts to secure international cooperation for their underlings, especially when it comes to sensitive internal investigations touching on issues of abuse of power and the politicization of intelligence. The attacks on Barr, however, are intended to either disqualify him entirely from the processes, which are likely too far along to impact at this point, or to discredit whatever they produce with the public.
As former federal prosecutor Andrew C. McCarthy wrote on Wednesday, the motives behind these attacks are transparently political. "The hope is that this will delegitimize not only any information that emerges from Ukraine," McCarthy writes, "but the whole of the Justice Department's investigation of intelligence and law-enforcement abuses of power attendant to the 2016 election." The two parallel probes into "questionable Justice Department and FBI conduct" long preceded the Zelensky call, and are focused on whether and how many people in both organizations actually did "go rogue" in 2016.
This late attempt to discredit Barr over a situation in which he had no participation at all demonstrates the threadbare nature of the claims against him. Congress should stick to getting to the bottom of Ukraine-Gate and let Barr and his team finish its internal investigations into the conduct of its earlier probes.
Want more essential commentary and analysis like this delivered straight to your inbox? Sign up for The Week's "Today's best articles" newsletter here.
Continue reading for free
We hope you're enjoying The Week's refreshingly open-minded journalism.
Subscribed to The Week? Register your account with the same email as your subscription.
Sign up to our 10 Things You Need to Know Today newsletter
A free daily digest of the biggest news stories of the day - and the best features from our website
Edward Morrissey has been writing about politics since 2003 in his blog, Captain's Quarters, and now writes for HotAir.com. His columns have appeared in the Washington Post, the New York Post, The New York Sun, the Washington Times, and other newspapers. Morrissey has a daily Internet talk show on politics and culture at Hot Air. Since 2004, Morrissey has had a weekend talk radio show in the Minneapolis/St. Paul area and often fills in as a guest on Salem Radio Network's nationally-syndicated shows. He lives in the Twin Cities area of Minnesota with his wife, son and daughter-in-law, and his two granddaughters. Morrissey's new book, GOING RED, will be published by Crown Forum on April 5, 2016.