Elizabeth Warren is the new Paul Ryan
A wonk-approved politician releases an audaciously ambitious plan to remake American government — only the math falls apart on close inspection. Sound familiar?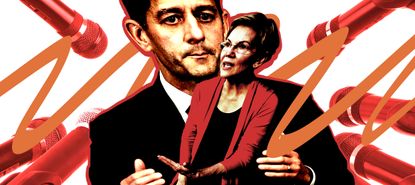 (Image credit: Illustrated | Sean Rayford/Getty Images, Tasos Katopodis/Getty Images, Nastco/iStock, Alenast/iStock)
Sign up to our 10 Things You Need to Know Today newsletter
A free daily digest of the biggest news stories of the day - and the best features from our website
Thank you for signing up to TheWeek. You will receive a verification email shortly.
There was a problem. Please refresh the page and try again.
Elizabeth Warren's "Medicare for All" proposal is supposed to be the wonk-approved version of single-payer universal health care. Surely the supersmart Harvard professor and her team of elite economic advisers would be the ones to fashion a blueprint that makes the financial math work in a realistic way. No gimmicks or dodges. No "rigged health plan" from the presidential candidate attacking America's "rigged economy."
But that's not the Medicare-for-all plan that Warren delivered. Yes, superficially the math works. Of course, making everything balance in a spreadsheet is a faulty first step if the assumptions underlying those numbers are economically unreasonable or politically fantastical. And the Warren plan is chock full of assumptions afflicted with both flaws. It assumes the U.S. can make wealth taxes on the superrich work when many other advanced economies have abandoned them. (Only four of the 15 European countries that tried a wealth tax in recent years kept it.) It assumes it can squeeze far more costs from the system than other estimates from experts not currently running for president. And it assumes those deep cuts wouldn't result in hospital closures and less investment in potential breakthrough drugs.
As an author of one highly respect study — which concluded Medicare-for-all spending would be 50 percent higher than the Warren plan does — told The Washington Post: "We felt we were making pretty optimistic, aggressive assumptions. They're making more optimistic, more aggressive assumptions."
Subscribe to The Week
Escape your echo chamber. Get the facts behind the news, plus analysis from multiple perspectives.
SUBSCRIBE & SAVE
Sign up for The Week's Free Newsletters
From our morning news briefing to a weekly Good News Newsletter, get the best of The Week delivered directly to your inbox.
From our morning news briefing to a weekly Good News Newsletter, get the best of The Week delivered directly to your inbox.
But the perhaps biggest faulty assumption is being made by us, not Team Warren. Maybe we're all assuming that this plan is something approximating what Warren would really try to do if elected president next November. Then again, maybe it's not that all. Maybe it's more about politics than policy with the goal of exciting progressive primary voters and burnishing her superwonk brand. And by including a detailed funding proposal, the Warren plan will get more serious treatment by economic journalists, further burnishing the senator's reputation as a serious thinker.
Washington watchers have seen this phenomenon before. Former House Speaker and 2012 Republican vice presidential candidate Paul Ryan was greatly aided in his political rise by his reputation as an innovative policy entrepreneur. Before Elizabeth Warren, he was the wonk-approved politician with all the plans. Or, to be more exact, a single megaplan. Ryan's "Roadmap for America's Future" — later iterations were renamed "The Path to Prosperity" — promised to fundamentally reform taxes and spending to deal with America's long-term federal debt problem. And as the plan evolved, Ryan was typically given credit for at least attempting to deal with the sorts of thorny fiscal problems other politicians avoided.
Yet like the Warren plan, the various Ryan plans were full of questionable assumptions, such as assuming tax revenue would stay steady despite big tax cuts. Or that radical Medicare and Medicaid reform could really put our fiscal house in order. Still, when Ryan first presented his plan to conservative activists, they saw it as a doable roadmap to much smaller government. Progressives, on the other hand, see the unrealistic Warren plan as a doable roadmap to much bigger government.
But neither are doable roadmaps, really. Instead, they are political documents, both aspirational and ideological. And the math doesn't work in either. Yet Ryan ended his political career assailed by Democrats as a policy phony and fiscal flim-flam man. It's unlikely any Democrats anywhere will characterize Warren similarly.
Still, both plans serve a useful policy purpose, if inadvertently, by skirting the same issue. To avoid running a dangerous experiment in fiscal irresponsibility, the future federal tax burden will need to be higher than it is today — even without a massive health-care expansion. All Americans will need need to pay higher taxes. And meeting that goal while doing the least economic harm is through a broad consumption tax, such as the value-added taxes Europeans pay.
If we want to spend like Scandinavia, then we probably need to tax like them. And that means something like a VAT. Low corporate taxes, too. The average Nordic nation has a corporate tax rate at about the same level as the U.S. after the Trump tax cuts. And only Norway has a wealth tax, one just a fraction of the 6 percent tax Warren has proposed.
Slashing spending, as Ryan would prefer, or attacking the rich, as Warren would prefer, isn't going to fix the budget. Their plans accidentally demonstrate that reality. Maybe that's not the message either plan intended to send, but it comes through loud and clear in both.
Want more essential commentary and analysis like this delivered straight to your inbox? Sign up for The Week's "Today's best articles" newsletter here.
Continue reading for free
We hope you're enjoying The Week's refreshingly open-minded journalism.
Subscribed to The Week? Register your account with the same email as your subscription.
Sign up to our 10 Things You Need to Know Today newsletter
A free daily digest of the biggest news stories of the day - and the best features from our website
James Pethokoukis is the DeWitt Wallace Fellow at the American Enterprise Institute where he runs the AEIdeas blog. He has also written for The New York Times, National Review, Commentary, The Weekly Standard, and other places.