Trump's impeachment defense is relying on the surprising potency of straight-up lies
We weren't prepared for this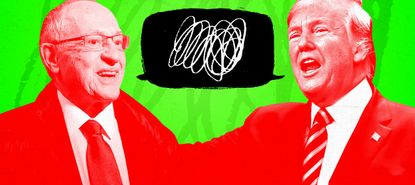 (Image credit: Illustrated | Drew Angerer/Getty Images, Mario Tama/Getty Images, Asya_mix/iStock)
Sign up to our 10 Things You Need to Know Today newsletter
A free daily digest of the biggest news stories of the day - and the best features from our website
Thank you for signing up to TheWeek. You will receive a verification email shortly.
There was a problem. Please refresh the page and try again.
We called former President Bill Clinton "Slick Willie," a sobriquet intended to communicate, per its inventor, Paul Greenberg, that Clinton was a "dissembler." This is not, he told The Washington Post in 1998, the same thing as a generic liar. "This is a particular subspecies of lying. It's a very lawyerly, sophisticated, elastic lie," explained Greenberg, an editorialist from Clinton's native Arkansas. "In my opinion, the old-fashioned lie would be a step up."
Today we have plenty of both. President Trump is, as the Post summarized Greenberg's characterization of Clinton, "a waffler, a zigzagger, a master of obfuscation." But the Trump era also has plenty of old-fashioned lies — and the surprising thing is how slippery they can feel for critics of the president, professional and amateur alike, to say nothing of the average voter with limited time to sort through competing claims. It's as if, expecting a certain cleverness in our political deception, anticipating sophistry and half-truths which require careful parsing, we are flummoxed at the appearance of straight-up falsehoods. We're reduced to a sputtering frustration that the matter must be addressed at all.
Consider, for example, the defense (if we can call it that) Trump's impeachment attorney Alan Dershowitz offered Thursday for his Wednesday argument that the president cannot be impeached for doing something to benefit his personal political career if he decides his own political success serves the national interest. Critics "characterized my argument as if I had said that if a president believes that his re-election was in the national interest, he can do anything," Dershowitz tweeted. "I said nothing like that, as anyone who actually heard what I said can attest," he continued, adding in a later tweet, "I did not say or imply that a candidate could do anything to reassure his re-election."
Subscribe to The Week
Escape your echo chamber. Get the facts behind the news, plus analysis from multiple perspectives.
SUBSCRIBE & SAVE
Sign up for The Week's Free Newsletters
From our morning news briefing to a weekly Good News Newsletter, get the best of The Week delivered directly to your inbox.
From our morning news briefing to a weekly Good News Newsletter, get the best of The Week delivered directly to your inbox.
But that is what he said! Here is the exact quote: "Every public official that I know believes that his election is in the public interest. ... And if a president does something which he believes will help him get elected, in the public interest, that cannot be the kind of quid pro quo that results in impeachment." Dershowitz's later denial is a flat lie.
Take, likewise, Trump's revival on Tuesday of his long-cherished claim that Mexico will pay for the construction of a wall along our country's southern border. "Mexico, is in fact, you soon will find out, paying for the wall," he said at a rally in New Jersey. "The wall is ultimately, and very nicely, being paid for by Mexico."
It is not. The wall (the most expensive barrier on the planet at a per-mile rate, by the way) is being paid for by a patchwork collection of federal funding, the largest chunk of which comes from U.S. military construction projects. Just this month, the Department of Homeland Security asked the Pentagon to divert more money allotted to drug war programs to the wall. There is no cash coming from Mexico.
Trump on Tuesday didn't even bother with his more complex lie that Mexico is funding the wall "through the new USMCA trade deal," an assertion which must be dissected to be properly refuted. In a way, that would have been easier to address. There are details to explain, distinctions to make. By comparison, the bare denial that the simpler lie requires feels meager and insufficient. We are so accustomed to catching subtle deceit that the unsubtle finds us off-guard.
The effect is reminiscent of fencing — swords, not picket — which, like a lot of ordinary politicking, is a subtle sport not suited for intelligible television. Though it varies by weapon, much of fencing relies on provocation and misdirection with quick, precise movements. The most effective tactics can be the smallest, barely more than twitches to the unpracticed eye. But if you settle into an expectation of subtle feints and parries, you risk losing to big, dramatic moves like the flèche, an explosive onslaught in which the attacking fencer typically ends up running right past their opponent after making (or missing) their hit. The flèche is so wild it seems like it would be easy to rebuff, but the assumption of subtlety makes the unsubtle difficult to handle.
Whether Trump himself consciously understands this is hard to know. His lying is so frequent and habitual that there may be no strategy behind his use of straightforward lies in cases where most politicians would concoct a complicated subterfuge. Maybe he sees the pernicious value of occasional brute force lying as a change from the dissembling we are adapted to deflect — or maybe he doesn't. He wouldn't tell us the truth about it either way.
Want more essential commentary and analysis like this delivered straight to your inbox? Sign up for The Week's "Today's best articles" newsletter here.
Continue reading for free
We hope you're enjoying The Week's refreshingly open-minded journalism.
Subscribed to The Week? Register your account with the same email as your subscription.
Sign up to our 10 Things You Need to Know Today newsletter
A free daily digest of the biggest news stories of the day - and the best features from our website
Bonnie Kristian was a deputy editor and acting editor-in-chief of TheWeek.com. She is a columnist at Christianity Today and author of Untrustworthy: The Knowledge Crisis Breaking Our Brains, Polluting Our Politics, and Corrupting Christian Community (forthcoming 2022) and A Flexible Faith: Rethinking What It Means to Follow Jesus Today (2018). Her writing has also appeared at Time Magazine, CNN, USA Today, Newsweek, the Los Angeles Times, and The American Conservative, among other outlets.