Bernie the electable
It's time for Democratic elites to stop the Bernie bashing. He's just as likely as any other candidate to beat Donald Trump.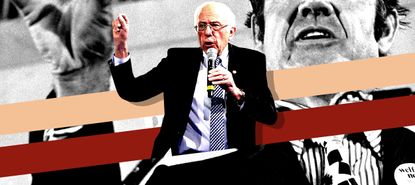 (Image credit: Illustrated | AP Photo/ Bill Chaplis, Scott Olson/Getty Images)
The narrow victory of Vermont Sen. Bernie Sanders in New Hampshire Tuesday night makes him unquestionably the favorite to win the Democratic presidential nomination. And as sure as the sun will come up tomorrow, we are about to be treated to an especially unpleasant round of anguished hand-wringing from pundits and nervous party insiders about how the self-avowed "democratic socialist" will send the whole party to a George McGovern-style electoral disaster this fall.
But rather than risk alienating young Democrats and independent voters by seeking refuge in the comfort of a Michael Bloomberg or an Amy Klobuchar, party elites should instead stop worrying and learn to feel the Bern. All available evidence suggests that he's a very good bet to defeat the president.
That won't stop moderate commentators and party insiders from smashing the panic button until their palms bleed. New York magazine's Jonathan Chait recently wrote that nominating Sanders would be "an act of insanity" due to the senator's "enormous and untested" electoral liabilities. William Galston wrote in the Wall Street Journal last week that a Sanders nomination would "lead to Democratic disaster in November." The anguish extends to elected Democrats. Montana Sen. Jon Tester: "There is no doubt that having 'socialist' ahead of 'Democrat' is not a positive thing in the state of Montana." After Sanders' slim but clear win in New Hampshire, you can expect this pearl-clutching to get louder, more desperate, and even more divorced from evidence.
Subscribe to The Week
Escape your echo chamber. Get the facts behind the news, plus analysis from multiple perspectives.
SUBSCRIBE & SAVE
Sign up for The Week's Free Newsletters
From our morning news briefing to a weekly Good News Newsletter, get the best of The Week delivered directly to your inbox.
From our morning news briefing to a weekly Good News Newsletter, get the best of The Week delivered directly to your inbox.
Tester and his pals need to get a grip and remember that, when they're giving their speeches at the convention this summer, they'll need to disavow all of this stuff anyway. Not only is there zero evidence that a Sanders nomination would be the catastrophe they fear, but recent political history is littered with the carcasses of bland major-party nominees who steered their vaunted electability directly into the nearest tree.
To say that insiders from both the Democratic and Republican parties have not exactly been clairvoyant about electability in my lifetime would be a massive understatement. Indeed, for every Goldwater or McGovern, there have been multiple consensus-oriented, party-supported moderates who have gone on to bitter defeat. For Democrats, that roster includes Michael Dukakis (1988), Al Gore (2000), John Kerry (2004), and Hillary Clinton (2016). For Republicans, it is general election losers like Bob Dole (1996), John McCain (2008), and Mitt Romney (2012). We'll never know, of course, whether their outsider primary opponents would have done better, but in most cases they could hardly have done worse.
Democrats might actually be roughly where the GOP was at this point in 1980. Most party insiders expected conservative insurgent Ronald Reagan to win the nomination after nearly winning the 1976 primary fight against sitting President Gerald Ford. But a U.S. News and World Report survey of Republican national and state committee members found overwhelming support for his moderate rival, George H.W. Bush. Elites were convinced that a "philosophical moderate" would be the best bet against incumbent President Jimmy Carter, and GOP officials shared the widespread sense that Reagan, once a prominent Hollywood actor, was a joke. One state GOP chairman yearned for a candidate "who is in the mainstream so we can pick up the ticket-splitting voters."
The insiders were completely, almost diametrically wrong. Reagan went on to win 44 states in a 9.7-point drubbing of Carter. Not only did Reagan not cost the party those "ticket-splitters," his long coattails brought in a Republican Senate majority for the first time in 26 years and inaugurated a generation of GOP dominance of national politics. Those insiders were wrong about something else too — almost to a person, they thought that Carter would be the tougher re-election opponent rather than his primary rival, Sen. Ted Kennedy of Massachusetts. That's because, as difficult as this is to remember from today's vantage point, Carter was considered a moderate in 1980 and Kennedy was the unreconstructed New Deal liberal.
That's not to say that fears about extreme candidates are always unwarranted. In April 2012, for example, President Obama led Republican Rick Santorum in head-to-head matchups by an average of 7.8 points, almost twice the lead he had at the time over the eventual nominee, former Massachusetts governor Mitt Romney. Santorum's combination of rigid right-wing economic stances and retrograde religious and moral stances were a terrible fit for the national electorate that year. The same seems to have been true in 2008, when the squirrel-eating evangelical darling and Iowa caucus winner Mike Huckabee was doing substantially worse against Obama than establishment favorite John McCain, although it's worth noting that McCain lost the general election by about the same margin that Huckabee would have been expected to when he dropped out.
The "unelectable" charge was also lobbed at Obama during that race, by both pundits and Hillary Clinton's campaign. And rank-and-file Democrats agreed, right up until it became clear that he was going to edge Clinton out for the nomination. A December 2007 poll found that Democrats thought Clinton was more electable than Obama by a 63-14 margin. The Clinton campaign, especially strategist Mark Penn, kept hammering this point through the end of the contests, hoping to flip superdelegates at the Democratic National Convention. But polling, nearly from the outset of that campaign, correctly pegged Obama as the more competitive candidate, based in part on his appeal to independent voters. He went on to demolish McCain and brought a Democratic supermajority with him in the Senate.
There's a theme here. Reagan was thought to be unelectable because he was too conservative. For Obama, the concern was about his race (the mythical Bradley Effect) and his unusual name. And for Sanders, it is socialism.
Reagan and Obama both proved the conventional wisdom wrong, and validated the instincts of their primary voters. They recognized, much earlier than either party elites or the pundit class, that the electorate had been transformed in their favor. Both also benefited from dreadful economies overseen by the party-in-power.
Sanders, on the other hand, will have to beat an incumbent broadly seen as at least partially responsible for the ongoing economic expansion. That will make his task tougher, and makes it much less likely that he'll be carried into office in a massive wave election like Reagan or Obama. But that's true of any of the Democratic candidates — as long as the economy keeps chugging along, this race is likely to be quite close. And if anything, Sanders is better positioned than one of the moderates to make the case that ordinary Americans still aren't seeing tangible improvements to their quality of life.
People seem to be getting hung up on polling about "socialism" as well. While the idea might be gaining traction with younger voters, it is still unpopular with the broader electorate. But voters also disliked Trump's nativism and (sort of) elected him. It wouldn't make much of a difference if the president started referring to himself as a white nationalist, or a nationalist-white, or whatever. Do I wish that Sanders would call himself a Social Democrat (which is what he is) rather than a democratic socialist? Yes, but voters don't generally make their choices based on simplistic labels anyway.
There are a few other significant factors which suggest that Sanders is more Reagan and Obama, and less Santorum or McGovern. First, we have a colossal amount of polling data stretching back many years which suggests Sanders would be a very strong general election candidate. Not only was he leading Trump by an average 10.4-point margin in June 2016 — 8 points better at that time than Hillary Clinton — but he has continued to lead now-President Trump in virtually every survey conducted over the past three years. He has come out on top in 63 of 68 head-to-head polls against the president since early 2017, many by substantial margins. He holds modest leads in polling averages of the three critical states Democrats must get back to retake the White House: Wisconsin, Michigan, and Pennsylvania.
Yes, Biden has done even better than Sanders in most of these matchup polls. And Biden may be more likely to expand the Democrats' Electoral College map to states like Arizona and North Carolina, judging from polling. There's a reason that the president and his allies just ran a successful international espionage operation to destroy Biden's candidacy. But center-left Democrats need to get George McGovern and Walter Mondale out of their heads. 1972 was a lifetime ago. Sanders has been a national figure for nearly five years, and wall-to-wall hysteria about socialism has done little to dim the public's enthusiasm for him.
Of course, Sanders does not have this sewn up just yet. Biden, despite his disappointing 5th-place finish, may yet stage a comeback in South Carolina and overtake Sanders in March. Either Pete Buttigieg, who came in second, or Amy Klobuchar, who placed a strong and unexpected third, could threaten the frontrunner if Biden collapses before Super Tuesday. And Michael Bloomberg is lurking out there setting continents full of cash on fire and starting to climb in national polling. The voters in states with nearly 99 percent of delegates should have their say — but they should do so without the unseemly elite Sanders panic gripping the Beltway.
Want more essential commentary and analysis like this delivered straight to your inbox? Sign up for The Week's "Today's best articles" newsletter here.

Continue reading for free
We hope you're enjoying The Week's refreshingly open-minded journalism.
Subscribed to The Week? Register your account with the same email as your subscription.