What if Trump stopped tweeting?
Suppose one day Trump announced he was suspending his account ...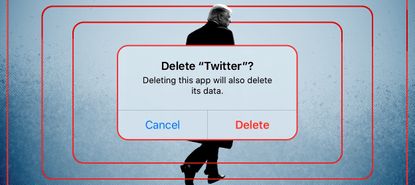 (Image credit: Illustrated | Alex Wong/Getty Images, Aerial3/iStock)
On his deathbed the philosopher Jacques Maritain became obsessed with a somewhat bizarre hypothetical: What if there were a world without money?
Writing from a position of comparatively good health, I find myself with a somewhat loftier ambition. What I am trying to imagine is what would happen if President Trump suddenly decided to stop using Twitter, or at least seriously reduced the quantity of his tweets.
I am interested in this question not because I share any of his opponents' delusions about the president's social media use. But this is not to suggest there are no serious real-world implications to what Trump does with the platform. His historic summit with North Korea's Kim Jong Un, for example, was the culmination of a process that began with his infamous "little rocket man" tweets. (It would be interesting to know what one of the algorithms that purport to ascertain the monetary value of given social media accounts would say about @realdonaldtrump.) Forget about selling luxury handbags or sneakers. Here is an influencer who can and indeed has affected the value of trillions of dollars worth of publicly listed stocks, changed the outcome of federal prosecutions, and directly fired Cabinet officials.
Subscribe to The Week
Escape your echo chamber. Get the facts behind the news, plus analysis from multiple perspectives.
SUBSCRIBE & SAVE
Sign up for The Week's Free Newsletters
From our morning news briefing to a weekly Good News Newsletter, get the best of The Week delivered directly to your inbox.
From our morning news briefing to a weekly Good News Newsletter, get the best of The Week delivered directly to your inbox.
Suppose one day Trump announced he was suspending his account. Would his opponents rejoice that the "Oracles are dumb / No voice or hideous hum / Runs through the arched roof in words deceiving"? Or would they too go through something like the withdrawal symptoms his online fans would not do doubt experience upon being cut off from their regular supply of oddly memorable nicknames and midnight CSPAN recaps? What, if anything, would replace this mode of quasi-direct communication with the American public? A restored White House press briefing? How many thousands of articles that are now being written each week would have no sequels? What would public polling (which has given us oddly little information about voters' attitudes toward this aspect of Trump's presidency) reveal? Would some publisher seize upon the opportunity to publish The Collected Tweets of Donald Trump, 2009-2020, complete with a learned introduction, copious notes, and a detailed critical apparatus? The truth is all of these questions (with the exception of the last one, which is, sadly, an inevitability) I think these questions are difficult to answer.
Which is precisely why I think Trump should consider shutting down his account, at least for a short period of time — a month, say, or even a week. Since taking office he has never gone longer than 45 hours without tweeting. Having realized the extraordinary (and curiously I think more or less unguessed) power latent in the platform, it seems to me the next logical step should be exploring its other dimensions. Perhaps he would find stepping back behind the curtain as it were, revealing his opinions on a more limited basis, and in more rarefied contexts, would bring his speeches and other public appearances even more attention. He might discover millions of his supporters are not particularly interested in learning what he has to say about teenaged climate activists in the middle of the night. He might even find the business of governing slightly easier when it is not interrupted every two hours or so for another round of online invective.
How long would it last? Even if all of the above proved to be true, I think the answer is not very. There are many reasons for this — Trump's impulsivity, his touchiness, his obsession with instant gratification — but the main one is that sooner or later he would find the impulse to return irresistible on its own terms.
"Trump returns to Twitter after two-month social media fast" would be on the front page of every major newspaper in the country. CNN and Fox and MSNBC would convene panels to sift through the 240-character entrails. His subsequent tweets, if offered more sparingly than in the past, would become the objects of a hitherto-unimaginable scrutiny.
All of this would prove what his supporters and enemies have alike spent the last three years insisting: that Trump's voice, direct and unfiltered in short, oddly punctuated textual fragments, is an indispensable part of our national life.

Continue reading for free
We hope you're enjoying The Week's refreshingly open-minded journalism.
Subscribed to The Week? Register your account with the same email as your subscription.