The lies women internalize about the police
Watching Promising Young Woman after Atlanta and Sarah Everard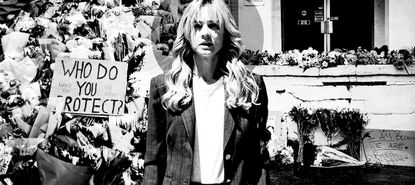 (Image credit: Illustrated | Getty Images, REUTERS, Focus Features, iStock)
Like many white girls in America, I was raised on two myths: That everywhere I went, scary men would be out to get me, and that the police would always be there for me if I were in trouble. And so, when watching Emerald Fennell's five-time Oscar-nominated rape-revenge movie Promising Young Woman earlier this week, I recognized a familiar fantasy: The triumphant summoning of the police by the female protagonist, to put the movie's bad guys behind bars.
Others have already remarked upon the unsuitability of this ending. I might've been able to generously read it as in keeping with the indulgent fantasy that is inherent to all rape-revenge films, in which a woman is able to exact a gloriously unrealistic payback on her abusers. But I watched the movie, specifically, on Tuesday — less than a week after a Metropolitan Police officer was charged with the kidnapping and murder of missing Londoner Sarah Everard, and the same evening that, though at that moment unbeknownst to me, a gunman in Atlanta was targeting and murdering Asian women.
I don't blame Fennell for internalizing the myth that the police are a woman's deus ex machina, ready to spring forth to protect us from the boogeymen waiting in dark alleys and parking garages. But I do blame Fennell for perpetuating it, especially in a purportedly feminist movie like Promising Young Woman. Society, the media, and entertainment — including projects like Oscar-nominated movies — encourage women to trust that the police will be there for them, and that officers are the only thing standing between us and certain rape and murder at the hands of imagined strangers.
Subscribe to The Week
Escape your echo chamber. Get the facts behind the news, plus analysis from multiple perspectives.
SUBSCRIBE & SAVE
Sign up for The Week's Free Newsletters
From our morning news briefing to a weekly Good News Newsletter, get the best of The Week delivered directly to your inbox.
From our morning news briefing to a weekly Good News Newsletter, get the best of The Week delivered directly to your inbox.
Reality, though, tells us the tragic opposite.
Most appalling and widely publicized is law enforcement's systematic failure of rape victims, all of which makes the cops' heroic appearance at the end of Promising Young Woman particularly jarring. After all, the police who arrest the rapists at the end of the film are meant to be the same ones who, in the United States, sit on a backlog of as many as 200,000 untested rape kits. Rape victims are sometimes forced to sue to even get police to properly investigate their cases, and describe being humiliated, shamed, or ignored in the process of reporting their trauma. "What the researchers found is a subterranean river of chauvinism, where the fate of a rape case usually depends on the detective's or (less often) prosecutor's view of the victim — not the alleged perpetrator," The Atlantic wrote in a 2019 cover story about this country's "epidemic of disbelief" in assault survivors.
Though the myth of the police tells women that officers are here for our protection, it is not uncommon to hear stories about law enforcement making a situation for women far, far worse. In one study, conducted by the National Domestic Violence Hotline, only one-in-five survivors who reached out to the police for help felt "safer" afterwards, while one-in-three felt less safe; two-thirds said that they were "somewhat or extremely afraid to call the police in future." Their fears aren't unfounded, either: "In some cases, the victim [who calls the police for help] is threatened with arrest rather than the offender," The Hotline found. All too common are stories of boyfriends and husbands murdering a woman after her repeated requests for help from the police.
Police are also disproportionate perpetrators of violence against women. "Research suggests that family violence is two to four times higher in the law-enforcement community than in the general population," a 2014 Atlantic report found, concluding that the police have a "bigger domestic violence problem" than the much more publicized one in the NFL. Another study, which looked at national records over a 10-year period, found that "an officer is accused of an act of sexual misconduct at least every five days," while another study discovered that "sexual misconduct is the second-most-frequently reported form of police misconduct, after excessive force," The Washington Post reports (the statistics are even scarier if you're a transgender person).
One researcher, Phil Stinson, told the Post that among 500 officer arrests for sexual misconduct that he studied over a three-year period, "half involved on-duty misconduct," but that "off-duty misconduct is often facilitated by the power of the badge or the presence of an official service weapon." That's a haunting unknown, at the moment, in Sarah Everard's case, seeing as it was an off-duty police officer who allegedly kidnapped and murdered her as she was walking home in London. Did her killer approach her as an officer, to earn over her immediate trust?
Meanwhile, police abuse and negligence is particularly bad for women of color, who are sexualized and victim-blamed by the very force that is tasked with protecting them. In Atlanta, where a gunman murdered six Asian women this week, the police bizarrely seemed to sympathize more with the male shooter than with the victims (the white suspect also, notably, was apprehended alive). Lawyer Jaemin Kim, in a 2009 article for HuffPost, further argued that sexism and racism are intertwined, and that "in rapes and sexual assaults targeting Asian women, I can find no instance of prosecutors or police bringing 'hate crime' charges." Rather, women of color are disbelieved or criminalized. Andrea J. Ritchie, the author of Invisible No More: Police Violence Against Black Women and Women of Color, told The Washington Post that some "85 percent of arrests for [loitering for the purposes of prostitution] were of black and brown women."
There's an intention, though, propelling the police myth to continue. Telling women — particularly white women — that they live in a dangerous world where the only thing keeping them safe is the police "promote[s] police power and state violence," activists Alison Turkos and Shivana Jorawar wrote for Cosmopolitan last year, noting that the myth is also used to silence arguments to abolish the police (even as sexual assault survivors often say they want less police involvement). What's more, the police myth stokes racism — the imagined boogeyman in the alley so often being a person of color — and leads to "Karen" moments, where white women call the police, usually on Black people, in non-emergency situations.
As writer Charlotte Shane wrote in a must-read piece for her newsletter following Everard's death, the truth is that "[t]he state is the single biggest threat to women's health and safety. It administers violence directly through policing and incarceration [...]."
Promising Young Woman's ending, then, feels recklessly misleading — but especially so now that police violence and negligence against women is at the forefront of national conversations on both sides of the Atlantic. After all, if even a made-up, rape-revenge fantasy can't imagine a different ending for its female protagonist other than summoning the police, what hope is there for us in the real world?

Continue reading for free
We hope you're enjoying The Week's refreshingly open-minded journalism.
Subscribed to The Week? Register your account with the same email as your subscription.