Is Die Hard a Christmas film?
Another Christmas brings another year of debate over whether the action thriller is a festive movie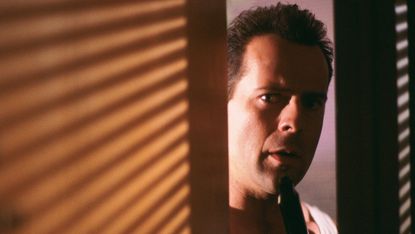 (Image credit: Outnow.ch)
Some debates simply refuse to go away. One such enduring conundrum is whether Die Hard, the 1988 action thriller classic, should be classified a Christmas film or not.
The film, starring the now retired Bruce Willis and the late great Alan Rickman and based on Roderick Thorp's novel Nothing Lasts Forever, tells the story of protagonist John McClane rescuing hostages from a Los Angeles high-rise block on Christmas Eve. But the film itself was released in the summer.
"This is a question which crops up every Christmas time and it is still something that will cause arguments, more than bad presents and which bit of the turkey tastes the best," said ShortList, before adding, "hell yes it is a Christmas movie. There is nothing more Christmas-like than seeing a deceased corpse wearing a Now I Have A Machine Gun Ho! Ho! Ho! Christmas jumper."
Subscribe to The Week
Escape your echo chamber. Get the facts behind the news, plus analysis from multiple perspectives.
SUBSCRIBE & SAVE
Sign up for The Week's Free Newsletters
From our morning news briefing to a weekly Good News Newsletter, get the best of The Week delivered directly to your inbox.
From our morning news briefing to a weekly Good News Newsletter, get the best of The Week delivered directly to your inbox.
'Films don't need religious references'
James Chapman, a professor of film studies at the University of Leicester, agreed with ShortList in an article for The Conversation in which he gave not one or two but nine reasons why Die Hard is a Christmas movie.
Among his arguments is the fact that the hero's "wife is called Holly" as well as that "Santa Claus makes an appearance (in the form of a dead terrorist)". Chapman concludes: "Christmas is a socially invented tradition, and like all invented traditions it continues to adapt and evolve. Films don't need to include religious references or a man in a red suit."
However, a poll conducted by American organisation Public Policy Polling revealed back in 2015 that "Americans have spoken and have an emphatic message: Die Hard is not a Christmas movie. Only 13% of voters think it is to 62% who say it is not."
Journalist and film data researcher Stephen Follows acknowledged in December 2021 that there had been "bickering and fighting" over the issue and decided that it was time to "settle this once and for all in the only way I know how – going into a topic in way too much detail". In a vast deep dive into the movie, Follows reveals that "the word 'Christmas' appears 18 times in the script, which is more than the words "explode" (4), "die" (5),"hard" (11), "shoot" (12), "kill" (13) and "blood" (13), although far fewer times than "gun" (73), "terrorist" (51) and "suddenly" (45)." The data looks at Google trends, IMDb searches as well as visual and audible references to eventually conclude: "Is Die Hard a Christmas movie? The neatest summary I can provide is… It may or may not have been, but it most certainly is now."
'It's a goddamn Bruce Willis movie'
The creators of the movie have, of course, also weighed in on the topic. In a video posted on YouTube by the American Film Institute, director John McTiernan actually agrees with Follows. "We hadn't intended it to be a Christmas movie, but the joy that came from it is what turned it into a Christmas movie," he said.
However, the movie's star, with tongue firmly in cheek, diverted from the director's party line and announced: "Die Hard is not a Christmas movie. It's a goddamn Bruce Willis movie."
In a comic interview on the Script Apart podcast, the film's scriptwriter, Steven E. de Souza, took McTiernan's side by comparing Die Hard to the "baseline" Christmas movie – 1954's White Christmas. Among a number of amusing comparisons, de Souza noted that "there are four Christmas songs in Die Hard, compared to only two in White Christmas".

Continue reading for free
We hope you're enjoying The Week's refreshingly open-minded journalism.
Subscribed to The Week? Register your account with the same email as your subscription.