King Charles, foie gras and the foods the royals can't eat
The King has banned the French delicacy from being served at royal residences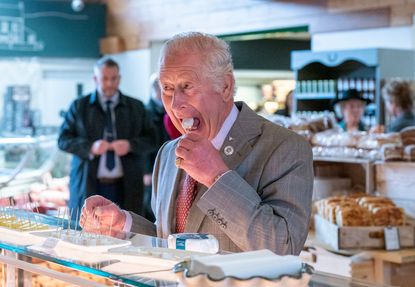 (Image credit: Arthur Edwards-WPA Pool/Getty Images)
Foie gras will not appear on any royal household menu under King Charles's instruction, animal rights campaigners have been told.
A letter received by animal welfare group Peta, and signed by the Master of the King's Household Tony Johnstone-Burt, said that the dish is "not purchased by the Royal Household nor served in Royal Residences, and there are no plans for this policy to change", The Sun reported.
The King is "understood to have been a longstanding opponent" of the "controversial French delicacy", said The Times, which is made from duck or goose liver. Foie gras production is illegal in the UK and a number of other European countries, as it involves force-feeding birds so that their livers "expand to a good 600%" of the "natural" size, said Serious Eats.
Subscribe to The Week
Escape your echo chamber. Get the facts behind the news, plus analysis from multiple perspectives.
SUBSCRIBE & SAVE
Sign up for The Week's Free Newsletters
From our morning news briefing to a weekly Good News Newsletter, get the best of The Week delivered directly to your inbox.
From our morning news briefing to a weekly Good News Newsletter, get the best of The Week delivered directly to your inbox.
As a gesture of "thanks", Peta said it is sending the King "a hamper of decadent faux gras" – a vegan alternative.
'No-no' foods
Liver pâté is not the only dish to be struck from royal menus. "It's a well-known fact" that royals avoid garlic, said delish. "No, they're not vampires (as far as we know…)." In an episode of MasterChef Australia, the then Princess of Wales Camilla Parker-Bowles described the ingredient as a "no-no".
The reasoning is fairly straightforward; royals spend a significant amount of their time meeting people and conversing with members of the public, "so it's best not to have stinky breath". Apparently, the "same goes for onions".
Other rules are in place to protect the royals, rather than those in close quarters. On royal tours abroad, the family are "always advised to avoid tap water", said delish.
On such engagements, royals are also "banned from eating seafood", Woman and Home reported. The rationale behind the ban is to protect members of the royal household from the risk of food poisoning. Former royal butler Grant Harold told the Express that the policy is a "very sensible move".
But Hello! magazine is "sure this rule is broken occasionally", given "Prince William has previously revealed his love of sushi" and as Prince of Wales, Charles had "been known to sample shellfish". However, neither the Queen nor Prince Philip were fans of oysters, according to former royal servant Charles Oliver's book, Dinner at Buckingham Palace.
A similar ban is apparently in place on rare meat. Queen Elizabeth "loved steak", according to Mashed, but she liked it well done. "This likely goes beyond just personal preference", the site continued, as rare meat "is reportedly off-limits" during royal tours.
Occasional indulgences
Royals "very rarely eat pasta", said delish. "Apparently, it's all to do with it being too starchy and filling". The same seemingly goes for rice and potatoes. However, pasta has slipped onto the menu for "special occasions" or dinner parties, and potatoes are allowed if "there's a roast on the royal table".
Meghan Markle "might be counting her lucky stars that she and Harry have absconded from their royal duties", as the Duchess of Sussex's "favourite home-cooked recipe is zucchini bolognese", said Mashed. Before marrying Harry in 2018, Markle told delish she "won't miss an opportunity to try great pasta", typically returning from holidays with "a food baby" she calls "Comida" [Spanish for food].
The Prince and Princess of Wales also differ in their culinary choices. Royals, the BBC reported in 2000, are advised to avoid "any food that is too spicy or exotic" during tours, and they "struggle to handle" hot recipes as a result, said The Mirror. So while Prince William has said he'll indulge in a curry as long as it's "not too spicy", the Duchess is a "massive fan" of hotter dishes. But William can apparently handle the heat of a "cheeky Nando's" takeaway.
Charles's ban on foie gras has been one of the more recent additions to the list of royal dietary restrictions. As Prince of Wales, he first imposed a restriction on the delicacy in 2008, and "almost withdrew a fancy royal warrant from one of his local cheese shops because they sold foie gras", said Cosmopolitan.
Peta and animal welfare campaigners may be pleased, but "the Princess of Wales may not be impressed" by the ban's extension to all royal residences, said The Sun. The newspaper described the dish as her "favourite food".

Continue reading for free
We hope you're enjoying The Week's refreshingly open-minded journalism.
Subscribed to The Week? Register your account with the same email as your subscription.