The week's big question: What stood out about the final presidential debate?
What stood out about the final presidential debate?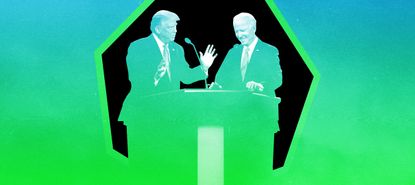 (Image credit: Illustrated | Getty Images, iStock)
Sign up to our 10 Things You Need to Know Today newsletter
A free daily digest of the biggest news stories of the day - and the best features from our website
Thank you for signing up to TheWeek. You will receive a verification email shortly.
There was a problem. Please refresh the page and try again.
1. What stood out about the final presidential debate?
President Trump and his Democratic rival, Joe Biden, made their closing arguments to the American people Thursday night during the final presidential debate of 2020. While this matchup was markedly more civil than the one prior, the candidates still clashed on everything from immigration to climate change to the economy. Trump claimed the coronavirus pandemic was "going away," while Biden warned of a "dark winter" to come and accused the president of botching the government's COVID-19 response. The jury is out on who "won" the debate, but one thing is clear: Americans have a stark choice awaiting them at the ballot box in just 11 days. This week's question is: What stood out about Thursday's debate?
2. Trump tries desperately to hijack the narrative — and fails
At several points in the debate, President Trump referred to Joe Biden with scorn as "the big man": "You're the big man," he said. "Your son said we have to give 10 percent to the big man."
I am a person who spends too much time online, too much time on Twitter, too much time following politics. And I had no idea what Trump was talking about — and neither did the vast majority of viewers. Maybe, if you've kept close tabs on the incredibly contested release of Hunter Biden emails — so contested that not even Fox News would publish them! — maybe, maybe, you know what he was talking about. But Trump was acting as if he was simply quoting his favorite lines from a beloved movie. The problem: No one, or at least no one outside of his base, has seen it.
Subscribe to The Week
Escape your echo chamber. Get the facts behind the news, plus analysis from multiple perspectives.
SUBSCRIBE & SAVE
Sign up for The Week's Free Newsletters
From our morning news briefing to a weekly Good News Newsletter, get the best of The Week delivered directly to your inbox.
From our morning news briefing to a weekly Good News Newsletter, get the best of The Week delivered directly to your inbox.
The extended fixation on Hunter Biden's emails was evidence of how much Trump's campaign has become his Twitter account: deeply steeped in a plot where everyone's lost the thread. Because the narrative around Hillary Clinton's private emails resonated in 2016, the campaign believed a narrative around Hunter's would, too — just put emails somewhere in the summary, and people will start paying attention. But the national press is more circumspect in the way they've reported this story, and its primary source — Rudy Guiliani — has been thoroughly, uh, discredited.
Trump is backed into a COVID corner of his own making, and he's desperate for a narrative of any form. He's desperate for a scandal that's not only legible to his base, but his coveted and necessary swing voter audience. He's struggled for months to find it, and this debate shows that no matter of shady New York Post stories will remedy it. The narrative hasn't stuck. The intended insults fall flat. They make no impression, and leave no lasting wound. And lest any of us forget: 48 million people have already voted.
3. Biden makes a fossil fuels faux pas
President Trump drew clear distinctions between himself and Joe Biden during Thursday's debate. He reiterated that he is a Washington outsider, a businessman who sought government service to fix the problems caused by out-of-touch career politicians like Biden: "You're the reason I ran, Joe," he said.
Biden insisted this characterization is all wrong, but then proceeded to promote a radical energy agenda, saying that he would "transition from the oil industry." Trump responded, aghast: "Oh. That's a big statement." Rather than walking it back, Biden retorted defiantly: "It is a big statement." After the debate, the Biden campaign said he wants to get rid of subsidies, not end the oil industry entirely. This is exactly what happened when Biden made statements supporting the end of fracking. His campaign had to follow up by clarifying that what he really meant is that he wants to end federal subsidies. To use a favorite Biden response: "Come on, man."
The economy is striving to recover amid a global pandemic. Biden can deny all he wants Trump's assertion that he's a radical whose agenda will weaken the country, but blurting out an intent to do something that would hurt struggling families in fossil fuel states — including key states Ohio and Pennsylvania — and increase America's reliance on other nations, only lends credence to the president's claims, and puts Biden on defense going into Election Day.
4. Trump rehashes old favorites
A decaffeinated Donald Trump came out and was more effective than in the first presidential debate, partly because of his improved demeanor. He was also more disciplined — that is, by Trumpian standards — in his messaging against Democratic challenger Joe Biden.
President Trump is running the same playbook against the former vice president that he used against Hillary Clinton: using the problems the Democrat promises to solve as evidence their lengthy career in public service was ineffective; attempting to drive a wedge between the center and left wing of the Democratic Party; hammering old centrists policies Democrats no longer support along with liberal new ones that could have a negative impact on wavering working-class voters; and alleging his opponent's family has enriched itself through government.
This strategy makes a certain amount of sense not just because it worked with Hillary but also because Biden provides much of the same material. Biden was more important to the 1994 crime bill or the Iraq war authorization than Clinton ever was. He's been in Washington for a long time. While there is much we still don't know about the Hunter Biden story, he is a sketchy character. Expect to see the Biden oil industry comments replayed in the final days.
None of this may matter, since most voters already have their minds made up and millions have already cast their ballots. But if Trump comes up short, it might not simply be because his recalibrated debate approach was too little, too late. The entire playbook worked better when he was a quasi-challenger running against an unpopular opponent. Now he is running it as an incumbent in perilous times against an opponent who feels like an afterthought in the whole contest. What a difference four years makes.
5. Trump's kitchen sink approach
The media narrative for 24 hours will probably be that President Trump scored some points Thursday night, that he was more restrained and normal. It's the ultimate grading on a curve. Just because he didn't throw feces or gnaw on the mic doesn't mean he remotely approached normal. Even a comparatively restrained Trump is a snarling boor and a liar. Debating him is like standing in a wind tunnel trying to light a match.
There was no break-out moment. There were no headlines. Trump repeated his hilarious claim that he has done more for African Americans than any president with the exception of Abraham Lincoln. He insisted that the more than 500 children ripped from their parents' arms and now permanently orphaned are "so well taken care of." If anyone deserved pity, it was Trump himself, who'd been badly mistreated by the IRS and Robert Mueller and the Democrats, preventing him from releasing his tax returns.
Trump threw everything he could at Biden — his son was corrupt, his brothers were corrupt, and why hadn't he solved all the nation's problems during his 47-year career in government? — but it was all desperate and flailing.
And none of it matters. The race is set. Only a spectacular face-plant (perhaps literally) could have hobbled Biden at this point. For the better part of a year, Trump and his minions have tittered about how senile Biden is, suggesting that he was incapable of shouldering the responsibilities of the presidency. Now, after two encounters with Trump and one in-depth townhall, he has shattered that myth. He is in full command of his faculties.
And he will need them, because he is going to win.
6. Trump's coronavirus travel bans story still isn't straight
Every time President Trump is asked about his management of the pandemic, he boasts about having shut down travel from China at the end of January. In fact, he did not ban travel from China, he allowed over 40,000 U.S. citizens, residents, and family members to return to the United States from the country. While it was appropriate to do so, he did not put in any regulations to ensure that these people were quarantined and/or tested and not carrying the disease.
Even more importantly, the travel ban from China was largely moot at that point since the pandemic had already spread to Europe and most of the infections in the United States at that point were coming from Europe, not China. Indeed, there is evidence that the coronavirus was already in Europe in December.
These details are important, not only in assessing Trump's performance, but also in determining China's responsibility. It is clear that some combination of bureaucratic bungling and authoritarian heavy-handedness slowed China's response internally and blocked effective international warnings. However, if the pandemic had already spread to Europe in December, this would have largely been irrelevant. Even if the Chinese leadership was able to quickly assess the situation, and had shared the information as soon as it was known, it almost certainly would have been too late to prevent a worldwide pandemic.
Joe Biden missed his chances to directly confront Trump's misrepresentations on this point. But it's important that people know these basic facts.
7. Trump fails the unity test
At a time of crisis, when Americans are clearly exhausted with the president's relentless divisiveness, President Trump simply could not bring himself to strike a tone of unity for even a moment on Thursday night. He attacked popular Democratic governors like Andrew Cuomo, Gretchen Whitmer, and Roy Cooper when he could have scored points by graciously praising the pandemic response of all state executives. He took a gratuitous swipe at New York City (a "ghost town" that "everyone's leaving"). When talking about the third COVID-19 wave, he again only talked about spikes in states with Democratic leaders, as if the problem isn't currently ravaging the whole country, red and blue.
Joe Biden may not be the most felicitous speaker, but he speaks the language of unity effortlessly. When debate moderator Kristen Welker closed the evening by asking what each would say to the people who didn't vote for them, Trump couldn't come up with anything. "Your 401(k)s will go to hell, and it'll be a very, very sad day for this country," were the last words he spoke. Biden nailed it, saying, "I represent all of you, whether you voted for me or against me."
Granted his last opportunity to speak directly to an American electorate poised to repudiate him, Trump was, as always, incapable of being the president of all citizens. And it will be his undoing.
Continue reading for free
We hope you're enjoying The Week's refreshingly open-minded journalism.
Subscribed to The Week? Register your account with the same email as your subscription.
Sign up to our 10 Things You Need to Know Today newsletter
A free daily digest of the biggest news stories of the day - and the best features from our website