The week's big question: High hopes for Biden's Cabinet
What are you looking for in Biden's remaining Cabinet appointments?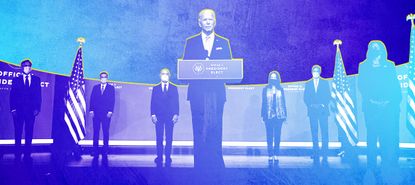 (Image credit: Illustrated | Getty Images, iStock)
Sign up to our 10 Things You Need to Know Today newsletter
A free daily digest of the biggest news stories of the day - and the best features from our website
Thank you for signing up to TheWeek. You will receive a verification email shortly.
There was a problem. Please refresh the page and try again.
1. What are you looking for in the rest of Biden's selections?
The transition continues as President-elect Joe Biden announces appointees to key roles within his administration. This week, Biden revealed Janet Yellen as his pick for treasury secretary, and Vivek Murthy as surgeon general. He also enlisted an all-female communications team led by Jennifer Psaki as press secretary. His announcements thus far have had a lukewarm reception — progressives and conservatives alike slammed Neera Tanden's appointment as head of the Office of Management and Budget, and lawmakers are pressuring Biden to diversify his administration by elevating more Black and Latino nominees to remaining high-level Cabinet positions, such as defense secretary and attorney general.
This week's question is: What are you looking for in the rest of Biden's selections?
2. More economic diversity
The idea that America has a government representative of the people has never been particularly true, but it's even less true of presidential Cabinets. Cabinet members aren't elected, and so when it comes to deciding who gets these prestigious positions advising the leader of the free world, clout and class do a lot of heavy lifting. As President-elect Joe Biden continues to select his Cabinet nominees, I'd like to see him place less emphasis on pedigree and more on lived experience.
Subscribe to The Week
Escape your echo chamber. Get the facts behind the news, plus analysis from multiple perspectives.
SUBSCRIBE & SAVE
Sign up for The Week's Free Newsletters
From our morning news briefing to a weekly Good News Newsletter, get the best of The Week delivered directly to your inbox.
From our morning news briefing to a weekly Good News Newsletter, get the best of The Week delivered directly to your inbox.
A recent American Prospect piece detailed how a number of potential Biden foreign policy picks founded firms for "strategic consulting," a lobbying-adjacent field that serves international corporations but isn't subject to the same rules and regulations. These types of firms are started by people who've already served at the highest levels of government for years and are ready to cash in — which is fine, but doesn't inspire a connection to the struggles of the average American.
Two yet-to-be-announced Cabinet positions are strong opportunities for Biden to inject economic diversity into his administration: secretary of education and secretary of housing and urban development (HUD). During her campaign for the Democratic presidential primary, Sen. Elizabeth Warren pledged she'd nominate "a former public school teacher" as her secretary of education. It's a great idea, but I'd take it one step further and opt for a former public school teacher who spent most of their career in a school, and not just a couple of years before transitioning to policy. As for who will lead Biden's HUD, he could choose a person who has actually lived in public housing, or been housing insecure/homeless — something that far too many Americans are facing in light of the pandemic's economic damage.
People must be represented in all corners of government, and the president's Cabinet should be no exception.
3. All eyes on Biden's U.S. trade representative
One way of analyzing President-elect Joe Biden's Cabinet picks — particularly on the economic and domestic policy side — is through the lens of intra-party conflict. Are Democrats shifting left toward the Bernie Sanders and Alexandria Ocasio-Cortez wing? Will the unexpectedly close election nudge Democrats back toward the center? Who has Biden's heart?
Biden's most important pick so far suggests he's trying to split the difference. Treasury nominee Janet Yellen, the former Federal Reserve chair, is a highly respected, mainstream economist. For instance, she's not part of the lefty "deficits don't matter" hot-take crowd on Twitter. (Indeed, she only joined Twitter a few days ago.) But Yellen is also someone who used her platform as head of the world's most important central bank to highlight issues of income and wealth inequality, raising eyebrows among some Fed watchers. "I think it is appropriate to ask whether this trend is compatible with values rooted in our nation's history, among them the high value Americans have traditionally placed on equality of opportunity," Yellen said in a 2014 speech.
Of course, Biden may not be able to do much more than signal policy preferences if Democrats are unable to win those two Senate races in Georgia next month. One area, however, where that powerlessness isn't true is trade. As Donald Trump has shown, an American president in a protectionist mood can do a lot without Congress — like launch multiple trade wars.
So I will be paying close attention to whom Biden picks as U.S. trade representative — and how he frames the pick — as a strong signal about how he wants to approach trade and to what extent the focus will be on China. One frequently mentioned possibility for the post is Katherine Tai, the chief trade lawyer for the House Ways and Means Committee. As Politico notes, Tai "was also head of China enforcement at USTR before she joined the Ways and Means Committee in 2014, and speaks fluent Mandarin." That might be a good skill to have if you're spending most of your time talking to Beijing rather than Ottawa or Brussels.
4. A secretary of defense who actually agrees with Biden
The contrast between what President Trump would do if left to his own devices and what his advisers push him to do — for better and worse — is frequently apparent. Among the most glaring cases is the war in Afghanistan. Trump has promised to end it, but he is leaving office with this "endless war," like every other, very much ongoing. That's the preferred outcome of his senior national security staff past and present, from thoroughgoing hawks like Secretary of State Mike Pompeo and former National Security Adviser John Bolton to military figures like former National Security Adviser H.R. McMaster.
As President-elect Joe Biden, who also pledges to "end the forever wars," completes his Cabinet roster, I hope he'll learn from this recent history and choose a defense secretary who will actually help him toward that goal.
Most of the national security team is already announced, and Biden's picks are a mixed bag. His choice for secretary of state, Antony Blinken, seems more interested in a robust diplomatic program than Pompeo ever was. But Blinken has a reputation as a military interventionist and the record to match. Incoming National Security Adviser Jake Sullivan likewise helped orchestrate the U.S.-led regime change in Libya and was known in the Obama administration as a hawk.
Those choices make the defense pick all the more important, but the longstanding frontrunner, Michèle Flournoy, would not facilitate Biden's best instincts in the Middle East. On the Obama team, she and Biden were at odds over major foreign policy questions like the surge in Afghanistan and intervention in Libya. Adding Flournoy to a team already more bellicose than Biden himself would be a grave mistake, a set-up to repeat Trump's failure and keep the "forever" in "forever wars."
5. Appointees who are tough on China
Director of National Intelligence John Ratcliffe warned this week that the Chinese Communist Party's ideology, combined with China's military, economic, and technological advancements, make China America's top national security challenge. Yet many of the nominees President-elect Joe Biden has thus far chosen to advise him are notoriously soft on China, and his transition team is full of individuals who are cozy with Big Tech, a red flag for China accommodation. Some Republican senators have already come out against the slate of candidates.
After the Trump administration took on China across several fronts, senators are right to be concerned the gains will be reversed. Biden's defense secretary nominee should take China's military advances seriously. Michèle Flournoy is rumored to be up for the role, and some of her statements make her stand out in the Democratic field. In a recent issue of Foreign Affairs, Flournoy outlined a strategy for deterring a war with China, arguing the U.S. should be able to credibly "threaten to sink all of China's military vessels, submarines, and merchant ships in the South China Sea within 72 hours." I part ways with her on other critical matters, but on this, she's right.
Whoever Biden appoints, I agree with Sens. Tom Cotton and John Cornyn that nominees must disclose their business ties to foreign countries. Biden's appointment of Antony Blinken for secretary of state has drawn scrutiny to WestExec, a consultancy firm Blinkin began with Flournoy. The firm raised eyebrows when it recently scrubbed China-related work from its website.
It brings to mind the time the Senate Ethics Committee required members of the 9/11 Commission to comply with congressional financial disclosure requirements, which prompted Henry A. Kissinger to resign as chairman of the committee, refusing to reveal his consulting firm's clients. The challenge of our generation — the China challenge — demands all nominees be forthcoming about their true assessment of the threat China poses to Americans and our way of life, and any work they've done with a foreign power will make that assessment clearer.
6. We need a Cabinet that looks like America
The Biden-Harris transition's rollout of an all-female, highly-experienced, and diverse senior White House communications team isn't just a win for feminists, it's a win for America. The out-of-touch, science-rejecting, and inexperienced communications staffers currently in the White House seem to have paid no mind to the fact that American women continue to bear the brunt of the COVID-19 pandemic through increased caregiving responsibilities and a record number of workforce exits. When those tasked with crafting and delivering the policies of the president and vice president are able to empathize with the plight of their fellow Americans, the American taxpayer will be better-served.
It's no secret that there's a dearth of American women serving in political appointments at all levels of U.S. government. But the data about those who advise the heads of our government presents an even greater cause for concern. Very few senior-ranked executive branch positions are staffed by minorities. This not only leaves the door open for groupthink, but essentially means there isn't a pipeline to the top for folks hailing from marginalized demographics.
Those selected to serve in senior executive branch roles, not just as junior or mid-level staff, should reflect the growing diversity of the American electorate; it's high-time our executive branch was staffed by individuals with a greater variety of life experience and from a wide-range of backgrounds. With this first batch of intriguing and inclusive choices for Cabinet-level and senior staff roles, there's a clear signal: President-elect Biden will aim to be a president for all Americans and lead us on the path to the unification he made a central theme in his campaign.
7. Who's ready to fight?
President-elect Biden is assembling his Cabinet, and so far the choices are just exactly the sort of D.C. lifers one would have expected from a longtime senator and vice president. It's probably a safe bet to assume the rest of his picks will have similar politics to Biden himself.
So I'm not looking for much in the way of diverse ideology in a Biden Cabinet. However, I am on the lookout for different strategic attitudes — in particular some fighting spirit. The Obama administration was extremely timid. For instance, when Shirley Sherrod, a low-level Department of Agriculture employee, was the victim of a duplicitous Breitbart smear campaign in 2010, panicked department brass forced her to pull over by the side of the road and type out her resignation on her phone before they even heard her side of the story.
Republicans take that kind of behavior as a license to treat Democrats as doormats. For the last 10 years I have been waiting for the moderates who dominate the party to stop cowering in the corner, and start fighting back. We'll soon find out if Biden's people can remember how to throw a punch.
Continue reading for free
We hope you're enjoying The Week's refreshingly open-minded journalism.
Subscribed to The Week? Register your account with the same email as your subscription.
Sign up to our 10 Things You Need to Know Today newsletter
A free daily digest of the biggest news stories of the day - and the best features from our website