Broadchurch series three: Shock finale applauded as series comes to an end
Fans pay a fond farewell to David Tennant and Olivia Colman as they find out who attacked Trish Winterman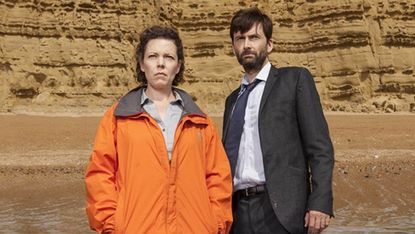 (Image credit: ITV)
Broadchurch series three: Key questions after episode 6
4 April
Viewers of the third series of ITV's Broadchurch have been wondering for weeks why a previous plotline has continued to be part of the new story - episode six provided the answer.
Mark Latimer (Andrew Buchan) finally confronted his son's killer Joe Miller (Matthew Gravelle) and received some sort of explanation about the circumstances of his son's death.
Subscribe to The Week
Escape your echo chamber. Get the facts behind the news, plus analysis from multiple perspectives.
SUBSCRIBE & SAVE
Sign up for The Week's Free Newsletters
From our morning news briefing to a weekly Good News Newsletter, get the best of The Week delivered directly to your inbox.
From our morning news briefing to a weekly Good News Newsletter, get the best of The Week delivered directly to your inbox.
But the meeting only took the grieving father into deeper despair and audiences were left devastated in the final few moments of Monday's show, when he appeared to take his own life.
Meanwhile, the main whodunnit continued to unfold, leaving viewers with a series of lingering questions.
Ed is a stalker - but is he also the rapist?
This episode we discovered that Ed (Lenny Henry) has long harboured an unhealthy obsession with his employee Trish (Julie Hesmondhalgh).
His phone contained thousands of pictures of her and David Tennant's Hardy and Olivia Colman's Miller also learned he had been sleeping outside her house since the attack.
Ed admitted to being "in love" with Trish and said he wanted to make sure she was safe, but his behaviour looks more like stalking than an employer concerned about staff welfare.
The shop owner also has a record of domestic abuse and is further incriminated by the dirt and grass stains on the suit he wore on the night of the fateful party, as well as the twine in his pockets.
Things don't look good for Ed, it's true, but is a stalker a bit too obvious a candidate to be Trish's rapist?
Why didn't police know about Katie's father?
We also learned that Ed had a secret daughter, Detective Constable Katie Harford (Georgina Campbell), who is in hot water for failing to disclose her family relationship to a key suspect.
The revelation provided an opportunity for Miller to show off her reprimanding skills – and Hardy to praise her. "Might put you in charge of bollockings from now on, Miller," he said, after she took Harford to task.
But Harford's secrecy also raises the possibility she was covering for her dad and may undermine the whole investigation.
How is Tom's phone connected to the case?
Miller's exasperation with Hartford may be due to her frustration with her own son Tom (Adam Wilson). This week, the detective not only had to worry about the issue of porn on her son's phone, but the fact that he might be lying about who supplied it.
Tom claims the material came from friend Michael Lucas (Deon Williams), who got it from his stepfather Clive (Sebastian Armesto) - but wasn't Tom the one showing Michael the porn to start with?
Whatever the case may be, Miller's failure to rein in her son's behaviour is bound to have consequences and could have links to the case she's working on.
What are Clive and Ian up to?
Dodgy Clive hardly appeared in this episode, but after Miller discovered that he might be responsible for the porn on her son's phone, he's bound to come under scrutiny again next week. The same goes for Trish's shifty ex Ian Winterman (Charlie Higson) and the contents of the laptop he has been so keen to cover up.
So who's the chief suspect now?
Last week, twine-store heir Leo Humphries (Chris Mason) seemed alarmed when police turned the spotlight on him. But some commentators are now pointing the finger at Cath's husband Jim Atwood (Mark Bazeley).
The mechanic has come under scrutiny before, but the revelation that Trish slept with him on the day of the attack seemed to put him out of the picture for a while.
However, Louisa Mellor on Den of Geek highlights some new incriminating clues, saying that one rape victim phoned for a vehicle breakdown service before she was attacked and that Jim very speedily asked Cath to leave town with him. Let's not forget his arrogance over his affair with Trish, nor Cath's own suspicion that he might be guilty, she adds.
If Jim does turn out to be the culprit, says Mellor, "it would make a sage point about the separation between rape and sex".
And is Mark really dead?
Ben Dowell in Radio Times is after a happy ending for Mark. "Here's hoping he changes his mind at the last minute and finds something to live for," writes the critic.
But James Jackson in The Times, is less sympathetic, saying: "This heartless critic respectfully hopes he is [dead], or a moment of rare power - one that's been brewing since series one - will be punctured."
Broadchurch continues on ITV at 9pm on Monday.
Broadchurch series three: key questions and theories after episode 5
28 March
DS Ellie Miller (Olivia Colman) and DI Alec Hardy (David Tennant) have continued their investigation, taking audiences to troubling places and raising plenty of new questions about the true identity of Trish Winterman's (Julie Hesmondhalgh) attacker.
What do socks have to do with it?
Arthur Tamworth (Richard Hope) reappeared with a possible clue: "I don't know whether my dog might have found something pertinent..."
Arthur revealed that his dog had uncovered a sock in the grounds of the property where the crime took place and that the dark sock with white stripes matches the ones worn by the local football team.
This raises the possibility of whether it could belong to Leo Humphries (Chris Mason), who plays on the team and has already come under scrutiny over his connection with the twine also used in the attack.
So where was Leo on the fateful night?
Leo's girlfriend has backed up his story about going to the pub and then heading home with a kebab, but her version of events seemed so contrived that she must have come up with the story with Leo.
So what's he hiding? We now know that Leo had access to the materials used to tie Trish up (the fishing twine) and he is also involved in some dubious activities with Trish's husband Ian (Charlie Higson).
Add to that his connection with the football sock and there's certainly a pile of evidence stacking up against him.
Where are we at with suspects?
"Blimey," says Viv Groksop in The Guardian, who thinks she "might need to set up a spreadsheet to work out where we're up to with everything". Aside from Leo, there's a host of other potential rapists lurking in the shadows.
Convicted sex offender, "creepy Aaron" (Jim Howick), was clearly lying about where he was fishing during his police interview.
Trish's "highly suspect" ex-husband Ian was seen breaking in to steal his daughter's computer, which must have something incriminating on it, not to mention our other existing suspects, Jim (Cath's husband) and Ed Burnett (Trish's boss).
Did you spot the Peep Show reunion?
Many viewers went wild when they did, says Olivia Wheeler in OK!. While the police interview with creepy Aaron was thoroughly gripping, some viewers were apparently distracted by the fact that the scene was also a reunion between two Peep Show stars.
Colman (playing DS Miller) starred in the Channel 4 comedy show as Sophie Chapman while Jim Howick (playing Aaron) played Gerard.
Broadchurch series three: Key questions and theories after episode 4
22 March
ITV's crime drama Broadchurch has reached the midway point in the third series and the case has become more complex and more disturbing.
It will be a while before we know who raped Trish, but it now appears she may not be the only victim.
What is the light Trish saw?
In flashbacks of her assault, Trish (Julie Hesmondhalgh) remembers a bright light shining in her eyes.
DS Miller (Olivia Colman) suggests the light could have come from a phone or even a phone camera, suggest someone might even have filmed her attack.
Disturbingly, the thought of phones and nasty videos also brings to mind Miller's son Tom, who always seems have a slightly unhealthy attachment to his phone.
Surely it would be too cruel a twist if Miller once again found out that someone close to her was involved in a crime she is investigating?
Who lives in the mysterious house?
DI Hardy (David Tennant) is shocked to discover the police haven't yet been given access to a house right next the crime scene, but while investigating the grounds, he and Miller discover the house has a security light.
Was this the light Trish remembers?
The owner of the house has been unavailable, so we don't know who it belongs to. Is it a character we already know, or someone we haven't been introduced to yet? Is this yet another potential suspect?
What is Sarah trying to cover up?
A DNA test revealed the man Trish had slept with on the morning of the attack was mechanic Jim Atwood (Mark Bazeley) - her best friend's husband.
Another shock came when Sarah (Charlotte Lucas), the new girlfriend of Trish's ex-husband Ian (Charlie Higson), admitted she was the one sending the threatening texts, but said she had done so before she knew of the rape.
However, the original text said "shut up or else", so if it wasn't about the attack, what was it about?
Ian may not have been the texter, but he's up to something. He seemed very edgy about the old laptop he had loaned Trish and we know one of his old pupils installed something on it. Could it have been spyware?
Is Aaron too obvious a suspect?
A new suspect emerged in the form of the skin-crawlingly creepy Aaron Mayford (Jim Howick), a convicted sex offender who recently moved to the area.
He claims he was fishing on the beach between Broadchurch and Flintcombe on the night Trish was attacked and says other fishermen would have seen him.
He also says: "Juries get things wrong, don't they?", a comment specifically directed at Miller as a reference to her husband Joe's acquittal. But does it also mean he thinks he was wrongly convicted?
Then there's the question of his sexually menacing behaviour towards DC Katie Harford (Georgina Campbell).
Is the other attack connected to Trish's?
At the end of the episode, a young woman revealed to Hardy and Miller that she had also been the victim of an assault.
Two years earlier, she said, she was attacked by an unknown assailant and bound, gagged and raped.
Could this be the same person who attacked Trish? And could this woman be the missing link that could help solve the case?
Broadchurch continues on ITV at 9pm on Monday.
Broadchurch series 3: Key questions and theories after third episode
15 March
The suspects are piling up in the hunt for Trish's attacker - and are we about to see the return of Joe Miller?
Broadchurch's third episode saw David Tennant and Olivia Coleman's bickering cop duo Hardy and Miller hot on the trail of a mounting list of suspects in the brutal rape case that has gripped viewers - but are there too many leads to follow?
As the hunt for the person who attacked Trish Winterman (Julie Hesmondhalgh) continues, Monday's show prompted even more questions and theories.
Who is Trish protecting?
Trish seems determined not to reveal the identity of the man she slept with on the morning of her attack, but she also appears convinced it is not same person who sent her the creepy text at the end of episode two.
His identity may not be a secret for much longer. While DS Miller (Coleman) continued her softly, softly approach, DI Hardy (Tennant) rather brutally pointed out: "We are probably going to retrieve his DNA from your bed sheets anyway. It's quicker if you tell us."
Who are the new suspects?
A series of new characters came under scrutiny in episode three, including Arthur Tamworth (Richard Hope), who owned the party venue and admitted to a past habit of hanging around the waterfall, which is now the crime scene.
In addition, there was the caterer with an all-too-convenient alibi of taking a cigarette break by the lake at the time of the attack.
We also learnt that Michael Lucas (Deon Lee-Williams) was the stepson of taxi driver Clive Lucas - and that he watches porn with DS Miller's son Tom.
Does porn have something to do with this?
Episode three reminded us of the first episode, when Miller discovered her son had been sharing porn and encouraging his mates to watch it.
Is there a link to Tom's porn habits and the violent attack on Trish? Could Lucas or Tom be acting out some dark fantasy, or is this just a general comment on unhealthy social attitudes to sex?
Why does Clive have Trish's keys?
Taxi driver Clive was already a suspect, but his mounting lies aren't making things any better.
First the police proved his alibi was false and then, at the end of the episode, we saw he had Trish's keys.
How did he get them and why did he keep them? Does the fact he was holding a keyring with a picture of Trish's face suggest he is obsessed with her and could be her attacker?
What was on Ian's laptop?
Towards the end of the episode, Trish's ex-husband Ian Winterman (Charlie Higson) met up with Leo Humphries and asked him to delete something from his laptop, saying: "I don't want anyone to find it.".
What could it be? And what are we meant to think about Ian being too drunk to remember what happened on the night of the party?
Is the pressure getting too much for Hardy?
Miller has been badgering Hardy to look after himself, so she must have also noticed the growing dark circles under his eyes.
It's not just the crime Hardy is worried about, but also his young daughter Daisy, who is now living in Broadchurch. She has already befriended some dubious local youths and it's possible one of them is a rapist. Hardy, as we know, has a heart condition, so too much stress could be his undoing.
Will Joe Miller make an appearance?
It seemed like the Joe Miller storyline had run its course, but Mark Latimer seems determined to try and bring him to justice for the death of his child.
Miller's ex now has a new identity, but the reappearance of the Latimers suggests we might catch sight of Joe. Could the stories be in any way connected, or is this merely tying up loose ends?
Broadchurch continues on ITV, Mondays, 9pm.
Broadchurch series 3: Key talking points from second episode
7 March
The latest episode of ITV's crime drama Broadchurch ratcheted up the tension as a string of suspects were questioned about the sexual assault case.
As the cat-and-mouse game to catch a brutal criminal continues, here are the key talking points from episode two.
Miller and Hardy aren't getting on, again
The familiar friction between David Tennant's DI Alec Hardy and Olivia Colman's DS Ellie Miller is back as they tackle a difficult rape case from very different perspectives. Hardy wants to solve the case quickly, while Miller seems keen to protect the victim. But the tension is also about other issues. Hardy complains about being under pressure as a senior officer, telling Miller: "It's easy being you." He seemingly forgets that Miller is a working single mother whose estranged husband killed a boy.
Forget the Usual Suspects
While there is no shortage of suspects for the assault of Trish Winterman (Julie Hesmondhalgh), some seem more likely than others. But as Susanna Lazarus reminds viewers in the Radio Times, "the first rule of Broadchurch is that the most obvious suspect is never the one who done it". So we can probably discount Ian (Charlie Higson), Trish's ex-husband, despite his fishy story and refusal of a DNA test. Then there's cabbie Clive Lucas (Sebastian Armesto) with his convenient story about a broken radio; grumpy loner Ed Burnett (Lenny Henry); and mechanic Jim Attwood (Mark Bazeley). But let's not forget Leo Humphries (Chris Mason), the young man in charge of his father's rope and twine suppliers Humphries, who was introduced with some sombre, eerie music, which Lazarus suggests means "we must take him seriously as a suspect".
Trish a complex victim
The show continues to receive praise for focusing on the effects of sexual assault on the victim, Trish, and revealing her as a complex, well-rounded character. Since her ordeal, poor Trish has suffered from constant fear and anguish, becoming too distressed to continue a police video interview when the questions became too troubling, and struggling with whether to tell her daughter about the rape. Gabriel Tate in the Daily Telegraph notes that while Trish's "recent sexual history seems complicated", the show's writing "suggests no lazy inferences will be drawn from that". Trish is "no saintly victim", adds the critic, "she is an all-too human survivor of an unspeakable crime".
What is Trish hiding?
Nevertheless, her story is not entirely clear. Trish was attacked on a Saturday night but told police she didn't report the ordeal for two days because she was in bed. Miller believes she was dealing with her trauma but Hardy is unconvinced. Meanwhile DC Harford (Georgina Campbell) suspects that Trish may be hiding something. Trish told police she didn't remember much after being knocked unconscious, but remembered that she heard running water, her hands were tied and that something was put in her mouth. Details about the party are also frustratingly vague. There has been speculation about swinging, says Viv Groskop at The Guardian, but "this episode didn't debunk that theory nor confirm it either".
Why did Trish discuss rape in a cafe?
While Broadchurch has largely been praised for its well-researched and sensitive approach to the subject of rape, this week one scene raised eyebrows. Some viewers couldn't understand why Trish met her rape support adviser, Beth Latimer (Jodie Whittaker), in a very public cafe. Some commented on Twitter that they were confused by the setting, especially as detectives Hardy and Miller had stressed the need for privacy in the case. Metro points out, however, that Trish wasn't actually receiving counselling in the cafe, she was just meeting Beth. Still, it prompted Trish to open up about her ordeal, as she admitted she wished she hadn't survived the attack.
Broadchurch continues on ITV next Monday at 9pm.
Broadchurch series 3: The big questions after first episode
28 February
The ITV crime drama Broadchurch has returned for a third season with a harrowing new story of a sexual assault and the hunt for the perpetrator.
The opening episode of what will be the final season has been praised by critics for its brilliant drama and sensitive portrayal of the effects of rape.
David Tennant and Olivia Colman are back as the bickering cop duo DI Alec Hardy and DS Ellie Miller investigating the attack on shop worker Trish Winterman (Julie Hesmondhalgh).
Here are five questions after the first episode:
Will the new series be any good?
The critics seem to think so. Laura Bates at The Guardian says it has avoided most of the exploitative pitfalls in dealing with rape narratives and has chosen instead to focus on the survivor.
The show is "foregrounding her experience" and "encouraging viewers to confront the emotional and psychological impact of the crime rather than objectify her", says Bates.
Michael Hogan at the Daily Telegraph hails the new series as a "bruising but brilliant hour of compelling crime drama". After a disappointing second series, the new season goes back to its roots by exploring a crime "that will rock the close-knit Dorset community, with multiple suspects, secrets, twists and turns", he says.
Hogan adds that the third series opener has "all the things that made Broadchurch so great in the first place".
Where have we seen Trish before?
Hesmondhalgh is best known for her portrayal of Hayley Cropper in Coronation Street, first appearing in 1998. The actress became the first transgender character in a British soap opera and won numerous awards for her portrayal. The character took her own life after living with terminal pancreatic cancer and her funeral was aired in January 2014. Critics are already predicting a Bafta nomination for her Broadchurch performance.
How realistic is Broadchurch?
The story may be fictional, but the producers have been painstaking in their research. Writer Chris Chibnall said he wanted to tell the story because of the increase in the number of sexual offences being reported to police. He worked with assault support services, including Dorset Rape Crisis and The Shores, to gather details about the effects of sexual assault on victims, and how investigations are carried out.
Viewers have also praised the show on social media.
Who are the key suspects?
The assault on Trish appears to have been coldly premeditated, as her attacker waited for her outside a party, knocked her out and took her to an isolated spot. There are three main suspects so far. First is mechanic Jim Atwood (Mark Bazeley), who had condoms in his car that matched a wrapper found at the crime scene. The second is Trish's boss Ed Burnett (Lenny Henry), who seemed heartlessly unconcerned about the assault, and was also involved in a scuffle with Jim at the party. A blue string used to tie Trish's wrist was also from his shop. Then there is Trish's estranged husband Ian (Charlie Higson), who was spotted in a photograph in Trish's house near the fateful cliffs.
How's Hardy's health?
During the first two series, Hardy suffered from a serious heart condition, which he tried to keep from his superiors until he was outed by Miller. By the end of series one he was relieved of duty due to the undeclared problem. It was later revealed to be arrhythmia for which he was successfully fitted with a pacemaker that saw his health improve. This new case is set three years after series two, and so far, there's no sign that Hardy's heart is playing up. But it's just the sort of thing that's bound to rear its head again in the world of drama.
Broadchurch series 3: When does it start and is it such a good idea?
27 February
Bafta-winning crime drama Broadchurch returns to ITV tonight for a third and final series. Here's what to expect:
When does Broadchurch start?
The eight-part series is set to begin on Monday 27 February at 9pm on ITV.
Who is returning?
Fans spotted several familiar faces filming in Bristol, Dorset and Somerset last year. David Tennant and Olivia Colman return as DI Alex Hardy and DS Ellie Miller, while Jodie Whittaker and Andrew Buchan are back as Beth and Mark Latimer, the parents of 11-year-old Danny, whose death was at the centre of the first series. Arthur Darvill also returns as local vicar Paul Coates, Carolyn Pickles as newspaper editor Maggie Radcliffe and Adam Wilson as Ellie's son Tom.
It has been written once more by Chris Chibnall, who is set to replace Steven Moffat as the head writer for BBC1's Doctor Who next year.
Are there any new cast members?
Former Coronation Street star Julie Hesmondhalgh joins the line-up, as do comedian Lenny Henry and Georgina Campbell, who starred in the BBC's Murdered by my Boyfriend. Mistresses actor Sarah Parish, The Fast Show's Charlie Higson and Mark Bazeley from Home Fires take on "significant roles".
What is series three about?
Broadchurch's final chapter, which is based on a year of research with police advisers and local help groups, centres on a serious sexual assault and "looks at the emotional cost to all of those involved and the irreparable damage to friendships and relationships", says ITV.
One trailer reveals it is Hesmondhalgh's character, shop worker Trish Winterman, who has been attacked at a party and, according to Hardy, there is a "long list of people to interview and eliminate".
As for twists and turns, the showrunners have gone to extreme lengths to keep the plot under wraps, from working under a fake title and filming "alternate" scenes to password and watermark protection for every screenplay. Tennant said it was "exhausting" trying to remember all the passwords and proving he needed to access the scripts.
Is a third series such a good idea?
While many fans are excited about the return of Miller and Hardy, some are sceptical after the second series drew lower ratings and weaker reviews than the first.
Mark Lawson of The Guardian is hoping the new season will "shape up like the 2013 first series – gripping, original, unmissable – rather than the 2015 sequel: repetitive, sometimes ridiculous and easy to ignore".
Fortunately, he says the first episode is "reassuring". The mistake of the second outing was to more or less repeat the first, but the third series takes on a completely new case, says Lawson. "After accusations that Broadchurch 2 became unrealistic, Chibnall seems to have compensated with extreme naturalism," he adds.
The Daily Telegraph's Michael Hogan has also been wondering if the "feverishly awaited" third and final series will "hit its old heights or end with a whimper".
He feels optimistic that the show will be "going back to its roots" with multiple suspects and dark secrets rather than awkward courtroom drama, as seen in series two, and he thinks Hesmondhalgh's performance looks like it has Bafta-winning potential.
"The first series was undeniably brilliant. The second was a definite step down. Let's hope the third doesn't continue this disappointing downward trend," says Hogan.
"Perhaps Chibnall only had one truly compelling story to tell about his vividly drawn Dorset community but has become a victim of his own success and can't repeat the trick to order. We'd love him to prove the doubters wrong, though, so will be watching with fingers crossed."

Continue reading for free
We hope you're enjoying The Week's refreshingly open-minded journalism.
Subscribed to The Week? Register your account with the same email as your subscription.