Strangest Covid quotes from world leaders: from vodka cures to 'miracles'
Brazilian president struck down by virus he previously described as a 'little cold'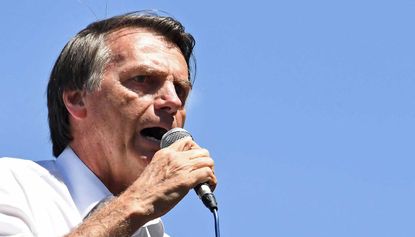 (Image credit: Evaristo Sa/AFP/Getty Images)
Brazil's President Jair Bolsonaro (pictured) has tested positive for coronavirus, having previously dismissed the pandemic as being of little danger to Brazilians.
He took the test, his fourth, on Monday after developing symptoms, including a high temperature, the BBC says.
Bolsonaro has repeatedly talked down the risks of Covid, describing it as a "little flu", saying he would not be seriously affected and opposing lockdowns which would hurt Brazil's economy.
Subscribe to The Week
Escape your echo chamber. Get the facts behind the news, plus analysis from multiple perspectives.
SUBSCRIBE & SAVE
Sign up for The Week's Free Newsletters
From our morning news briefing to a weekly Good News Newsletter, get the best of The Week delivered directly to your inbox.
From our morning news briefing to a weekly Good News Newsletter, get the best of The Week delivered directly to your inbox.
The South American nation has the second-highest number of Covid-19 cases and deaths in the world, after the US.
Bolsonaro is not alone in taking a dismissive attitude towards the pandemic, which has now killed more than half a million people worldwide. The Week rounded up some of the strangest comments by world leaders during the pandemic.
Jair Bolsonaro
Brazil's controversial president made headlines in March by claiming "without evidence that Brazilians may have a natural immunity to the coronavirus" , reports Business Insider.
When asked during an interview whether he believed Brazil's outbreak could get as bad as that in the US, he responded: "I don't think it will reach that point. Especially because Brazilians have to be studied. They don't get anything. You see the guy jumping into the sewer there, going out, diving, right? And nothing happens to him.
"I think a lot of people have already been infected in Brazil, a few weeks or months ago, and already have the antibodies that help not to proliferate it."
Within months of those comments, Brazil passed the US to become the world's worst-hit country in terms of both cases and deaths.
Alexander Lukashenko
The Belarusian leader ruled out lockdown measures like those seen elsewhere in Europe back in March and stuck to his guns, claiming that "the world has gone mad from the coronavirus".
"This psychosis has crippled national economies almost everywhere in the world," Lukashenko said.
His government has now reported more than 64,000 coronavirus cases and 443 deaths among the 9.5 million citizens of Belarus. Although some have claimed that the true infection figure "is much higher and accuse the government of a cover-up", The Times reports.
Doubts were cast on Lukashenko's recommended response to the outbreak in his country, where "shops and markets are bustling, theatres are staging premieres and the borders remain open", according to the newspaper.
In advice that as Sky News notes is "completely at odds with recommendations from the World Health Organization", the 65-year-old, a former Soviet collective farm boss, told his ministers that working on tractors would protect people from the virus.
"There shouldn't be any panic," he said. "You just have to work, especially now, in a village. Tractors will cure everyone! The field heals everyone!"
Lukashenko's list of coronavirus "cures" also includes daily shots of vodka.
"I don't drink but recently I've been saying that people should not only wash their hands with vodka but also poison the virus with it," he said. "You should drink the equivalent of 40-50 millilitres of rectified spirit daily. But not at work."
Visiting banyas - a Russian-style public sauna - can help stave off infection too, he added. "Go to the banya. Two or three times a week will do you good," Lukashenko told his ministers. "When you come out of the sauna, not only wash your hands, but also your insides with 100 millilitres [of vodka]."
Donald Trump
Before the coronavirus truly took hold in the US, which has now reported more cases than any other country in the world, President Trump's comments on the global outbreak took health experts by surprise.
At the end of February, Trump told guests at a White House event that the virus could "maybe go away. We'll see what happens. Nobody really knows."
"It's going to disappear. One day it's like a miracle – it will disappear," he added.
Those comments and similar efforts by Trump to downplay the crisis have been "repeatedly contradicted by public health experts" who have been vindicated by the US's position in the world coronavirus rankings, says The Guardian.
Andres Manuel Lopez Obrador
Mexico's President Andres Manuel Lopez Obrador faced considerable criticism for his initial comments on the outbreak in his country and refusal to implement social distancing measures.
In an online video shot at a restaurant during a trip to the southern state of Oaxaca in March, he said: "We're going to keep living life as usual."
The left-wing populist continued: "I'll tell you when not to go out any longer. If you're able and have the means to do so, continue taking your family out to eat … because that strengthens the economy."
Lopez Obrador also continued to hug, kiss and shake hands with attendees at a series of recent rally events, and has said: "This idea that you can't hug. You have to hug. Nothing happens."
Mexico later introduced lockdown restrictions that were not lifted until early June, but the country has reported more than 269,000 cases and over 32,000 deaths.

Continue reading for free
We hope you're enjoying The Week's refreshingly open-minded journalism.
Subscribed to The Week? Register your account with the same email as your subscription.