Every 'Saw' film, ranked
The highs and lows of the gory horror soap opera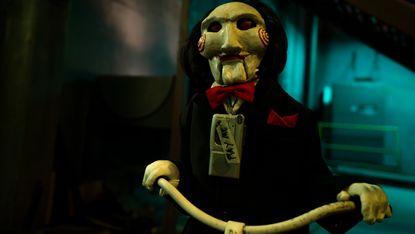 (Image credit: Alexandro Bolaños Escamilla / Lionsgate)
Hello, "Saw" fans. It's time to play a game.
The iconic horror series known for its gruesome torture traps, wacky timeline shenanigans, and absurd retcons has returned to theaters with its latest bloody sequel, "Saw X." In celebration of the film's release, let's take a look at the highs and lows of this intricate, gory soap opera:
10. 'Saw 3D'
The original "Saw" series ends on an abysmal note with this embarrassingly awful 3D entry that's visually repellent, poorly acted, and shockingly sexist, and it concludes with a twist so lame that it almost retroactively ruins the first film. If the franchise ever has a worse installment than this, God help us.
Subscribe to The Week
Escape your echo chamber. Get the facts behind the news, plus analysis from multiple perspectives.
SUBSCRIBE & SAVE
Sign up for The Week's Free Newsletters
From our morning news briefing to a weekly Good News Newsletter, get the best of The Week delivered directly to your inbox.
From our morning news briefing to a weekly Good News Newsletter, get the best of The Week delivered directly to your inbox.
9. 'Spiral: From the Book of Saw'
The biggest disappointment of this Chris Rock spin-off is that it barely feels like a "Saw" movie. Were it not for some franchise iconography, "Spiral" would simply be an instantly forgettable police procedural. It sorely lacks a central game to go along with the law enforcement plot, the twist is obvious, and the new killer is lousy. His reasons for copying John Kramer make little sense, and the voice used on his tapes is the opposite of intimidating.
8. 'Saw V'
"Saw V" divides its time between a group Jigsaw game and an origin story for John Kramer's successor, Detective Hoffman, with these two plots hardly intersecting. The game is excellent, as is a final punchline recontextualizing everything. But Hoffman is such a dull character that the latter storyline is a chore to get through. Plus, too much time is spent revisiting events from previous movies. What is this, a "Saw" clip show?
7. 'Jigsaw'
This 2017 reboot came far closer to recapturing the "Saw" magic than "Spiral" thanks to a solid group game, compelling mystery, and clever timeline twist. Unfortunately, the new killer is the worst Jigsaw replacement of all, with much more generic motives than John Kramer, and his flat final monologue ends the film on a sour note.
6. 'Saw IV'
Unwilling to say goodbye to Tobin Bell after killing his character, "Saw IV" again spends an inordinate amount of time on Jigsaw flashbacks that are only tangentially related to anything at the expense of further developing its main character. It's also questionable why the film's primary victim is even chosen for a game, and the fact that he isn't really trapped makes the scenario feel contrived. Still, the back-to-back closing twists almost make it all worth it.
5. 'Saw X'
"Saw" goes back to basics for its latest entry, "Saw X," but it may be a little too basic. Though the series has become famous for its wild twists and leaps backwards and forwards in time, this is a surprisingly straightforward installment, which plays out like a fairly standard revenge thriller where John Kramer turns the tables on con artists who wronged him. After the film finally finishes setting up that premise in a painfully slow first half, the few twists it has aren't particularly stunning. But what "Saw X" lacks in huge surprises, it makes up for with phenomenal traps and Tobin Bell's best performance as Jigsaw to date. After years of underwhelming new killers, the master returns to show the kids how it's done.
4. 'Saw III'
Though its lead character is frustratingly indecisive, "Saw III" provides a satisfying bookend to the original trilogy, telling an engrossing story about vengeance and concluding with a delightfully dark reveal. But this is also where the series' recurring problem of unwinnable traps begins in earnest. A major appeal of Jigsaw's games is the question of whether the victims have the will to survive them. If doing so is impossible, we're just watching pure, brutal torture, which isn't nearly as interesting.
3. 'Saw VI'
"Saw VI" revitalizes the franchise after years of diminishing returns with an unexpected new mission: taking on the healthcare industry by using Jigsaw's traps as a metaphor for insurance companies sentencing people to death by denying coverage. This gives the bloody violence and inventive traps a smart new purpose beyond mere shock value, making for a high point in the series — except for all those pesky Hoffman scenes.
2. 'Saw II'
Some rough dialogue aside, "Saw II" comes close to matching its predecessor, and the sequels owe as much to it as the original. It was the first entry to fully establish the tradition of playing with the order of events in creative ways, and the twist here is the franchise's most mind-blowing. But the movie's greatest choice is putting Jigsaw front and center to explain his sick philosophy, allowing Tobin Bell to give a horror villain acting master class. If Jigsaw has become one of the genre's best antagonists, he has "Saw II" to thank.
1. 'Saw'
Don't let the later entries' extreme gore color your opinion of the original "Saw," a comparatively restrained thriller more akin to "Se7en" than "Hostel." There's a greater focus on solving the mystery of how the game works, why the victims were chosen, and what Jigsaw's modus operandi is than there is on torture. The movie also has stronger performances and better character development than subsequent installments, and it's the series' only film with effective scares unrelated to the traps. Its sequels may be uneven, but the first "Saw" remains a horror classic.

Continue reading for free
We hope you're enjoying The Week's refreshingly open-minded journalism.
Subscribed to The Week? Register your account with the same email as your subscription.