Books of the Week: Head Hand Heart, Inside Story: A Novel, V2
New releases by David Goodhart, Martin Amis and Robert Harris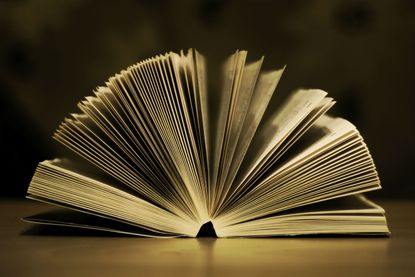 (Image credit: PXHere )
Sign up to our 10 Things You Need to Know Today newsletter
A free daily digest of the biggest news stories of the day - and the best features from our website
Thank you for signing up to TheWeek. You will receive a verification email shortly.
There was a problem. Please refresh the page and try again.
This week's must-reads include David Goodhart's "utterly compelling" book on the over-dominance of our society by the highly educated.
Martin Amis creates an odd "mash-up" of a novel for what he says will be his last "significant" book and Robert Harris revisits the "secretive world of Second World War mathematicians".
Book of the week Head Hand Heart by David Goodhart
Subscribe to The Week
Escape your echo chamber. Get the facts behind the news, plus analysis from multiple perspectives.
SUBSCRIBE & SAVE
Sign up for The Week's Free Newsletters
From our morning news briefing to a weekly Good News Newsletter, get the best of The Week delivered directly to your inbox.
From our morning news briefing to a weekly Good News Newsletter, get the best of The Week delivered directly to your inbox.
David Goodhart is "one of the most important intellectuals in the country, if not Europe", said Matthew Goodwin in The Sunday Times. He has long specialised in pointing out the "flaws in our liberal consensus", and has "consistently been ahead of the curve" on issues such as immigration and Brexit. Head Hand Heart, his "utterly compelling" new book, attacks what he claims is the over-dominance of society by highly educated "cognitive elites". Over the past half century, Goodhart argues, "smart people" (Heads) have been ever more rewarded, while manual workers (Hands) and those in caring roles (Hearts) have been stripped of "status, respect and dignity". As society has become orientated around the interests of the "exam-passing classes", those with other attributes have been undervalued. This has bred despair and resentment: all the political rebellions of recent years have been "driven by the Hands and the Hearts".
Goodhart backs his thesis up with "an impressive depth of research", said Julian Coman in The Observer. The hourly wages of bus and coach drivers have risen by just 22% since 1975, while advertising and PR managers have seen theirs increase by 111%. "Can we really argue," he asks, "that the work of a junior account manager in a City PR firm is more useful than a bus driver or an adult care worker?" The root of the problem, this "valuable book" argues, lies in our obsession with sending people to university, said Martin Bentham in the London Evening Standard. Politics, itself "subject to a graduate takeover", has become dominated by those who think that degrees are key to success in life. Successive governments have driven up graduate numbers with a "blindness to the consequences" for society.
While Goodhart writes with "shrewdness and skill", it is peculiar that he regards universities as "the chief culprit", said David Willetts in the Literary Review. Far from sowing social division, these institutions are vital "levelling-up" forces. And ironically, those that he is keenest to criticise – the ex-polytechnics – are precisely the ones most likely to focus on the "technical and vocational skills" that he wants us to value more. Either way, the Covid-19 crisis may be helping to bring about the very "recalibration" that Goodhart calls for, said James Bloodworth in The Spectator. As he notes in an "optimistic" preface, it revealed that many of the "truly key workers" were those who didn't go to college – delivery drivers, shop workers, carers, nurses. Let's hope our "new-found respect" for such people outlasts the pandemic.
Allen Lane 368pp £20; The Week Bookshop £15.99
Inside Story: A Novel by Martin Amis
"Ignore the subtitle," said Janice Turner in The Times: "this is not a novel but a compendium." Aged 71, Martin Amis has set down everything he has "thought or learnt or seen", in sentences that "brim with warmth, candour, soul". Much of the material feels familiar. Once again, we revisit his sexually promiscuous youth, when the "chicks were both legion... and 24 carat". There are "baggy disquisitions" on weighty political matters – the Holocaust, 9/11 – plus numerous writing tips. Along with the "unreconstructed, big-balled" masculinity, Amis writes with fierce tenderness of three departed male figures: his two literary heroes – Philip Larkin and Saul Bellow – and the journalist Christopher Hitchens, "his lifelong interlocutor and after-hours mucker", who died of oesophageal cancer in 2011. Amis has said that this will be his last "significant" book – which perhaps explains why he has made it an "all-you-can-eat" buffet. My advice would be: "dig in".
I suggest you don't, said Katie Law in the London Evening Standard: this is another erratic and self-regarding effort from a writer long past his prime. Bits are "brilliant" – notably the portrait of the "Hitch" – but for the most part it's an unconvincing "mash-up, full of strange stylistic and chronological lurches". One moment, he's discussing Islamism with Hitchens; the next, he's recalling a girlfriend from the 1970s, whom he describes as "tits on a wand". The question of whether this is actually a novel is "mildly confusing", said Nicholas Lezard in The Spectator. Why does Amis call most characters by their real names, while giving a few made-up ones? In the end, however, such questions don't much matter – because Amis's prose, as ever, "sweeps you along like surf" through this enjoyable, funny and generous book. "Novel, schmovel. It works."
Jonathan Cape 560pp £20; The Week Bookshop £15.99
Novel of the week V2 by Robert Harris
Robert Harris first explored the "secretive world of Second World War mathematicians" in his 1995 thriller Enigma, said David Marsland in the London Evening Standard. In his "relentless" new novel, he returns to the subject, though here the focus is not on codes but on the "death integers" of ballistic missiles. In November 1944, as the Nazis rain their new V2 rockets down on London, Kay Caton-Walsh, a young WAAF officer, becomes involved in the effort to "track where the V2s are coming from" by measuring their parabolas through the sky. Meanwhile, we follow her German opposite number, a conflicted engineer called Rudi Graf, who is in charge of "pounding London" with the missiles.
Harris's prose is "wonderfully" vivid, and both Kay and Dr Graf are "lively and sympathetic" creations, said Jake Kerridge in The Daily Telegraph. But more impressively still, he "makes the V2s come to life" by finding the "poetry" in their physics. While this may not be Harris at his very best – at times he uses the "laziest of clichés" – it's still a work that you're likely to "gobble up".
Hutchinson 320pp £20; The Week Bookshop £15.99
The Week Bookshop
To order these titles or any other book in print, visit theweekbookshop.co.uk, or speak to a bookseller on 020 3176 3835. Opening times: Monday to Saturday 9am-5.30pm and Sunday 10am-4pm.
Continue reading for free
We hope you're enjoying The Week's refreshingly open-minded journalism.
Subscribed to The Week? Register your account with the same email as your subscription.
Sign up to our 10 Things You Need to Know Today newsletter
A free daily digest of the biggest news stories of the day - and the best features from our website