David Cameron's macho threat to 'Jihadi John' doesn't help
Alan Henning's killer won't be easy to catch – and the 'dead or alive' challenge just gives him more PR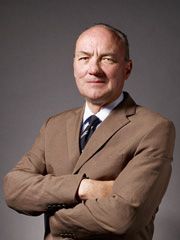 For all David Cameron's faults, one at least assumed that he was more intelligent than George W Bush. Apparently, not. How else can we account for Downing Street's absurd leaked pronouncement that the Prime Minister has ordered our spooks and military to track down 'Jihadi John' following the apparent beheading of Alan Henning "dead or alive".
This is not just a matter of style; in substance it is unwise. A personal challenge like the one that appears to have been issued just adds to the man's macabre cachet amongst the tiny number of our fellow citizens (so we are assured) who seem impressed by this sort of savagery.
It improves the brand recognition of an individual, who is after all just a common murderer, giving him a status he does not deserve.
Subscribe to The Week
Escape your echo chamber. Get the facts behind the news, plus analysis from multiple perspectives.
SUBSCRIBE & SAVE
Sign up for The Week's Free Newsletters
From our morning news briefing to a weekly Good News Newsletter, get the best of The Week delivered directly to your inbox.
From our morning news briefing to a weekly Good News Newsletter, get the best of The Week delivered directly to your inbox.
And should he evade his pursuers for many years (Osama bin Laden hid in plain sight for over a decade; al-Zarqawi, his deputy, remains at large) he will be able to build up extra PR brownie points as a man who outwitted the entire British security and intelligence establishment.
Perhaps Cameron believes that he will earn some kind of reflected glory if this unpleasant killer is taken out on his watch. I'm not even sure this would be the best option - I wonder if a proper traditional trial "down the Bailey" wouldn't be a more fitting solution.
But even if we do manage to despatch this man in the near future, somehow I think it would be unworthy of any British prime minister to say or communicate any opinion. An austere "The Prime Minister doesn't comment on the fate of common criminals" would be more than enough.
Some killers of this type prefer privacy. Others crave what Mrs Thatcher called "the oxygen of publicity" both for their political message and, in this case I suspect, for personal satisfaction.
In this the television news channels and newspapers have been complicit. To be fair they have striven to be tasteful, sensitive and all the rest of it, but showing pictures of helpless men paraded before their grisly murder is simply showing trailers for snuff movies.
If an "ordinary decent criminal" (to use the ironic shorthand of the old RUC Special Branch) in the UK had recorded a particularly gruesome killing on his mobile phone and then posted it on the internet our television news channels would not dream of showing stills from it on their hourly bulletins.
And it is in this area that the British state does have some discretion and power. Although we cannot do very much about his homicidal tendencies for now we could have some control over his audience. We can't stop the performance but we can control the lighting and effects in the theatre.
It shouldn't be beyond the wit of our legislators to make downloading or publishing any image connected with these killings illegal.
Once again the episode underlines the unsuitability of modern professional politicians to be in charge. With no 'cursus honorum' – the old Roman system that ensured that the highest offices of state could only be held by those who had proved themselves in key military, financial and judicial offices on the way up – the office of prime minister of the United Kingdom has become an entry-level job for some in the political elite – most recently Tony Blair and David Cameron and quite possible Ed Miliband in the near future. With all the consequences of institutionalised immaturity that we are forced to live with.
Let's at least hope that Dave doesn't boast publicly about his dealings with the intelligence services as he did about his supposedly omerta-bound conversations with Her Majesty the Queen.
But in a sense the national culture is also at fault. The propaganda myths of the intelligence world seem to linger even after the intelligence debacles of Iraq and Afghanistan. William Hague, clearly disagreeing with the Cameron approach, tried to inject some reality into the rhetoric in an interview this week warning that in Syria there was "so little that we can do if people get into trouble".
Tony Mendez, a retired CIA chief of operations, said something very revealing in an interview with the New York Times just after 9/11: "We used to assign one of our officers to watch Mission: Impossible every week because we'd always get the phone call the next morning, 'Can you guys do that?' "
Well, generally they can't – not even James Bond's parent agency, MI6, nor the SAS.

Continue reading for free
We hope you're enjoying The Week's refreshingly open-minded journalism.
Subscribed to The Week? Register your account with the same email as your subscription.