Donald Trump reveals details of meeting with Kim Jong Un
Historic talks set to take place in Singapore on 12 June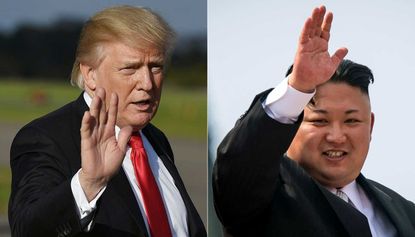 (Image credit: MANDEL NGAN, ED JONES/AFP/Getty Images)
Donald Trump has revealed that he will meet North Korean leader Kim Jong Un in Singapore on 12 June.
The US president took to Twitter to make the announcement, saying: "The highly anticipated meeting between Kim Jong Un and myself will take place in Singapore on June 12th. We will both try to make it a very special moment for World Peace!"
The Guardian says that the summit, which will be the first time a sitting US president has ever met a North Korean leader, "will be the stage for critical talks aimed at curbing North Korea's nuclear weapons programme".
Subscribe to The Week
Escape your echo chamber. Get the facts behind the news, plus analysis from multiple perspectives.
SUBSCRIBE & SAVE
Sign up for The Week's Free Newsletters
From our morning news briefing to a weekly Good News Newsletter, get the best of The Week delivered directly to your inbox.
From our morning news briefing to a weekly Good News Newsletter, get the best of The Week delivered directly to your inbox.
The announcement came just hours after US secretary of state Mike Pompeo returned to the US from North Korea, bringing with him three US citizens who had been held prisoner by Pyongyang for more than a year.
The BBC says that Singapore was chosen as the venue for a number of reasons, including the fact it is not too far for Kim to travel, and that it represents "a good, neutral choice for the... talks."
Singapore has also maintained solid diplomatic relations with North Korea since 1975.
Prior to the announcement of the venue for the meeting, there had been speculation that Trump would travel to the Korean demilitarised zone (DMZ) to meet with Kim.
However, CNN reports that White House chief of staff John Kelly and national security advisor John Bolton had privately argued that meeting in the DMZ "could appear conciliatory to Kim and that he may get the wrong message if Trump travelled there".
2 May
Trump admits reimbursing his lawyer for Stormy Daniels hush money
Donald Trump has insisted that money paid to porn star Stormy Daniels to keep her quiet over their alleged affair did not come from campaign funds.
The US president - who has previously said he was not aware of the $130,000 (£95,000) payment - announced on Twitter today that the "hush money" came from a monthly retainer reimbursed to his personal lawyer, Michael Cohen.
Daniels, whose real name is Stephanie Clifford, claims she had sex with Trump in July 2006, months after his wife, Melania, gave birth to their son Barron.
Cohen created a private company to pay off Daniels just weeks before the 2016 election, The Wall Street Journal revealed in January.
The report prompted complaints to the Justice Department and Federal Election Commission about the payment potentially breaking rules on campaign finance.
Today, Trump told his Twitter followers that non-disclosure agreements are "very common among celebrities and people of wealth".
"In this case it is in full force and effect and will be used in Arbitration for damages against Ms. Clifford (Daniels)," the US leader wrote.
"The agreement was used to stop the false and extortionist accusations made by her about an affair, despite already having signed a detailed letter admitting that there was no affair. Prior to its violation by Ms. Clifford and her attorney, this was a private agreement. Money from the campaign, or campaign contributions, played no roll [sic] in this transaction."
Hours earlier, former New York mayor Rudy Giuliani, who has joined the president's legal team, had told a Fox News Channel interviewer that Trump had repaid the money to Cohen. Guiliani added that Trump "didn't know about the specifics of it, as far as I know. But he did know the general arrangement."
The former mayor argued that the payment to Daniels was not in breach of campaign finance laws because, he said, no campaign money was involved.
"This week's revelations have, at a minimum, deepened a political controversy for Trump as explanations over the Daniels controversy continue to evolve," says CNN.
2 May
Donald Trump dictated his own glowing medical report, doctor says
Donald Trump's former personal doctor has claimed that a glowing medical letter released on the eve of the presidential primary contests was dictated to him by Trump.
"He dictated that whole letter. I didn't write that letter," Dr Harold Bornstein told CNN.
Bornstein said that the letter, which described Trump's health as "astonishingly excellent" was read out to him by Trump as he and his wife were driving across Central Park.
"(Trump) dictated the letter and I would tell him what he couldn't put in there," Bornstein said.
The claim of the dictated letter followed Bornstein's earlier accusation that "Trump's ex-bodyguard Keith Schiller raided his office while retrieving Trump's medical records after he was elected president", Fairfax Media says.
Trump spokesperson Sarah Sanders told reporters that the records were retrieved as part of "standard operating procedure for a new president", and the White House Medical Unit took possession of them.
26 April
Donald Trump extends tariff deadline as EU trade war looms
Donald Trump extends tariff deadline as EU trade war looms
The EU has secured a 30-day extension to today's deadline at last-ditch talks with US officials aimed at preventing a full-blown trade war.
EU Trade Commissioner Cecilia Malmstrom spoke yesterday to her US counterpart, Commerce Secretary Wilbur Ross, looking to secure a "permanent and unconditional" exemption from Donald Trump's steel and aluminium import tariffs.
That proved overly ambitious, and there were reports that a commitment to voluntarily limit EU exports of steel and aluminium to 90% of average 2016/17 levels had been rejected by the European Commission as unacceptable.
But overnight, the US agreed a 30-day reprieve to allow more talks "after Wall Street closed down on Monday over fears of a tit-for-tat spat", reports Sky News.
South Korea was given an indefinite exemption in return for a 30% cut in its steel exports to the US, while Mexico and Canada, the biggest exporter of steel to the US, have also had their tariff deadlines extended while talks continue on renegotiating Nafta.
An estimated 320,000 workers across the EU are employed in the steel industry, and closure of the US market would create the potential for a "double whammy" to the European industry says The Daily Telegraph.
Not only is America a major market – steel exports to the US accounts for about 7% of UK steel production and are worth about £330m a year – "but Chinese producers are likely to flood Europe with excess output, a major cause of the crisis of three years ago", says the paper.
The impasse over tariff exemptions has led senior European leaders and EU officials to agree a pledge to hit back if trade tariffs are imposed, mirroring moves by China to impose new levies on imports of American goods such as whisky and soy beans.
While it is not known exactly how the EU will react if talks fail, Malmstrom has already outlined a draft list of US products that could be hit. It includes Levi jeans, peanut butter, cranberries, orange juice and bourbon - and amounts to some €2.8bn (£2.5bn) of imported goods.
26 April
Donald Trump likely to scrap Iran deal, says Macron
French president Emmanuel Macron says he believes Donald Trump will pull out of the Iran nuclear deal, which brought an end to the country's pursuit of atomic weapons in return for the lifting of sanctions.
"My view – I don't know what your President will decide – is that he will get rid of this deal on his own, for domestic reasons," Macron told reporters before leaving Washington.
The comments came after the French President addressed a joint session of Congress, giving an 50-minute speech that signalled an abrupt change in demeanour compared to the friendly approach he had taken with Trump the day before.
He "turned around and repudiated the US President's political philosophy and worldview", says CNN, taking a "barely concealed swipe at the ideological grounding of Trump's populist nationalist philosophy".
After softening up US lawmakers with "lots of flattering language and lavish references to American history", says The Washington Post, Macron began "directly attacking the worldview of Trump".
Later, he criticised the US President's approach to global policy-making. Frequent changes in the US position on global issues "can work in the short term but it's very insane in the medium to long term", he said.
20 April
Donald Trump: police issued riot gear in case Mueller fired
Police in Pittsburgh have been ordered to carry riot gear in anticipation of a major protest if Donald Trump fires special counsel Robert Mueller, who is investigating his campaign's links with Russia.
The US President said recently that he believed he had the authority to remove Mueller, sparking fears among his opponents that he might carry out such a move.
He has since "downplayed speculation that he's planning to fire Mueller or Deputy Attorney General Rod Rosenstein", reports CNN, but US police forces are preparing for the worst.
Pittsburgh Police Commander Victor Joseph has sent out a memo to all officers, saying there was "a belief" that Mueller may be fired, and "large scale protests" are expected in the city.
"The protest would be semi-spontaneous and more than likely happen on short notice," the memo said. "Based on this information, beginning tomorrow, April 19, 2018, all Major Crimes detectives are required to bring a full uniform and any issued protective equipment [riot gear] with them to work until further notice."
The BBC's Anthony Zurcher says that with "petitions and plans spreading across social media promising mass demonstrations if a sacking occurs" it is likely that most major cities in the US would have contingency plans in place.

Continue reading for free
We hope you're enjoying The Week's refreshingly open-minded journalism.
Subscribed to The Week? Register your account with the same email as your subscription.