'No third term': Tory MPs shocked by Cameron blunder
Commentators too are genuinely puzzled: Cameron risks being a lame duck PM if he wins election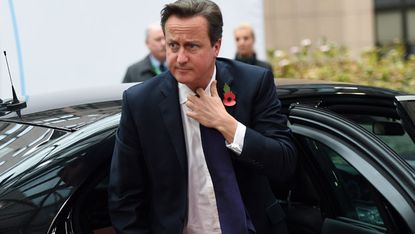 (Image credit: EMMANUEL DUNAND/AFP/Getty )
Sign up to our 10 Things You Need to Know Today newsletter
A free daily digest of the biggest news stories of the day - and the best features from our website
Thank you for signing up to TheWeek. You will receive a verification email shortly.
There was a problem. Please refresh the page and try again.
Tory MPs and the Westminster commentariat appear genuinely astonished by David Cameron's decision to tell the BBC that he will not seek a third term as prime minister.
Many see it as a political blunder that could undermine the Tories' election campaign and, if he can win the election, make him a lame duck prime minister as attention inevitably turns to who will succeed him.
The Guardian quotes a Cameron loyalist saying: "This was an 'Oh f***' moment. The best you can say is David is straight and honest." The Tory-supporting Spectator believes it's so serious it could damage his chances of winning the election.
Subscribe to The Week
Escape your echo chamber. Get the facts behind the news, plus analysis from multiple perspectives.
SUBSCRIBE & SAVE
Sign up for The Week's Free Newsletters
From our morning news briefing to a weekly Good News Newsletter, get the best of The Week delivered directly to your inbox.
From our morning news briefing to a weekly Good News Newsletter, get the best of The Week delivered directly to your inbox.
So, did he mean to say it? Was it planned – and if so, what was it intended to achieve? Or did he just blurt it out in a straightforward answer to an apparently straightforward question? In either case, how much damage has he done?
What Cameron told the BBC's James Landale in the kitchen of his Oxford constituency home was: "I've said I'll stand for a full second term, but I think after that it will be time for new leadership. Terms are like Shredded Wheat: two are wonderful but three might just be too many."
He then went on to name George Osborne, Boris Johnson and Theresa May as three likely candidates to replace him.
Landale himself is clear on one thing: it was not a "planted" question. "It was not something that a helpful Downing Street official had suggested I might ask with a heavy hint that I might get an interesting answer," the BBC's deputy political editor wrote afterwards.
"It was just one of many speculative questions that political journalists like me ask in the hope that just occasionally they might get an answer. And this time it did."
Landale believes Cameron wanted to quash the growing speculation that he would stand down after his promised EU in/out referendum in 2017. "But by emphasising that he would do another five years, he inevitably has to address what he would do after that."
Francis Elliott in The Times is mystified by why Cameron would repeat a notorious political error from the Blair years.
"He [Cameron] had had been an MP for little more than three years when Tony Blair ruled out serving a full third term in 2004. That announcement was intended to settle leadership speculation. But Damian McBride, Gordon Brown's former spin doctor, has vividly described how it had the opposite effect, convincing Mr Brown that Mr Blair was determined to block his path to No 10.
"In setting the countdown clock on his own premiership, Mr Cameron has, in an unguarded moment in his kitchen, put his authority on the chopping block."
Matthew D'Ancona in The Guardian suggests it wasn't just blurted out and that the Tory election strategist, Lynton Crosby, could have had a hand in it.
"It is clear that the PM has been forced to confront his own shelf-life and its consequences – doubtless in consultation with his ubiquitous pollster, Lynton Crosby.
"Though Cameron has generally rated highly in opinion polls – and invariably scores better than Ed Miliband – the shine has evidently diminished, to the point where he has felt obliged to acknowledge his own eventual obsolescence explicitly as part of the Tories' election offer: hello, I must be going.
"Mindful of an election in which humility may conceivably be rewarded, he has presented his cabinet as a team rather than a personality cult, and singled out Theresa May, George Osborne and – from outside ministerial ranks – Boris as 'great people' with 'plenty of talent'. Thereby, he has also signalled the start of an almighty leadership campaign that may last for five years. There will, to coin a phrase, be blood."
Alastair Campbell, Tony Blair's strategist and a man who can spot spin at a thousand paces, disagrees. "I can't believe this was planned," he said on Channel 4 News last night. "He's sort of given up. That was a losing mindset at work. It's a bit of a disaster for the Tories."
Campbell pointed out that Cameron had now introduced "two psychodramas about himself" into the election campaign: first the TV debate saga, now this.
Whether it was planned or not, the reaction from Labour and the Lib Dems is that it was presumptuous of Cameron to discuss a third term when he's currently way off winning a second one.
"The Tories are taking the British public for granted," said Douglas Alexander, Labour's chair of general election strategy. "It is typically arrogant of David Cameron to presume a third Tory term in 2020 before the British public have been given the chance to have their say in this election."
Final word to Fraser Nelson at The Spectator - who's convinced it was a serious error.
"In talking about his departure, Cameron has made himself sound weak – at a time when his party is selling itself on his strong leadership. It's an odd decision, and I fear it's one which makes the nightmare of an Ed Miliband government a tiny bit more likely.
"It creates a distraction. David Cameron does a job that ought not to be compared to eating Shredded Wheat. In ruling out a third term, Cameron has diminished his chances of serving a second."
Continue reading for free
We hope you're enjoying The Week's refreshingly open-minded journalism.
Subscribed to The Week? Register your account with the same email as your subscription.
Sign up to our 10 Things You Need to Know Today newsletter
A free daily digest of the biggest news stories of the day - and the best features from our website