Greece finally reaches deal to release €12bn bailout funds
ECB stress tests show country's banks needs €14bn to fill a capital shortfall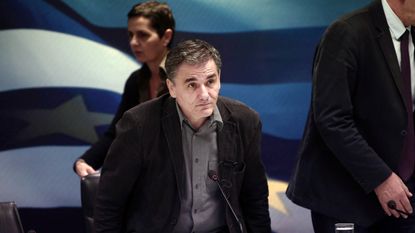 (Image credit: Angelos Tzortzinis/AFP/Getty Images)
Sign up to our 10 Things You Need to Know Today newsletter
A free daily digest of the biggest news stories of the day - and the best features from our website
Thank you for signing up to TheWeek. You will receive a verification email shortly.
There was a problem. Please refresh the page and try again.
Greece bailout deadline looms: what happens next?
20 February
Finance ministers from across the eurozone will today attempt to hammer out a last-minute deal to solve the ongoing crisis over Greece's bailout.
Yesterday Germany fired a warning shot by publicly stating it would reject Greece's current proposal for a six-month extension to its European loan programme.
Subscribe to The Week
Escape your echo chamber. Get the facts behind the news, plus analysis from multiple perspectives.
SUBSCRIBE & SAVE
Sign up for The Week's Free Newsletters
From our morning news briefing to a weekly Good News Newsletter, get the best of The Week delivered directly to your inbox.
From our morning news briefing to a weekly Good News Newsletter, get the best of The Week delivered directly to your inbox.
The Greek proposal was seen as a "climbdown" by the new radical left government of Alexis Tsipras, The Times says, but Germany still insisted that it would reject the deal, describing it as "not a substantial solution".
Today, Eurogroup finance ministers, led by president Jeroen Dijsselbloem, will have to decide whether or not to accept the plan before the deadline expires.
The Guardian's economics editor, Larry Elliott, likened Germany's proposed solution to Greece's predicament as a "Carthaginian peace", a historical reference to the Punic wars when Rome defeated Carthage after a long struggle, but refused to allow its opponent an honourable surrender. "Instead, it enforced a brutal settlement, burning Carthage to the ground and enslaving those inhabitants it did not massacre".
In spite of Tsipras flying "the white flag of surrender" and showing a willingness to accept many of the conditions demanded by Greece's eurozone creditors, Wolfgang Schauble, Germany's finance minister, has "immediately slapped Tsipras down". Greece now has only two options, Elliott says: "abject surrender or going nuclear."
So could we now see Greece "go nuclear" and attempt to exit the eurozone?
Here are the key dates on the road ahead as Europe flirts with allowing its first member state to leave the joint monetary union.
Friday 20 February
An emergency Eurogroup meeting will take place today from 2pm GMT (3pm in Brussels) to discuss the conditions and extension of Greece's loan and bailout.
"Even ongoing European Central Bank (ECB) funding will only buy a few weeks, because it will not solve the Greek government's exceptionally tight cash position," Deutsche Bank strategist George Saravelos told CNBC.
"Over the next few weeks, Greece will, therefore, need to achieve substantial progress on fleshing out the exact parameters of the program as well as voting legislation through parliament," he added. "For this to materialise, agreement needs to be reached at Friday's Eurogroup, with another breakdown again bringing ECB liquidity provision back into immediate question."
Tuesday 24 February
Greece must repay €595 million of bond interest to its euro zone creditors. If it cannot repay its debts it runs the very real risk of running out of money and defaulting on its debts, a situation that could trigger a possible exit from the eurozone.
Friday 27 February
Greece's banks "could reach the limit" of the emergency liquidity pool that has been granted by the ECB, according to CNBC. If this happens, the country will need to apply again for another renewal.
Saturday 28 February
The European Union's temporary crisis fund, the European Financial Stability Facility (EFSF), expires. As of the beginning of this week, much of the remaining collateral available to Greek banks came from EFSF bonds, Reuters reports. According to JP Morgan these bonds are now crucially important as Greece applies for further funding.
March
Large Greek payments to the IMF are due.
Greece gets a €3bn lifeline, but bailout talks continue
19 February
The Greek government has been given a temporary reprieve by the European Central Bank (ECB), which has agreed to provide €3.3bn more emergency funds for the country's banks.
The increase of €3.3bn to the so-called Emergency Liquidity Assistance (ELA) is "critical for Greece's banks", the BBC says, and will help improve their ability to lend money following years of depositors taking their savings out of the country.
The €3.3bn comes on top of an extra €5bn granted to Greek banks last week and provides the government a little breathing space as it continues to try to hammer out a deal with the eurozone for a six-month extension of its European loan.
Greece's new Syriza government has pledged that it will be "constructive" in its negotiations, but leaked documents reveal that Greek finance minister Yanis Varoufakis does not intend to give up on plans to repeal austerity measures that include broad public sector job cuts, The Guardian reports.
In a phone call on Wednesday night, US Treasury secretary Jack Lew told Varoufakis that Greece would face "immediate hardship" if it did not strike a deal in Brussels. Lew urged Varoufakis to do everything he could to reach a compromise ahead of Friday's deadline. "Time is of the essence," Lew said.
Greece rejected an initial plan to extend its €240bn bailout on Monday, describing the terms of the proposed deal as "absurd". But, the BBC notes, the country will run out of money if a deal is not reached before the end of February.
"We should extend the credit programme by a few months to have enough stability so that we can negotiate a new agreement between Greece and Europe," Varoufakis told Germany's television channel ZDF. But Gabriel Sakellaridis, a Greek government spokesman, added that Syriza would "not back down" on issues that it considered non-negotiable.
"The clock is ticking", The Guardian notes, towards the eurozone-imposed deadline of Friday to reach an agreement. The Fitch credit ratings agency warned that "continued brinkmanship" could do serious and lasting damage to the Greek economy.
Greece bailout talks collapse: what happens next?
17 February
Talks between Greece and its eurozone creditors broke down yesterday, heightening concerns that the country could be heading towards an exit from the euro, but Greece's finance minister Yanis Varoufakis declared he was ready to do "whatever it takes" to reach an agreement.
Varoufakis said that the terms that had been offered to extend its current €240bn (£178bn) bailout were "absurd" and "unacceptable", but said that he would be willing to accept a new offer on better terms.
Eurogroup head Jeroen Dijsselbloem said that it is now "up to Greece" drive the process forwards, insisting that only Athens could decide whether it wanted more funding or not, the BBC reports.
Greece's current bailout package runs out on 28 February. Without a new one, the country risks running out of money. So what will happen if no deal can be reached?
Who is at the meeting?
The talks in Brussels aim to find common ground between Greece's international creditors and the new government in Athens, which hopes to scrap the strict austerity measures imposed on the country in 2010.
Greece's new prime minister, Alexis Tsipras, said that he was "full of confidence" going into the key meeting with eurozone finance ministers in Brussels yesterday, but at the end of the day, his finance minister, Varoufakis, said that there was still "substantial disagreement", but said that he still felt an agreement could be reached. "Europe will do the usual trick," he said. "It will pull a good agreement or an honourable agreement out of what seems to be an impasse."
What does Tsipras want?
For years, Greece has been subjected to strict austerity measures laid down by its European creditors in exchange for regular injections of bailout funding.
Last month, though, the far-left Syriza party swept into power promising to renegotiate or even scrap the current bailout agreement in favour of a new deal, the New York Times reports.
In the wake of his party's stunning electoral victory, Tsipras has begun to moderate his party's hard-line stance to try to find a path towards compromise between the Greek government and the German-led creditor bloc.
At the weekend, Tsipras told the German magazine Stern that he hopes now to be able to find a solution that keeps both side happy.
"I want a win-win solution," Tsipras said. "I want to save Greece from tragedy and Europe from a split."
However, the charismatic young prime minister faces a difficult task, The Guardian says, in attempting to persuade Germany that "debt-stricken Athens will keep along the path of reform", while also reassuring the "hard-left militants" within his own government that critical lines will not be crossed in the search for a compromise.
What happens if no compromise can be reached?
It is a very real possibility that Greece may end up exiting the Eurozone, triggering "the world's worst portmanteau: Grexit", says Matt O'Brien in the Washington Post.
According to O'Brien, Europe is now in "good enough shape" that Germany believes it will be safe for Greece to leave, and Greece's budget is sufficiently balanced that it believes it can leave too. "Neither of them wants that, but neither of them doesn't want it so much that they'd do anything to avoid it", O'Brien says, so each side may be willing to call the other's bluff.
How real is the risk?
Paddy Power said that the odds of a "Grexit" by the end of 2018 had risen from 3/1 last week to 5/4 yesterday, the Daily Telegraph reports.
George Osborne, the UK's Chancellor, said the risk was "growing each day".
What will happen if Greece leaves?
MoneyWeek says that the potential for market disruption and the "huge capital outflows" from Greece would "threaten to make an exit very messy".
Overall, a Greek exit from the eurozone would "clearly throw up some huge challenges", including the risk of runaway inflation, the potential contagion effects as other European countries contemplate an exit of their own, not to mention the logistical complexities as Greece attempts to reintroduce its own currency (possibly called the drachma). Analysts estimate that it could take as long as six months just to produce enough notes for the new currency and longer to produce the required number of coins.
However, these challenges do not mean that an exit will not happen or that "the best ways to meet [them] should not be discussed and planned", MoneyWeek suggests. "Indeed, doing so will increase the chances that a Grexit, however it occurs, could even end up as a favourable economic development for both Greece and the rest of the eurozone."
Continue reading for free
We hope you're enjoying The Week's refreshingly open-minded journalism.
Subscribed to The Week? Register your account with the same email as your subscription.
Sign up to our 10 Things You Need to Know Today newsletter
A free daily digest of the biggest news stories of the day - and the best features from our website