Psychiatrists turn to Ozempic to combat weight gain caused by psychotropic meds
The injectable weight loss drug could be a boon for those who take some antipsychotics or antidepressants.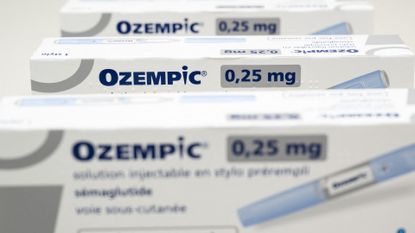 (Image credit: Sebastien Bozon / Getty Images)
Semaglutide injectables like Ozempic, Wegovy and Mounjaro have revolutionized how doctors treat diabetes and obesity. The drug has become a popular weight-loss tool, buoyed by its popularity among celebrities and a viral presence on social media. Now, per recent reports from The New York Times and Reuters, several psychiatrists have found another use for the sought-after drug: countering the weight gain that comes with taking antipsychotics and other mental health medicines.
Of the 13 mental health facilities and psychiatric departments the Times heard contacted, six said they actively prescribed or recommended drugs like Ozempic. In contrast, the others said they were not ready to try it, "citing concerns about safety and side effects and expressing a belief that prescribing weight-loss drugs was beyond their purview," the outlet reported. The group's responses illuminate an emerging debate in the psychiatric field about whether it is safe to prescribe the drug when there is "only a limited understanding of how people with serious mental illness fare on these medications."
Can semaglutide treat weight gain induced by some mental health medications?
Weight gain is a common side effect of many antipsychotics and mood stabilizers, which are typically prescribed for bipolar disorder or schizophrenia. However, some antidepressants can also lead to weight gain, though often to a lesser extent. The significant weight gain can "contribute to diabetes and heart disease, the leading cause of death among adults with schizophrenia," Reuters reported. Combined with external factors such as "inadequate access to healthy food," the outlet added, "over half of patients with bipolar depression and schizophrenia are overweight or obese."
Subscribe to The Week
Escape your echo chamber. Get the facts behind the news, plus analysis from multiple perspectives.
SUBSCRIBE & SAVE
Sign up for The Week's Free Newsletters
From our morning news briefing to a weekly Good News Newsletter, get the best of The Week delivered directly to your inbox.
From our morning news briefing to a weekly Good News Newsletter, get the best of The Week delivered directly to your inbox.
For some psychiatrists, the lack of research on how these drugs can affect weight is not enough of a deterrent to keep them from recommending them to their patients. Some argue that their patients cannot wait, especially if possible weight gain is standing in the way of them receiving critical treatment or contributing to life-threatening symptoms.
"Waiting until somebody has gained 50 pounds and has developed diabetes is just not serving the patient," Dr. Dost Ongur, chief of the psychotic disorders division of Mass General Brigham McLean Hospital, told Reuters. Semaglutitide injectibles have been "a real welcome addition" for patients who have "endured significant weight gain because of atypical antipsychotics and have doggedly tried their best to overcome that," Dr. Joseph Goldberg, a professor of psychiatry at Icahn School of Medicine at Mount Sinai in New York, told Reuters.
Psychiatrists have relied on diabetes medications like metformin and liraglutide to help patients fight weight gain, but "none have proven as powerful as the new drugs," the Times noted. Still, Ozempic is not yet a "go-to drug," Dr. Shebani Sethi, director of Stanford's Metabolic Psychiatry program, told the Times. However, Sethi said she is still open to prescribing the drug as long as patients are aware of the risk.
What's keeping other psychiatrists from prescribing the drugs?
Some psychiatrists are hesitant to start prescribing semaglutide without enough data to prove it is safe and effective for their patients. "We are talking about a very vulnerable population," Dr. Mahavir Agarwal, a psychiatrist and scientist at the Centre for Addiction and Mental Health in Toronto, told the Times. There's "next to no data" on people with severe mental illnesses taking semaglutide, and until this changes, "you're sort of flying blind," he added.
Other doctors are concerned by anecdotal reports from Europe of patients having suicidal thoughts while on Ozempic or Wegovy, Dr. Ilana Cohen, a psychiatrist at Sheppard Pratt in Maryland, told the outlet. The European Medicines Agency is currently reviewing reports of suicidal ideation on these drugs. Clinical trials of Wegovy purposely excluded people with recent suicidal thoughts, a history of suicide attempts, schizophrenia, bipolar disorder and those who had been depressed within the past two years. "These medications were not studied well or designed for" patients with these tendencies, Cohen noted.
The medication's hefty price tag — about $1,3000 monthly — is also a concern, especially considering insurers are reluctant to cover the shots unless it's for diabetes. Some psychiatrists told Reuters that insurance providers had rejected their prescriptions, leading them to refer patients to an endocrinologist specializing in diabetes and obesity. Health plans have started adding restrictions to the use of Wegovy even though it is FDA-approved for treating obesity as a possible precursor for diabetes.

Continue reading for free
We hope you're enjoying The Week's refreshingly open-minded journalism.
Subscribed to The Week? Register your account with the same email as your subscription.