Will Meghan Markle be Britain's first mixed-race royal?
Historians say Prince Harry's fiancee may not be first family member with mixed heritage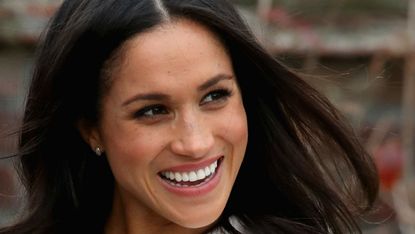 (Image credit: Chris Jackson/Getty Images)
Meghan Markle's engagement to Prince Harry is an unusual royal match in many respects - not only is she older than him, an American and a divorcee, but she is also biracial.
The daughter of a black mother and a white father, Markle's ethnicity has been a talking point since her relationship with the Prince became public last year.
Many commentators have applauded the union as a step forward for the monarchy. But others in the British media appear to use "typically dog-whistle British code" when describing Markle, The Guardian reports. The Daily Mail, for example, calls Markle "a departure from Prince Harry's usual type", and "not in the society blonde style".
Subscribe to The Week
Escape your echo chamber. Get the facts behind the news, plus analysis from multiple perspectives.
SUBSCRIBE & SAVE
Sign up for The Week's Free Newsletters
From our morning news briefing to a weekly Good News Newsletter, get the best of The Week delivered directly to your inbox.
From our morning news briefing to a weekly Good News Newsletter, get the best of The Week delivered directly to your inbox.
But is Markle really the first person of colour to join the Royal Family? The answer is complex, raising questions of perception and identity that go back hundreds of years.
Two former queens of Britain may have had African ancestry, while a roster of British aristocrats can trace their family tree back to a remarkable African prince.
Charlotte of Mecklenburg-Strelitz
In 1761, at the age of 17, Charlotte was plucked from relative obscurity as a princess of one of Germany's many duchies to become the wife of George III.
Although she was a popular queen, her broad features and dark complexion did not conform to the beauty ideals of the Georgian era. "The most basic and perhaps famous Georgian fashion was porcelain white skin, for both men and women," says the BBC History Magazine.
Queen Victoria's personal physician, Baron von Stockmar, who knew Charlotte in her final years, described her in his memoirs as having a "true mulatto face".
In British colonies, the queen was "often honoured by blacks who were convinced from her portraits and likeness on coins that she had African ancestry", The Washington Post reports.
Queen Charlotte with her sons Princes George and Frederick, painted by Allan Ramsay circa 1765
In 2009, Queen Charlotte's supposed African ancestry made the headlines when historian Mario de Valdes y Cocom threw his weight behind the claim.
Valdes argues that contemporary portraits of the queen, alongside the personal testimonies of those who knew her, indicate that it is indeed possible that she was of mixed race, according to The Guardian.
Charlotte was distantly related to Portuguese aristocrat Margarida de Castro e Sousa, who traced her own ancestry to a union between the 13th century King Afonso III and his mistress Madragana, described in one much-disputed 16th century account as a Moor.
Although the connection - separated by nine generations - may seem tenuous, Valdes argues that the small and incestous gene pool of the European royal families means that Charlotte was descended from Sousa through six separate bloodlines.
However, the theory has been dismissed by most historians, who maintain that "the generational distance between Charlotte and her presumed African forebear is so great as to make the suggestion ridiculous", says The Guardian.
Nonetheless, Queen Charlotte's possible African ancestry continues to fascinate, making her the best-known candidate for Britain's first mixed-race royal.
Philippa of Hainault
A more obscure royal legend concerns Philippa of Hainault, the 14th century queen of Edward III.
A contemporary description of Philippa speaks of a young girl "brown of skin all over". The account goes on to describes her nose as "somewhat broad at the tip and also flattened", and her lips "somewhat full, and especially the lower lip".
The account "raised a suggestion of Moorish ancestry", says historian H. Eugene Lehman in Lives of England's Reigning and Consort Queen.
There is at least one possible link connecting this queen to an African heritage, although the evidence is scanty.
Through her mother, Joan of Valois, Philippa traced her ancestry to the Byzantine empress Euphrosyne Doukaina Kamatera, the daughter of a Byzantine aristocrat and an unknown woman.
In his book The British Chronicles, genealogist David Hughes claims that this woman was Qirwerne, a princess of the Zagwe dynasty who ruled what is now northern Ethiopia. However, the absence of supporting documents makes this no more than a theory.
Gannibal's children
Although the theories linking Britain's kings and queens to African origins may be tenuous, several members of the Royals' extended family are direct descendants of a black Russian general, Abram Petrovich Gannibal.
The son of an African chieftain, Gannibal was kidnapped as a boy and sold into slavery in Turkey, where he was purchased by the Russian ambassador as a "gift" for the tsar - "imitating other European courts, where black pages were fashionable", says Doudou Diene in From Chains to Bonds: The Slave Trade Revisited.
Fortunately for the boy, the tsar was not content to treat the newcomer as merely an exotic novelty and sent Gannibal to school in France, where he proved a highly gifted engineer and eventually became a prominent general and member of the Russian nobility.
Alexander Pushkin, Russia's national poet, was a great-grandson of Gannibal. Pushkin described facing jibes about his black heritage and "referred frequently to his own African blood and his 'negro' temperament", says the British Library website.
In 1916, Pushkin's great-granddaughter, Countess Nadejda de Torby, married George Mountbatten, 2nd Marquess of Milford Haven, a great-grandson of Queen Victoria.
Their grandson, George Mountbatten, the 4th Marquess of Milford Haven, is currently head of the Mountbatten family and is in the line of succession to the British throne, although unlikely to be called upon - as of the last count, in 2011, he was at No. 640.
Another great-granddaughter of Pushkin, Countess Anastasia de Torby, also married into the British aristocracy. Her daughter, the late Georgina, Lady Kennard, was a godmother to Prince Andrew.
The next royal bride
So, with all that said, will Meghan Markle be the first person of colour in the royal family?
Regardless of any distant African ancestry, both Queen Charlotte and Queen Philippa understood themselves as white and were treated as such by the society around them.
Markle is certainly the first member of the Royal Family to have such an immediate biracial heritage - and, perhaps even more importantly, the first to acknowledge and embrace her status as a person of colour.
In a 2016 article for Elle, Markle described her experiences with racism and her struggle to reconcile her black and white heritage.
"While my mixed heritage may have created a grey area surrounding my self-identification, keeping me with a foot on both sides of the fence, I have come to embrace that," she wrote. "To say who I am, to share where I'm from, to voice my pride in being a strong, confident mixed-race woman."

Continue reading for free
We hope you're enjoying The Week's refreshingly open-minded journalism.
Subscribed to The Week? Register your account with the same email as your subscription.