Instant Opinion: 'Dear God, are you there?'
Your guide to the best columns and commentary on Wednesday 7 August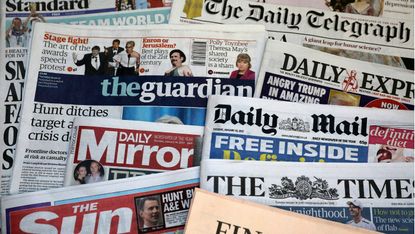 The Week's daily round-up highlights the five best opinion pieces from across the British and international media, with excerpts from each.
1. George Yancy in the New York Times
on America's priorities in the wake of two deadly mass shootings
Subscribe to The Week
Escape your echo chamber. Get the facts behind the news, plus analysis from multiple perspectives.
SUBSCRIBE & SAVE
Sign up for The Week's Free Newsletters
From our morning news briefing to a weekly Good News Newsletter, get the best of The Week delivered directly to your inbox.
From our morning news briefing to a weekly Good News Newsletter, get the best of The Week delivered directly to your inbox.
Dear God, Are You There?
"This letter is not for me alone. It can't be. The suffering of others is too great not to be moved by it, not to feel somehow partially responsible for it. So, it is with this letter that I seek an original relation, one that seeks our collective liberation, one that desires to speak especially on behalf of children and to free them from our miserable failure as adults to honor their lives more than we honor flags, rhetorical mass distraction, political myopia, party line politics, white nationalistic fanaticism and religious vacuity."
2. Zoe Williams in The Guardian
on the harsh press reaction to Meghan Markle's guest editorship of Vogue
I never thought I'd see the royal family as a beacon of hope
"It is an uncomfortable thought experiment to imagine Prince Harry explaining the mainstream British media to his relatively new wife: 'Look, the tabloids have never been great. They hounded my mother to an early grave with their insatiable scrutiny. But as bad as the treatment of my mother was, it would have been unimaginable that weird, misogynist rumours such as that she's faking her pregnancy would circulate in the darkest recesses of the blogosphere. The mainstream British media has suffered some catastrophic bypass of decency that may or may not be related to your race.'"
3. Geoff Nunberg in NPR
on the insidious motives behind opposing gender neutral language
Even a grammar geezer like me can get used to gender neutral pronouns
"It's not a lot to ask — just a small courtesy and sign of respect. In fact, the accommodations we're being asked to make to nonbinary individuals are much less far-reaching than the linguistic changes that feminists called for 50 years ago. Yet the reactions this time have been even more vehement than they were back then. A fifth-grade teacher in Florida whose preferred pronouns are 'they', 'them' and 'their' was removed from the classroom when some parents complained about exposing their children to the transgender lifestyle. When the diversity and inclusion office at the University of Tennessee at Knoxville published a guide to alternative pronouns in 2015, the state legislature promptly defunded the center and barred the university from promoting the use of gender-neutral pronouns in the future. Like the classic episodes of pronoun rage in earlier eras, these aren't about pronouns at all."
4. Jeffrey Sachs in CNN
on Trump's backfiring trade war
China isn't the economic manipulator in this trade war. Trump is
"Trump can't wrap his mind around international trade. International trade is based on mutual gain, not on winners and losers. China, the United States and the European Union all gain from an open trading system, and Trump's protectionist policies represent the biggest threat to that open system in modern times. To the extent that some US workers are hit hard by trade, income support from the federal government and support for retraining are vastly better answers than breaking apart the international trading system. To the extent that trade rules should be tightened or revised on complex 21st century topics such as industrial policy, intellectual property, state aid and state-owned enterprises, the rule-based World Trade Organization is the place to proceed, not unilateral US protectionism."
5. Julie Bindel in UnHerd
on journalist David Thomas' ongoing sex change
What women really want? You've got no idea
"I really could not care less whether Thomas calls himself Davina or David; I consider it to be entirely up to him what he wears and how he presents himself. But he has no earthly idea what it means to be a woman, and has spent the past three decades demonstrating just that. While feminists fight for the right for women to break free of oppressive sex stereotypes, the likes of Thomas claim them for himself. It is high time we called out narcissistic autogynephiliacs. I am sick of the cowards who hide behind the few of us who speak out against this male appropriation of what it really means to be a woman, as opposed to a male fantasy of one."

Continue reading for free
We hope you're enjoying The Week's refreshingly open-minded journalism.
Subscribed to The Week? Register your account with the same email as your subscription.