'A society preoccupied with national symbols is an insecure one'
Your digest of analysis and commentary from the British and international press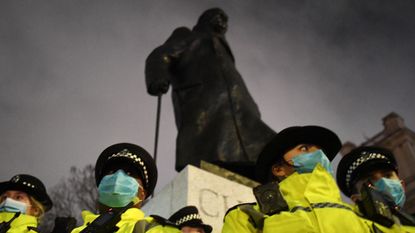 (Image credit: Daniel Leal-Olivas/AFP)
Sign up to our 10 Things You Need to Know Today newsletter
A free daily digest of the biggest news stories of the day - and the best features from our website
Thank you for signing up to TheWeek. You will receive a verification email shortly.
There was a problem. Please refresh the page and try again.
1. Compulsory worship of national symbols is a sure sign of a culture in decline
Nesrine Malik in The Guardian
on statues of limitations
"[T]he more that a society is preoccupied with its symbols, the more insecure it has become," writes Nesrine Malik in The Guardian. "In the UK, the Conservative government and its court press have seized upon the veneration of national symbols as a consolation for a decade of economic pain and social fracture," she writes. While we once used to visit our historic landmarks "now we must swear allegiance to them". Statues too "are now symbols of national anxiety: each one a sort of concrete voodoo doll, which if pricked will cause the whole country to bleed". Whether flags or statues, the "worship of icons" may seem "like a harmless performance on the part of a government that has little else to offer. But behind it lurks the threat of something much more sinister," she concludes.
Subscribe to The Week
Escape your echo chamber. Get the facts behind the news, plus analysis from multiple perspectives.
SUBSCRIBE & SAVE
Sign up for The Week's Free Newsletters
From our morning news briefing to a weekly Good News Newsletter, get the best of The Week delivered directly to your inbox.
From our morning news briefing to a weekly Good News Newsletter, get the best of The Week delivered directly to your inbox.
2. The UK can't be a succession free-for-all
Henry Hill on UnHerd
on the state of the union
"If the combined forces of the separatists secure a majority at next month's Scottish parliament elections, which seems almost certain, it will fall to the prime minister to hold the line against their demands for a second referendum," writes Henry Hill on UnHerd. One senior civil servant who negotiated for the UK during the Edinburgh agreement argues that to deny a referendum "changes the Union we know, based on consent, to one that survives only through force of law". But, writes Hill, "this claim is not true." The UK is not "merely 'a voluntary union of nations' whose integrity rests on provincial elections", argues Hill. "Unionists should not get memed into accepting a false conception of the British state as a sort of confederation, with less legitimate claim to its territorial integrity than its peers."
3. It's time for apprenticeships to take the stage
James Kirkup in The Times
on furthering education
As well as being the site of what will be a hotly contested by-election in two weeks' time, "Hartlepool is one of the places where the other half lives", writes James Kirkup in The Times, that is "the 50 per cent and more who don't go to university". That being said, "7 per cent of Hartlepool's 18-year-olds go on to what Whitehall calls 'higher technical' qualifications". "In other words," writes Kirkup, "Hartlepool and its FE college are actually doing what a few politicians and a lot of policy wonks have talked about for years: delivering high-level vocational training to large numbers of people from that other 50 per cent." But the common conception is that "FE is for other people, and other people's children", he writes. "And because FE is for other people, no one has made much of a fuss about deep and repeated cuts to FE budgets, falling student numbers and a constant churn of policies that all leave the sector dazed and falling short of its potential."
4. The conduct of David Cameron is a case study is shamelessness
Nick Timothy in The Daily Telegraph
on the Greensill affair
"Having set out to 'detoxify' the Tories, and disassociate himself from the shame of many Conservatives in the 1990s, David Cameron increasingly exemplifies what he once sought to purge," writes Nick Timothy in The Daily Telegraph. Although the Greensill affair is complex, with many questions unanswered, "the facts established tell a miserable story of public servants tempted by the prospect of private gain, and private interests masquerading as public service". This is the "true scandal", writes Timothy. "And it is about an attitude towards public assets – including even NHS employment data and the wages of public sector workers – that sees those assets reduced to a commodity that can be bought and sold, at a profit, and not just without public benefit but at the cost of the taxpayer."
5. A different way of thinking about cancel culture
Ezra Klein in The New York Times
on the cost of cancelling
"Cancel culture" isn't an issue of "wokeness", argues Ezra Klein in The New York Times, and that's something "anyone who has been on the business end of a right-wing mob trying to get them or their employees fired – as I have, multiple times – knows," Klein writes. "It's driven by economics, and the key actors are social media giants and employers who really could change the decisions they make in ways that would lead to a better speech climate for us all." That's not to say people shouldn't be "shamed" when they "say something awful", says Klein. "Social sanctions are an important mechanism for social change, and they should be used." The problem starts when "that one awful thing someone said comes to define their online identity, and then it defines their future economic and political and personal opportunities".
Continue reading for free
We hope you're enjoying The Week's refreshingly open-minded journalism.
Subscribed to The Week? Register your account with the same email as your subscription.
Sign up to our 10 Things You Need to Know Today newsletter
A free daily digest of the biggest news stories of the day - and the best features from our website