'Taiwan is right to fear Chinese aggression'
Your digest of analysis from the British and international press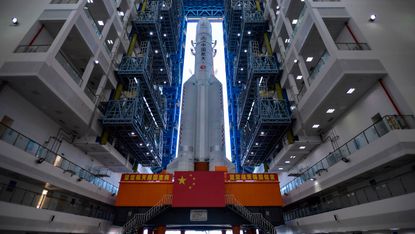 (Image credit: STR/AFP via Getty Images)
1. Don't underestimate Xi Jinping's ambition
Henry Olsen in the Washington Post
on Chinese expansionism
"For anyone who thought that fears of China invading Taiwan are overblown, think again," writes Henry Olsen in The Washington Post. Xi Jinping "has greater ambitions than his recent predecessors" and analysis that "presumes China's traditional governing structure and principles remain largely unchanged" is wrong. Leaders like Xi, "who see themselves as historic figures, rarely move slowly" and "often invade other lands, seeking to add those provinces to an ever-expanding empire", he adds. The president's "dramatic ascent suggests he sees himself as China's Napoleon" and "an expansionist agenda" is "exactly what a man whose eyes are on the history books would pursue". At 68 years of age, Xi will not want to "go to his deathbed without at least attempting to reunite Taiwan with the mainland". "Our foreign policy elite should stop thinking they can deter Xi from pursuing his aggressive foreign policy" and "instead think of how we can win what may be an unthinkable, but inevitable, confrontation".
Subscribe to The Week
Escape your echo chamber. Get the facts behind the news, plus analysis from multiple perspectives.
SUBSCRIBE & SAVE
Sign up for The Week's Free Newsletters
From our morning news briefing to a weekly Good News Newsletter, get the best of The Week delivered directly to your inbox.
From our morning news briefing to a weekly Good News Newsletter, get the best of The Week delivered directly to your inbox.
2. The BBC is finding out the hard way that you can't do 'balance' with Boris Johnson
Andy Beckett in The Guardian
on bullying the Beeb
"Non-Tories have a new sense of betrayal," writes Andy Beckett in The Guardian. "They are realising they can't rely on the BBC to stand up to the government." The corporation delivered "inadequate coverage of the huge death toll caused by David Cameron's austerity policies", "less than even-handed treatment of Jeremy Corbyn's Labour leadership" and has often "played down the Conservatives' excesses and disasters". Boris Johnson's "government sees only obedient allies or enemies to be defeated", he adds, meaning that trying to "find a 'middle ground' with such a bullying regime" is "an unrealistic, even naive, strategy for such a worldly organisation as the BBC". The BBC's softer approach has won it no favours from a government that has "made threatening noises" towards it about its future. Therefore, the BBC's dealings with the Tories since 2010 "ought to teach liberals and leftists, once and for all, that the corporation's independent-minded phases are the exception, not the rule", he adds. "If you want a broadcaster that will always 'hold power to account'," then viewers will need to "look somewhere else".
3. Levelling up has gone hopelessly off track
Ann Treneman in The Times
on abandoned pledges
"Once again there are not leaves but politicians on the line, creating havoc for those of us who travel by rail and live in the Midlands or the north," says Ann Treneman in The Times. The columnist, who lives in the Peak District, writes that she "heard the news about HS2 with a weariness that all long-time commuters possess – but as fellow travellers will know, that doesn't mean that I am not secretly boiling". It "wasn't really a surprise to find that bits of HS2 in the north and Midlands have been scrapped", but "it was news to be told this was for our own good". Adding that ministers say that the alternative plan is "all about 'levelling up', a phrase that gets more meaningless by the day", she suggests that the "lack-of Transport Secretary Grant Shapps" should "spend more time in Bradford trying to get to anywhere".
4. Equal Pay Day is a cheap shot that does nothing for women
Pravina Rudra in The Telegraph
on the wrong questions
On Equal Pay Day, women are encouraged to walk out of their offices in protest at the gender pay gap because they are effectively "working for free" from now until the end of the year. Writing in The Telegraph, Pravina Rudra says she is "as angry about the gender pay gap as so many of those marking [Equal Pay Day]", but adds that the day is a "cheap shot" that "does nothing for women". Instead, society should address the "real questions", such as why women are less likely to end up in leadership roles and why women go for part-time work. "If childcare weren't seen as emasculating, would more fathers stay at home – leaving women to pursue their careers?" She adds that Equal Pay Day "falls victim to the same fallacy as those who deny sexism exists – it thinks sexism is angry male CEOs not paying female employees enough – rather than more subtle, societal judgements on girls from the time they are born".
5. My faith school made me proud to be a Muslim and confident to stand up to Islamophobia
Zesha Saleem on The i news site
on balanced education
"November is Islamophobia Awareness Month and much of the media coverage and social media chatter has focused (rightly so) on the negative experiences of Muslims," writes Zesha Saleem on the i news site. "However, there are also lots of wonderful things about being a Muslim." For Saleem, this includes her time at an "all-girls Muslim school in South Manchester" that made her "proud of my faith and confident to stand up to Islamophobia". It allowed her to "balance my faith with a well-rounded education" because, like other schools in the area, she "had double maths on a Tuesday afternoon, played netball against other schools, and went to Alton Towers at the end of the year" while "incorporating prayer time and Quran lessons into our timetables". She acknowledges that faith schools "sometimes get a bad rap", with many assuming that they "prevent students from thinking for themselves" or "segregate children from the rest of society". But the experience made her more outward looking and taught her that "reaching out to others to clear up misconceptions and differences was key to promoting understanding of my faith".

Continue reading for free
We hope you're enjoying The Week's refreshingly open-minded journalism.
Subscribed to The Week? Register your account with the same email as your subscription.