'South Korea may soon offer a model for other progressive leaders to emulate'
Your digest of analysis from the British and international press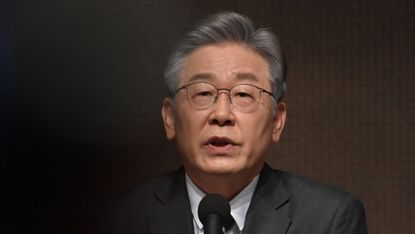 (Image credit: Anthony Wallace/AFP/Getty Images)
Sign up to our 10 Things You Need to Know Today newsletter
A free daily digest of the biggest news stories of the day - and the best features from our website
Thank you for signing up to TheWeek. You will receive a verification email shortly.
There was a problem. Please refresh the page and try again.
1. Radical hope may be coming from South Korea
Neil Howard for Al Jazeera
on new ideas
Amid the various crises facing the world, "it is easy to understand why so many people feel hopeless for the future", writes Neil Howard for Al Jazeera. But there are "hopeful signs of change". One such sign comes from South Korea, where Lee Jae-myung, the Democratic Party's candidate for the March 2022 presidential elections, "is running on a platform arguably unmatched in its radicalism anywhere in the industrialised world". Lee is a "controversial" and much critiqued figure, "not least because of some allegedly questionable personal and political decision-making", Howard continues. But his platform "has such potential that it merits wider discussion". The would-be president is proposing three major reforms: unconditional basic income, a land tax and a carbon tax. "Together, they form the basis of a programme that could be transformative," says Howard. Lee's "worthy goals" echo calls "for a Green New Deal on both sides of the Atlantic". And though his project "is far from perfect", his proposals "far outstrip what is on offer in other advanced economies". Should Lee win the presidency, "South Korea could come to present the model for other progressive leaders to emulate".
Subscribe to The Week
Escape your echo chamber. Get the facts behind the news, plus analysis from multiple perspectives.
SUBSCRIBE & SAVE
Sign up for The Week's Free Newsletters
From our morning news briefing to a weekly Good News Newsletter, get the best of The Week delivered directly to your inbox.
From our morning news briefing to a weekly Good News Newsletter, get the best of The Week delivered directly to your inbox.
2. Attacking Stonewall for defending trans rights is a slippery slope
Finn Mackay for The Guardian
on divisive attacks
Stonewall has recently been accused of advocating for trans rights, but only six years ago, the UK's national LGBTQ+ charity was facing questions about "why it wasn't", says Finn Mackay. "It's discombobulating to witness a reframing of Stonewall as a sinister organisation that sneaked trans right on to its agenda when nobody was looking", writes Mackay, author of Female Masculinities and the Gender Wars, for The Guardian. In fact, the move was "hard won". The gender wars have "raged" since 2018, when public consultation began on reforming the Gender Recognition Act. "Many groups mobilised in favour" while "just as any mobilised against". These "wars are not a fight against the binary roles that constrict our society", Mackay continues. Instead, "this particular manifestation of the culture wars is a battle against trans women in particular". Any talk of the LGBTQ+ movement "going too far, or the community getting too broad, is just a shameless display of exclusion". And "it is when attacks come to the doors of the most liberal, and surely the most inoffensive human rights groups, that all radicals should be worried".
3. This bill could save the lives of formerly incarcerated people
Michelle Cottle for The New York Times
on accessing care
For many of the thousands of people released from US prisons each year, "the transition back to the outside world poses an acute risk", writes Michelle Cottle at The New York Times. The first two weeks "can be especially dangerous", with higher death and hospitalisation rates reported compared with the general public. Suicide, cardiovasular diease, homicide and drug overdoses are "among the most common killers" of former inmates, and "multiple factors are fueling this tragedy". Incarcerated people suffer "disproportionately high rates of physical and behavioural health problems", and once freed can face a "bumpier" ride to get effective treatment. The Medicaid Re-entry Act "seeks to smooth this transition" by re-instating inmates' access to the healthcare programme up to 30 days before their release. Experts say this could "greatly aid what is often referred to as a 'warm handoff' from institutional to community-based care systems". The policy "may not be flashy", says Cottle, "but it could make a big difference" to the "vulnerable people who emerge from America's jails and prisons each year – and to the communities to which they return".
4. Now it's time to prove you're true blue, prime minister
Daily Mail Comment
on warning signs
David Frost's resignation from the role of Brexit minister "is an agonising body blow to Boris Johnson" and "a massive wake-up call", says the Daily Mail. "The prime minister had already endured a miserable week", but "the loss of his friend and ally" Frost is "on a different level". The "Brexit mastermind" was "principled, patriotic and a skilful diplomat", the newspaper continues. "A man of true substance", Frost "brough political and intellectual heft" to "a lightweight cabinet". His departure was triggered by his "growing disillusionment with the Tory party's troubling direction of travel", with the government showing "depressingly little inclination towards creating the nimble low-tax, low-regulation economy needed to deliver the full benefits of regaining sovereignty". This disillusionment has been fuelled by the response to the Covid crisis. While "gloomy scientists" are urging Johnson to "batten down the hatches once more to save the NHS", Frost believes "it is vital to keep the country open through Omicron". The paper agrees that to announce a lockdown "after a year of jabs would be a grotesque failure of government policy". The PM "can certainly recover from his current woes. But his approach to government must change." Through "deeds not words", he must prove he is a Conservative and "listen to his party".
5. While 'Sex and the City' celebrated women's voices, 'And Just Like That' seeks to silence them
Jordan Tyldesley for The Independent
on poor plot developments
The creators of Sex and the City reboot And Just Like That "seem embarassed by the well-established female trio and its winning formula", says Jordan Tyldesley in The Independent. The show may as well have been renamed "Three Karens on a Personal Journey". Despite initial hopes that series "is cleverly seeking" to discuss the female middle-age experience, "as the episodes progress, it appears to be a lesson (or lecture) in atonement for characters and audience alike". With a key character quickly killed off – and "spared the excruciating plotline the rest are being forced to endure" – Carrie, Charlotte and Miranda "must recompense for the earlier show's shortcomings", Tyldesley writes. "As Karen-in-chief", Miranda "must make amends for the show's lack of racial diversity". Carrie is working to "cast aside her sexual boundaries", while "Charlotte's acceptance levels are put under the microscope when her daughter Rose comes out as gender-non-conforming". These are "admirable topics", but "inclusivity needn't go hand-in-hand with character assassination", argues Tyldesley. Kim Catrall "was right to stay well away from this reboot. At least Samantha's pride has been left intact."
Continue reading for free
We hope you're enjoying The Week's refreshingly open-minded journalism.
Subscribed to The Week? Register your account with the same email as your subscription.
Sign up to our 10 Things You Need to Know Today newsletter
A free daily digest of the biggest news stories of the day - and the best features from our website