'A nightmare stalemate between a PM who won't quit and plotters who won't stop'
Your digest of analysis from the British and international press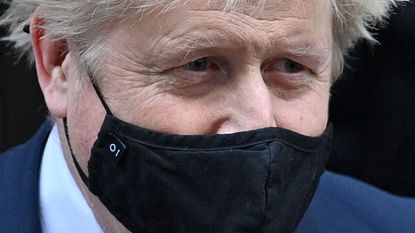 (Image credit: Justin Tallis/AFP via Getty Images)
Sign up to our 10 Things You Need to Know Today newsletter
A free daily digest of the biggest news stories of the day - and the best features from our website
Thank you for signing up to TheWeek. You will receive a verification email shortly.
There was a problem. Please refresh the page and try again.
1. Tory civil war could drag on to the summer
James Forsyth in The Times
on a simmering stalemate
"How long will it go on for?" asks The Times columnist James Forsyth of the civil war currently eating away at the Conservative Party. A "long-serving Conservative who knows how this process works" told The Spectator's political editor that it now feels like early November 2018, when those trying to "topple" Theresa May were confident that they had the numbers needed to force a confidence vote. But it took them three more weeks to get there and even then they "failed to depose her", leaving the PM "wounded but still in office and the Tories in stasis". Given that the rules state that, should Johnson win a confidence vote, he could not be challenged for another year, Tory MPs are "using this scenario" to argue that they would be better off waiting until after the local elections in May before deciding. A Johnson supporter told Forsyth that if the PM does make it through the next few weeks, he would "be on probation" with Tory MPs, who would want to see a "much better-run Downing Street operation" and an "end to the unforced errors". The source regards the current effort as a "dry run for the real fight in four months' time". In other words, "the Tory nightmare is that this turns into a stalemate between a prime minister who won't quit and plotters who won't stop".
Subscribe to The Week
Escape your echo chamber. Get the facts behind the news, plus analysis from multiple perspectives.
SUBSCRIBE & SAVE
Sign up for The Week's Free Newsletters
From our morning news briefing to a weekly Good News Newsletter, get the best of The Week delivered directly to your inbox.
From our morning news briefing to a weekly Good News Newsletter, get the best of The Week delivered directly to your inbox.
2. I've been protesting all my life. It can feel futile, yet doing nothing is much worse
Polly Toynbee in The Guardian
on marches and miracles
Polly Toynbee thinks it is a "miracle" that the House of Lords "rose up and rebelled" this week against the government's assault on protest. But, fears The Guardian columnist, if the Lords is the "last backstop against the arbitrary powers of an elective dictatorship" then that is a "thin safety net". A "parliamentary coup" saw the Police, Crime, Sentencing and Courts Bill through the House of Commons in a government bid to "ban virtually all effective protest". The effectiveness of marches varies, she adds. "Fracking at Balcombe was stopped by Tory voters in the heart of Tory land", but "a million marching against the Iraq war didn't prevent it". "Nothing works without capturing public attention – the press – and that takes wit, imagination, blocking streets, criminal damage or riots." And although "joining a march can feel futile… doing nothing feels worse". "Effective protest" is "destined to be banned, allowing only staid, quiet, police-backed marches, whose dullness guarantees no press coverage". The Lords rebellion was "just a stay of execution, as the government presses on", Toynbee predicts. "As with all present policies, expect no new leader selected by this generation of Tories to turn liberal. They have their own perverse interpretation of liberty."
3. Fake chicken is the future – and it's absolutely delicious
Jemima Lewis in The Telegraph
on gorgeous goujons
Jemima Lewis "didn't have high hopes" when she tried some meat-free chicken goujons, but "these goujons – I have to tell you, these goujons are going to change the world". They "are proof of the concept" that "it is now possible to create plant-based products that precisely match – and in this case, slightly exceed – the deliciousness of meat". This is "great news for the planet" because "our global appetite for meat is unsustainable: 77% of the world's farmland is used to feed livestock" and "meat production accounts for almost 60% of all food industry emissions". Noting that an Israeli firm has unveiled the world's first 3D-printed salmon fillet, made entirely from plants, she said "this may be the salvation of our oceans". But "what is good for the planet, however, may not be so good for our bodies" because "plant food can also be junk food: fatty, salty, ultra-processed nuggets of strange-sounding ingredients, scientifically configured for optimal addictiveness". Lewis thinks that "vegetarians – who until now have been largely obliged to cook from scratch, because the processed options were so unappealing – will become as fat and greedy as the rest of us, once these temptations are laid before them".
4. Debit cards, electric cars and ghosts of technology past
John Gapper in the Financial Times
on outdated tech
This week, the Financial Times columnist John Gapper received a "novel item" in the post: the first debit card issued by his high street bank "without a long, bumpy number on the front that steadily wears down and becomes illegible when stored with others in my wallet". "The bumpy credit card is just an irritation", but it is "representative of other historical leftovers that linger on because a few people still use them or companies are too committed to shed them". It is a "classic example of a technology that refused to pass away despite becoming outdated", much like "the QWERTY keyboard layout", introduced in 1873. "The Dvorak layout devised in 1932 allowed much faster typing, but my laptop keyboard is stuck in the 19th century," he adds. "The economic term is path dependence – once industries get stuck on one trajectory or have adopted a common technology, there is no going back," he explains. "They can get locked in even if a better alternative emerges." This is seen in products such as the car, with its huge environmental impact. "The slow departure of the embossed card is a cautionary tale." If it can take "this long for an outdated technology to disappear, even when the stakes are low, how much harder will it be to push societies off a carbon dependent path"?
5. Cut bills now
The Sun's editorial board
on a lack of energy
"Cheques in the post? A VAT cut? Whatever the Tories intend to do about the cost of living they must urgently announce it," said The Sun. After soaring food costs and the energy bill crisis drove inflation to 5.4% in the 12 months to December, the tabloid's leader column said "working people are being hammered now" because "food and fuel have gone through the roof". "Energy bills will be next, plus the disastrously timed April tax rise." The paper adds that "Labour have noisily unveiled their plan: a windfall tax on energy giants and a VAT cut." While conceding that "yes, easier to say in opposition than to enact in office", it still feels the opposition have outflanked the government. As "ideas are floated" by the Treasury, "nothing firm" emerges. "They must end the paralysis," the paper warns. "Cut the VAT, cut the green levies… whatever it is, do it before our costs rocket even higher – and Tory polling plummets to new lows."
Continue reading for free
We hope you're enjoying The Week's refreshingly open-minded journalism.
Subscribed to The Week? Register your account with the same email as your subscription.
Sign up to our 10 Things You Need to Know Today newsletter
A free daily digest of the biggest news stories of the day - and the best features from our website