'Leaders must charm and show empathy'
Your digest of analysis from the British and international press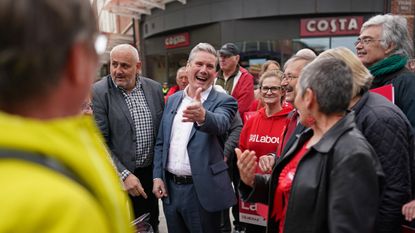 (Image credit: Ian Forsyth/Getty Images)
1. Keir Starmer the grownup needs to rediscover the radical youth he once was
Andy Beckett in The Guardian
On sensible centrism
"Keir Starmer is a grownup," says Andy Beckett in The Guardian. "From his strict suits and haircut to his no-frills speaking style and carefully researched Commons questions" he "has sought to come across as a sober prime minister in waiting, a reassuring figure in troubled times". Beckett argues that "the idea that radicalism is always immature and naïve" was "fairly easy to justify" during the 1990s and 2000s. "Yet today, with the climate emergency and capitalism lurching from crisis to crisis, it is the anti-radical position that often seems unrealistic." Becoming "a fully functional prime minister, like being a fully functional adult, isn't just about professionalism and authority", says Beckett. "It's also about the ability to charm, communicate effectively and show empathy."
Subscribe to The Week
Escape your echo chamber. Get the facts behind the news, plus analysis from multiple perspectives.
SUBSCRIBE & SAVE
Sign up for The Week's Free Newsletters
From our morning news briefing to a weekly Good News Newsletter, get the best of The Week delivered directly to your inbox.
From our morning news briefing to a weekly Good News Newsletter, get the best of The Week delivered directly to your inbox.
2. The Policing Bill threatens our democracy – this is time for anger, not despair
Martha Spurrier in The Big Issue
On 'a human rights disaster'
The government's Police, Crime, Sentencing and Courts Bill is "a human rights disaster", says Martha Spurrier in The Big Issue. "Protest is not a gift from the state, it is our fundamental right," she says, yet "the bill will give police more powers to shut down protests for being too 'noisy' and criminalise those who take part". The new powers "represent nothing less than an attack on our right to make our voices heard, deterring people from taking part in protests, and making it much easier to criminalise those who do", the director of Liberty warns. "It's more crucial than ever that we continue to take a stand together."
3. It should never have taken this long for black girls' allegations against Tim Westwood to be taken seriously
Kelechi Okafor on the i news site
On a need for clarity
"White supremacist patriarchy has created a hierarchy which places black women at the bottom," says Kelechi Okafor on the i news site in response to allegations of sexual misconduct against DJ Tim Westwood by seven black women, which he denies. "While some might claim the number of black, dark-skinned alleged victims may have reflected a mere preference, I would like us to examine that preference in a society that treats women worse the darker they are." It could be argued "that another person accused of similar things might've chosen darker-skinned black girls to prey on because the likelihood of anyone caring if they were abused or believing them if they ever said anything was slim to none". Therefore, she says, "we still need more clarity about whether the BBC was aware of accusations against the DJ while under its employment".
4. Jesus could teach Jacob Rees-Mogg a thing about immigrants
Michael Coren in the New Statesman
On a hijacked deity
The "vociferously Catholic" Jacob Rees-Mogg recently defended the government's announcement that it planned to send migrants to Rwanda by "comparing it to the resurrection of Christ", says Michael Coren in the New Statesman. But "Jesus himself disagrees". "The child of migrant parents, his mother a teenager, he spent his life with the poor, marginalised and rejected". Jesus "owned no property, preached human dignity and equality, and said that nasty foreigners like Romans and Samaritans were to be treated with love and respect". "This is the real Jesus and the real Christian narrative, but wrapping conservatism in the cloak of faith is popular and successful these days," Coren adds. "In all honesty, it breaks my bleeding heart."
5. Prisoners aren't 'clients', because words can never buck reality
Christopher Howse in The Telegraph
On the importance of language
Justice Secretary Dominic Raab has announced that prisoners should not be called residents or clients and, says The Telegraph's Christopher Howse, "he happens to be right". "As a punishment, prisoners are deprived of their liberty," he says. And although we "don't add punishments such as calling them jailbirds or scum", to call them clients "is an insult too". "Inmate is a good example of language being coloured by reality, no matter what its original connotations were" because it began "as a neutral word for someone sharing lodgings at an inn", he adds. "Only after it became the ordinary word for a fellow prisoner in a jail or madhouse did it gain the pejorative overtones that guarantee that its use would be laughable now if applied to holidaymakers in a hotel."

Continue reading for free
We hope you're enjoying The Week's refreshingly open-minded journalism.
Subscribed to The Week? Register your account with the same email as your subscription.